Sewing
Logan of Supernaturale has posted instructions how to make a pair of homemade undies out of your favorite old tees. Logan says, " I know you've got them, lurking in drawers, the back of the closet, in the "giveaway" pile: those T-shirts that are, for various reasons, both unwearable and indispensable.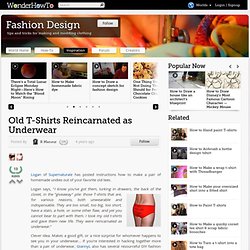 Old T-Shirts Reincarnated as Underwear « Wonderment Blog
Sewing
I thrifted this top a year ago and totally forgot about it until I cleaned out my to-refashion-closet, which was a mess. I found it just in time too!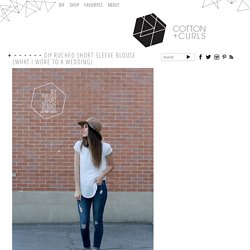 5 Wardrobe Pieces That Can be Worn 5 or More Ways | Project 333
I love to have my music with me everywhere I go, but I hate the tangled mess my wires become when I toss them in my bag or pocket. Last night I whipped up a fun and functional solution by adding a zipper to my earbuds. This project took me around an hour to do (perfect for catching up on some t.v. from hulu.com).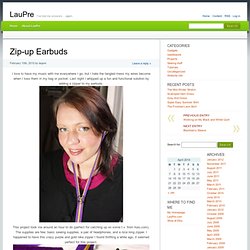 Princess seams, and other treacherous curves!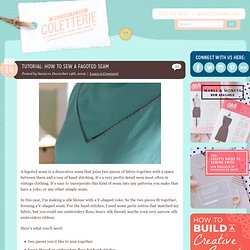 A fagoted seam is a decorative seam that joins two pieces of fabric together with a space between them and a row of hand stitching. It's a very pretty detail seen most often in vintage clothing. It's easy to incorporate this kind of seam into any patterns you make that have a yoke, or any other simple seam.
How to sew a fagoted seam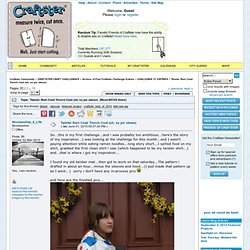 Twister Rain Coat/ Trench Coat (oh, so pic obese) - CRAFTSTER CRAFT CHALLENGES
So...this is my first challenge...and i was probably too ambitious...here's the story of my inspiration...I was looking at the challenge for this month...and I wasn't paying attention while eating ramen noodles...long story short...I spilled food on my shirt, grabbed the first clean shirt i saw (which happened to be my twister shirt...) and...that is where i got my inspiration... I found my old twister mat...then got to work on that saturday...The pattern i drafted in about an hour...minus the sleeves and hood...(I just made that pattern up as I went...) sorry i don't have any in-process pics and here are the finished pics... here you can see the sleeve...i used the twister at both ends to do both sleeves ooh. and you can kind of see how it is fullllllly lined
Before you pack away your summer clothes for the winter, you might want to set one of your tank tops aside to make one of these easy totes.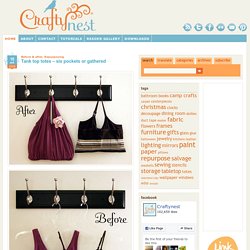 **UPDATE** If you'd like this tutorial (or any of my others) in PDF format click here.