Housing
3voOm.jpg (400×554)
MOUNTAIN VILLAGE by ~truegarden on deviantART
Hello there! It's been a busy week with a trip to Seattle for the Picasso exhibition and a drive out to the coast but I knew I had to share this amazing remodel with you before the week came to a close. Everyone loves good makeovers and the ones involving tiny spaces, creative design and ingenious solutions are my all time favorites! Check out how Seattle artist, designer and welder, Michelle de la Vega, created this beautiful little 250 sq. ft. haven… The before…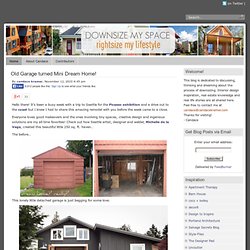 Dilapidated 18th Century Church Transformed Into a Private Home St Nicholas Church Home Renovation – Inhabitat - Green Design Will Save the World
Dilapidated 18th Century Church Transformed Into a Private Home
Adaptive reuse projects generally call to mind industrial warehouses and factories turned into trendy studios, or shabby-chic restaurants and bars, but the transformation of the St. Nicholas Church in Kyloe, Northumberland, England has taken this concept of renewal and grounded it much closer to home. The church was purchased not too long ago by Sally Onions and Ian Bottomley, who went the unconventional route when scouting for their newest digs.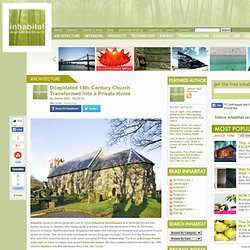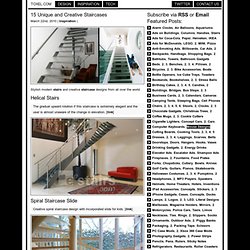 Stylish modern stairs and creative staircase designs from all over the world. Helical Stairs The gradual upward rotation if this staircase is extremely elegant and the user is almost unaware of the change in elevation. [link] Spiral Staircase Slide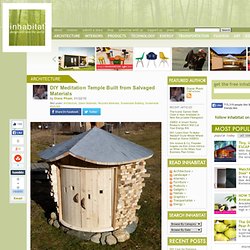 We could all use a peaceful escape from the bustle and stress of our daily lives, but not many of us have the luxury or time to hop on a plane and jet off to a secluded beach or private mountain cabin. But what if we told you that a similar place existed in your own backyard for a mere one-time cost of $28? Created by Aaron Westgate, this relaxing Meditation Temple is a pile of salvaged materials transformed into a beautiful retreat for quietude and contemplation. The one-person Meditation Temple is an exploration in micro-architecture and material re-use.
DIY Meditation Temple Built from Salvaged Materials
By Rich Shulman This clever "green" mobile home solves several problems at once: Dai Haifei has eliminated his commute, cut energy costs by going solar, and eliminated his rent payment. The only problem?
Photoblog - Chinese worker builds "egg" house to beat high cost of living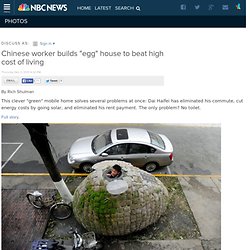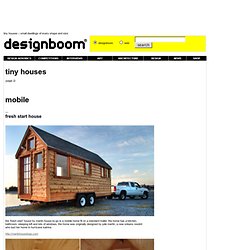 © copyrights designboom, all rights reserved. all material published remains the exclusive copyright of designboom. no contents, including text, photographs, videos, etc. may be reproduced in whole or in part without the written consent of designboom. in addition, no material or contents may be reproduced on the world wide web by techniques of mirroring, framing, posting, etc. without the written consent of designboom.
Waterfall House
The Houses That PET Built
Eco-minded architects and designers are making treasure out of trash by recycling used PET bottles into beautiful, sustainable, buildings. One of the wonderful things about being recycle-minded is that every piece of trash is an opportunity to recreate something wonderful. At least, that's the way I felt when I saw testaments to the miracle of recycling — houses, cisterns, furniture, bus stops and even entire schools — made from recycled PET plastic bottles. Eco-tec , an award-winning Honduran company, has used recycled PET plastic bottles for construction of houses, water tanks, and even schools. Using some 8,000 PET recycled bottles, Eco-Tec created the "casa ecológica" or ecological house, as a means of providing sustainable construction methods and employment in Honduras.
When I was young, I was fascinated by "Growing Pains" dad Jason Seaver's work-at-home setup. I loved that in between appointments with patients in his home office, the good doctor could pop into the family kitchen and hang with Mike, Carol, Ben and the gang while mom Maggie was out working as a reporter. What could be better, right? Now, as an adult who primarily works from home with the exception of meetings, events, and occasional respite at a local coffee shop, the work-where-you-live concept that I found so novel in "Growing Pains" has, well, worn off a bit. That's not to say I'm unhappy (and I certainly enjoy my current, zero-impact non-commute) but sometimes things get a touch claustrophobic.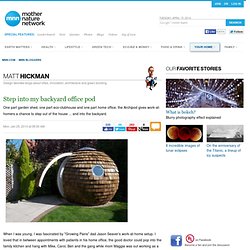 Step into my backyard office pod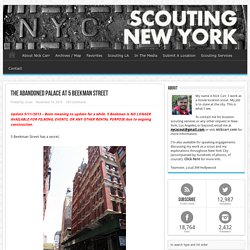 The Abandoned Palace At 5 Beekman Street
Update 9/11/2013 – Been meaning to update for a while. 5 Beekman is NO LONGER AVAILABLE FOR FILMING, EVENTS, OR ANY OTHER RENTAL PURPOSE due to ongoing construction. 5 Beekman Street has a secret. You've probably passed it a million times in your travels through downtown Manhattan. Certainly anyone who has ever visited J&R Row or hit the Starbucks on the opposite corner for a post-Brooklyn-Bridge-walk bathroom break has noticed its twin towers, and perhaps wondered how much its wealthy tenants pay to live behind its beautiful brick and terra-cotta facade. Except, 5 Beekman Street doesn't have any tenants. In fact, it's completely empty, essentially abandoned, and has been for a decade, with a portion of its interior shuttered since 1940…
What is it about Brazillian design that makes it so hot?! It's bold and brash, brave and beautiful. It's never precious but always fun. This is the portfolio of São Paulo architect Vitor Penha. The texture, the mix of modern and midcentury, wood and brick cheek and jowl with plastic and metal. It looks found and thrown together but it is very clever design.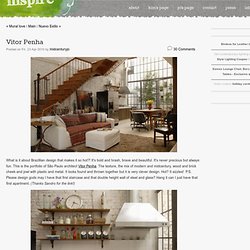 Staircases can be so much more than just a means of getting to the next floor. A staircase can be a work of art, a conversation piece, a place to meditate, or a historical marker. Floating on a Wall This floating staircase above by designer Jordi Vayreda looks dangerous, but the steps are made of steel welded to a thick beam inside the wall. The top of the wall can be used as a handrail for the upper half of the staircase.
By Daily Mail Reporter Updated: 16:58 GMT, 13 October 2010 A British man has created an island home in the Caribbean - with 120,000 plastic bottles. Richard 'Rishi' Sowar used the rubbish that would otherwise have been buried in landfill make Spiral Island II in a lagoon off Mexico's Caribbean coast. Filling fabric bags with the discarded bottles and then attaching them to pallets, the environmentalist's island has a house, beaches, two ponds and even a solar-powered waterfall. Take one soft drinks bottle ..: Richard 'Rishi' Sowar, pictured here holding a cat, with some of the bottles he used to build his Caribbean island
British inventor builds floating home from 120,000 plastic bottles
Good things come to those who wait – particularly in a work of uniquely detailed and highly curved architecture. Nearly a decade in the making, this structure by Robert Harvey Oshatz is much like a tree house – lofted toward the top of the canopy around it – only bigger, grander, more complex and curved than most any tree house in the world. The perimeter of the structure is pushed out into the forest around it, curving in and out to create views as well as a sense of intimacy with the coniferous and deciduous tree cover. The wood and metal detailing is incredible in its variety and customization – each piece designed to fit a particular form and function. Wood and stone carry naturalistic themes from the outside in and even the metal looks naturally rusted. The curved, organic mix of materials continues to the interior of this elevated forest home – a conceptual play on the fluidity and complexity of music (the source of inspiration for the architect and client in the design).
Posted by Radhika on September 11th, 2009 This mind teasing structure that you are viewing in pictures below was designed and developed by organic architect Javier Senosiain. Javier Senosiain is a Mexican architect who has a peculiar taste to create numerous marvels in different patterns. This particular shell house aptly named "Nautilus House" was given shape in 2006 at a place called Naucalpan in Mexico. Being an exceptional one directly from the imagination of its architect, it naturally had to undergo enough changes testing the patience of its builder. The concept "Organic" can be well experienced from the way one feels being amidst the nature.
Do-It-Yourself Downsizing: How To Build A Tiny House