Education sonorité et espace
Des fictions autour de récits d'émigration à la Cité Nationale de l'Histoire de l'Immigration - Faïdos Sonore. Cette année, des groupes vont créer des fictions sonores autour de récits d'émigration.
Ces ateliers font suite à une visite dans l'exposition permanente à la Cité Nationale de l'Histoire de l'Immigration. Tous les sons servant pour le paysage sonore des fictions ont été enregistrés avec les groupes et échantillonnés par la suite. Le jeune homme qui a bravé le désert, la mer et les frontières : Une fiction d'un jeune homme parti du Mali pour venir en France gagner sa vie. Durée : 3 min 42 sec. mp3 256 kbps. Les chroniques de Gilles Malatray. | Education au sonore et à la musique. By E.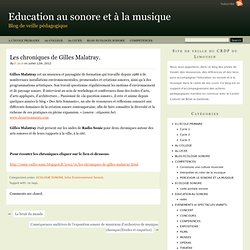 Jaud on juillet 12th, 2012 Gilles Malatray est un musicien et paysagiste de formation qui travaille depuis 1986 à de nombreuses installations environnementales, promenades et créations sonores, ainsi qu'à des programmations artistiques. Son travail questionne régulièrement les motions d'environnement et de paysage sonore. Il intervient au sein de workshops et conférences dans des écoles d'arts, d'arts appliqués, d'architecture… Passionné de «la question sonore», il crée et anime depuis quelques années le blog « Des Arts Sonnants», un site de ressources et réflexions consacré aux différents domaines de la création sonore contemporaine, afin de faire connaître la diversité et la richesse de ces pratiques en pleine expansion. » (source : citysonic.be)www.desartsonnants.com Gilles Malatray était présent sur les ondes de Radio Sonic pour deux chroniques autour des arts sonores et de leurs rapports à la ville, à la cité.
Analyse Paysage sonore. [Environnement sonore] : Ressources. Esprit de l'Eau. Activities - Xpeditions @ nationalgeographic.com. Your Mission Your mission is to "collect" sounds that define your zip code's sense of place !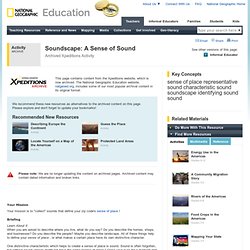 Briefing Learn About It When you are asked to describe where you live, what do you say? Do you describe the homes, shops, and businesses? Ecology of Sound: The Sonic Order of Urban Space. Sound provides an often-ignored element of our conceptualisation of the urban fabric.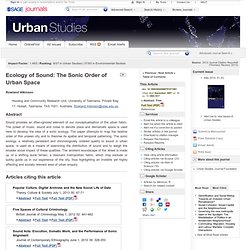 The power of music, sound and noise to denote place and demarcate space is used here to develop the idea of a sonic ecology. The paper attempts to map the relative order of this unseen city and to theorise its spatial and temporal patterning. The sonic ecology, a relatively persistent and chronologically ordered quality to sound in urban space, is used as a means of examining the distribution of sound and to weigh the broader social impact of these qualities. The ambient soundscape of the street is made up of a shifting aural terrain, a resonant metropolitan fabric, which may exclude or subtly guide us in our experience of the city, thus highlighting an invisible yet highly affecting and socially relevant area of urban enquiry.
Bibliography - istanbul soundscapes. Sound Escape: sonic geography remembered and imagined. Abstract 112 Ellen Waterman Ecumene 2000 7 (1) rom its inception in the late 1960s in Canada, the interdiscipline of acoustic ecology has always been conceived of in spatial terms.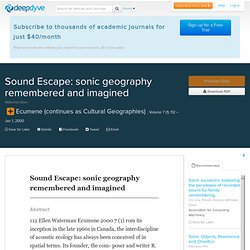 Its founder, the com- poser and writer R. Murray Schafer, was concerned with uniting the various branches of sonic research from acoustics to communications, from sound recording to sound design, from music to audio art and from otology to noise pollution activism under the rubric of soundscape studies. His seminal book The tuning of the world (1977) mapped the (western) sonic environment both his- torically (through literary evidence) and ethnographically (through sound tech- nologies), and imagined its future design.
Acoustic ecology is an emerging field concerned with a broad approach to the sonic environment ­ not merely the prohibition of harmful noises, but the preservation and design of unique, beautiful or culturally significant sounds. Human Preference for Countryside Soundscapes. Buy & download fulltext article: Abstract: Human evaluation of soundscapes has been postulated to depend on whether sounds are wanted or unwanted in a particular context, rather than on simple metrics of sound level.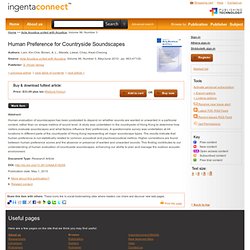 A study was undertaken in the countryside of Hong Kong to determine how visitors evaluate soundscapes and what factors influence their preferences. A questionnaire survey was undertaken at 44 locations in different parts of the countryside of Hong Kong representing all major soundscape types. Making Maps with Sound. Quite a few years ago I wrote an overview article on the use of sound for representing geographic data, including a series of sound variables for mapping I developed.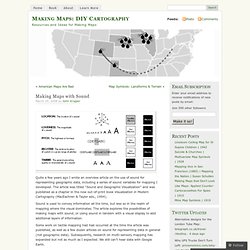 The article was titled "Sound and Geographic Visualization" and was published as a chapter in the now out-of-print book Visualization in Modern Cartography (MacEachren & Taylor eds., 1994). Sound is used to convey information all the time, but less so in the realm of mapping where the visual dominates.
The article explores the possibilities of making maps with sound, or using sound in tandem with a visual display to add additional layers of information. Some work on tactile mapping had had occurred at the time the article was published, as well as a few dozen articles on sound for representing data in general (not geographic data). Sound Recording Tutorial from Wildlife Sound Recordist John Acorn | Experimental Geography in Practice.
I thought I would share the first experimental attempts of John Acorn (University of Alberta) and I to find the best way to record a walking interview whilst also capturing the surrounding sound-environment.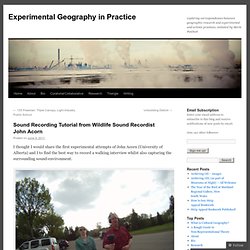 Merle and John walking, recording sound and video through Hawrelak Park, Edmonton. Still photo taken from GoPro moving footage. The following sound file acts as an introductory tutorial from Dr John Acorn to the basics of sound recording and documents our attempts to find the best way of recording people moving through landscape (in our case Hawrelak park) and develop a walking interview technique that captures both the sound environment and the interview: Click on the link to access the sound file: Sound Tutorial. Lesson 2: Fieldwork. In this lesson students will undertake fieldwork in the local area around the school.
Using group and individual recording sheets they will carry out a variety of data collection methods, including counting traffic, recording their emotions, recording soundscapes and taking digital photos of the route. It can be done with or without the assistance of a PDA. Documentary: John Luther Adams - A Sonic Geography of Alaska. A Sonic Geography of Alaska (4:18) John Luther Adams is an Alaskan composer who is interested in defining an ecology of music.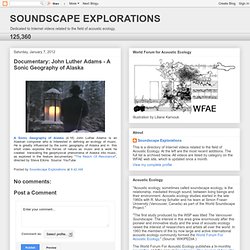 He is greatly influenced by the sonic geography of Alaska and in this short video explores the forces of nature as music and a work he created translating the geophysical phenomena of Alaska into music, as explored in the feature documentary "The Reach Of Resonance", directed by Steve Elkins. Source: YouTube. Area, Vol. 26, No. 3 (Sep., 1994), pp. 232-240. The Soundscape of Your Home. 1. Have students think about the sounds they hear every day. Ask: When you are asked to describe where you live, what do you say?
Do you describe the homes, shops, and businesses? Do you describe the people? The landscape? Découvrez les cartes de bruit en animation | Conseil général du Val-de-Marne. Concours "écoles mobiles" - Paysages sonores. Les sons et le sens : Pour parler profession : septembre 2011. Professeur Jonathan Bolduc accueille les 15 élèves de sa classe de maternelle à la porte de son laboratoire Mus-Alpha de l'Université d'Ottawa, avec d'énormes lunettes sur le nez. Une énorme paire de lunettes sur le nez, Jonathan Bolduc salue les 15 élèves de la maternelle à l'entrée du laboratoire Mus-Alpha de l'Université d'Ottawa. Les enfants le connaissent bien, car ils le rencontrent une fois par semaine pour participer à son projet de recherche. Bruit - Introduction.
Paysages_visuels_sonores. Histoire des arts: paysages sonores et visuels à Montboucher Animation pédagogique en co-intervention Pascal Jodar CPD musique, Irène Mieussens CPD arts visuels module 6h. Oeuvre_musicale_2010_03_jazz. AUDITORIUM - Outil de gestion du paysage sonore de Nice Côte d'Azur. APPRENDRE LE PAYSAGE SONORE « SONOS//FAIRE. Bastien Gallet, dans son ouvrage "Composer des étendues", parle des "paysagistes sonores" comme des artistes ne cherchant pas à révéler des caractèristiques acoustiques d'un lieu, sous-entendu à "apprendre" ce lieu , à mieux le connaître par l'écoute, mais plutôt d'artistes se servant d'un lieu comme support à ce qu'il veulent nous faire entendre.
L'auteur nous explique que, si l'on ne peut pas gommer l'empreinte acoustique préexistante d'un lieu, on peut "agir par recouvrement", en lui plaquant une "seconde peau sonore", via l'installation, qui viendra, par superposition, modifier notre perception d'un espace. Cette approche est très intéressante, offrant une perspective de composition paysagère purement esthétique. Le Tarot des Sons. Cartographie du bruit et milieux sonores : étudier la ville avec des outils mobiles. AACASC-1. Pauline%20nadrigny.
---