North America Travel
Wildernet - Hiking, Camping, Fishing and Many Other Activities Throughout America's Public Lands. Reach Hot California Travel Spots by Amtrak Thruway Bus Connections. From Wineries to National Parks, Beaches to Deserts Simplify and streamline your travel between Amtrak California train stations and dozens of additional destinations with seamless, dedicated Thruway bus connections.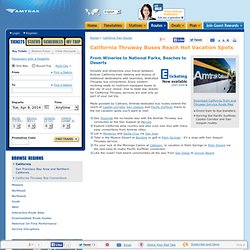 Enjoy modern reclining seats on restroom-equipped buses to the city of your choice. Due to state law, tickets for California Thruway services are sold only as part of your rail trip. Made possible by Caltrans, Amtrak-dedicated bus routes extend the reach of Capitol Corridor, San Joaquin and Pacific Surfliner trains to the hot vacation spots you'll want to visit: See Yosemite the no-hassle way with the Amtrak Thruway bus connection to the San Joaquin at Merced. Greyhound Discovery Pass — Route Map. North America take 2. National Parks of the Canadian Rockies Eastbound - STA Travel.
---