Copywriting
Let's Schmooze - Doug Eboch on Screenwriting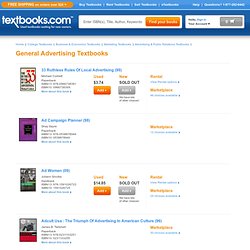 RENT: $13.99 (due 08/02/2013) Ad Women (09) Juliann Sivulka (Hardback | ISBN10: 1591026725; ISBN13: 9781591026723) NEW: SOLD OUT We have lots of other choices!
Top Selling General Advertising Textbooks | Find your Top Selling General Advertising Textbook - Textbooks.com
AWAI Member :: View topic - The Essential Copywriter's Reading List
James: I am often asked about books I recommend in private messages. Thought I would share the list with everyone. What follows are books that have been recommended to me by a professional copywriter that he believes are essential reading for copywriters, together with a few of my own recommendations: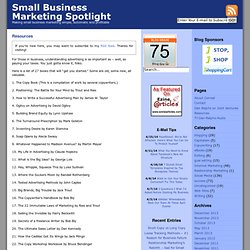 Resources - The Marketing Spotlight
If you're new here, you may want to subscribe to my RSS feed . Thanks for visiting! For those in business, understanding advertising is as important as – well, as paying your taxes. You just gotta know it, folks. Here is a list of 27 books that will "get you started." Some are old, some new, all valuable.
pgd_an54i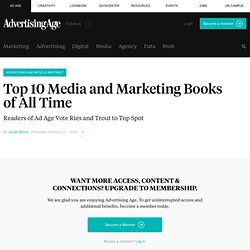 Ad Age wanted to create a definitive reading list for the marketing and media business, but we didn't know whether the editorial team could pull it off on our own, so we turned it over to the wisdom of crowds. We tallied hundreds of reader responses, but in the end it was the ad-focused classics that won the day, with Al Ries and Jack Trout's "Positioning" narrowly defeating "Ogilvy on Advertising" for the top spot. ...
Al Ries and Jack Trout's "Positioning" Best Marketing Book | Ad and Marketing Book Reviews
AWAI Member :: View topic - The Essential Copywriter's Reading List