Tema
Mansion WordPress Theme. Installing WordPress Locally. This is the first chapter of the Complete WordPress Theme Guide series.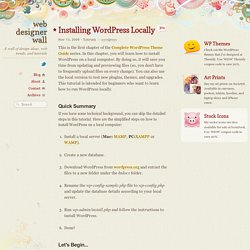 In this chapter, you will learn how to install WordPress on a local computer. By doing so, it will save you time from updating and previewing files (so, you don't have to frequently upload files on every change). You can also use the local version to test new plugins, themes, and upgrades. This tutorial is intended for beginners who want to learn how to run WordPress locally. Book Template Preview. SimpleCart(js), a Free WP E-commerce & Thematic Child Theme // Chris Wallace. SimpleCart(js) is a simple, attractive, and flexible WordPress theme that taps into the power of both Thematic and WP E-commerce.
Features include AJAX cart functionality, a grid layout for products, and a flexible color scheme, easy to swap out images and completely customize the theme to your needs. After putting this theme together for the WP E-commerce contest , I am happy to release the theme 100% free of charge. It is a port of the simpleCart(js) theme from the Wojo Group and was changed quite a bit due to its usage of Thematic and WP E-commerce, but I wanted to give credit to the creator, even if there are very few elements left from the original. One important note for this version, there is no link from the products on the homepage to the product info page, future versions will include one. Wordpress Themes at WooThemes.
---