Tool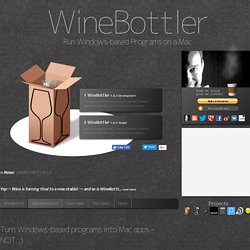 Turn Windows-based programs into Mac apps – NOT. ;) WineBottler packages Windows-based programs like browsers, media-players, games or business appli­ca­tions snugly into Mac app-bundles. Your company provides you with a login, mail, calendar and contacts that only work on certain browsers? You quickly want to test your websites in Windows-based browsers. You want to play games, that are not ported to OS X?
Cascading Style Sheets (CSS) is a stylesheet language used to describe the presentation of a document written in a markup language.Use this Cascading Style Sheets, CSS Compressor to compress CSS to reduce CSS code size and make your web pages load faster. You can select from four levels of compression, depending on how legible you want the compressed CSS to be versus degree of compression. It is quick, easy and free!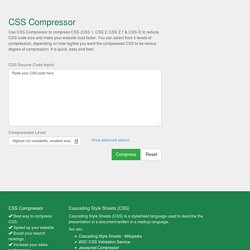 Which are the best Blogger tools? Blogger has a simple and fine interface that takes care of many things for you. This is my suggestion to you for your first free essential must haves for your blog. Advertisements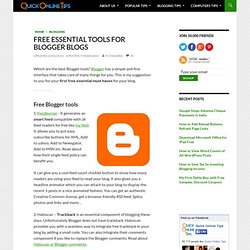 Free Essential Tools for Blogger Blogs
VideoTrace: gerador de modelos 3D super realistas a partir de clipes de vídeo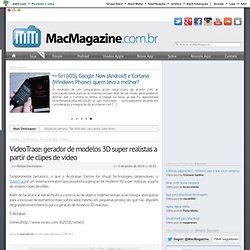 Simplesmente fantástico, o que o Australian Centre for Visual Technologies desenvolveu: o VideoTrace é um sistema interativo que possibilita a geração de modelos 3D super realistas, a partir de simples clipes de vídeo. Além de facilitar e acelerar muito a construção de objetos tridimensionais, a tecnologia abre portas para a inclusão de elementos mais sofisticados mesmo em pequenas produções que não dispõem de grandes investimentos para a geração de modelos 3D realistas. É de babar: [vimeo]http://www.vimeo.com/612532[/vimeo] [Dica do alanzito3d em um tópico do nosso FÓRUM.] Se houver algum erro neste post, selecione-o e pressione Shift + Enter ou clique aqui para nos notificar.