jquery
Get flash to fully experience Pearltrees
Latests Plugins INK is a new way to own your content. It's a well known fact, the content you produce can be shared all around the web and in a very large number of ways.
In my latest articles Show/hide a nice Login Panel using Mootools 1.2 and Add a show/hide login panel to your WordPress theme using Mootools , I explained how to add a nice sliding login form to your site (using Mootools 1.2).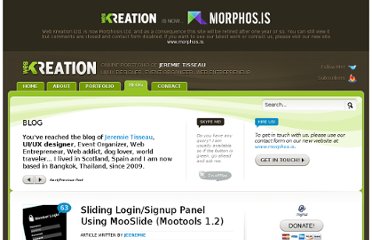 Apr 09 2008 It's really amazing to see what one can create using jQuery. Developers just don't stop making incredibly interactive web applications every now and then.
JavaScript libraries have made huge leaps and bounds in helping developers write code and develop products more quickly. jQuery is one of the most popular JavaScript frameworks, with powerful tools that improve the user's interaction with Web applications. jQuery has an additional advantage in that it allows developers to select elements on a page using CSS-like syntax. To help you take it up a notch, we share below some methods that can help you give visitors to your website an amazing user experience. Here are over 45 impressive jQuery plug-ins and techniques that have been recently created and that could make the development of your next website an easier and more interesting experience than the last.