Iphonedev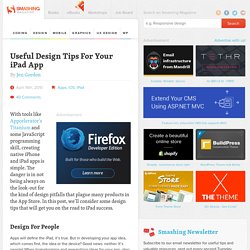 Useful Design Tips For Your iPad App - Smashing Magazine
Advertisement With tools like Appcelerator's Titanium and some JavaScript programming skill, creating native iPhone and iPad apps is simple. The danger is in not being always on the look-out for the kind of design pitfalls that plague many products in the App Store. In this post, we'll consider some design tips that will get you on the road to iPad success. Design For People Apps will define the iPad, it's true.
Mobile websites have come a long way, but if you want to take full advantage of a smartphone's hardware, or get listed in the iTunes App Store, you need to compile your code. In this tutorial, we'll show you how to create a mobile web app with an iPhone look and feel using jQTouch, then turn it into a native iPhone app using Phonegap. No Objective-C necessary. Tutorial Details Program: PhonegapVersion: 0.80Difficulty: IntermediateEstimated Completion Time: 1 hour Requirements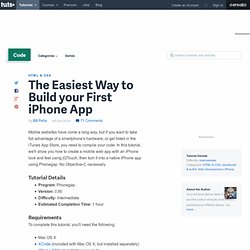 The Easiest Way to Build your First iPhone App
Setting Up Photoshop For Web, App and iPhone Development - Smashing ...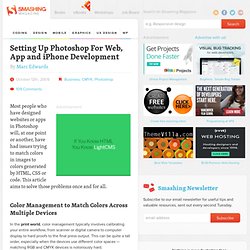 Advertisement Most people who have designed websites or apps in Photoshop will, at one point or another, have had issues trying to match colors in images to colors generated by HTML, CSS or code. This article aims to solve those problems once and for all. Color Management to Match Colors Across Multiple Devices
Making a webapp for the iPhone is a lot like making a normal web site, but with a few quirks to abide by. In this article, I'll give you a wide variety of tips, covering things such as: "must-haves", usability guidelines, testing/debugging, pitfalls, and performance issues. I hope you enjoy it! WebApps vs.
10 Tips for New iPhone Developers - Nettuts+