Ipad
Tricks. Ex-Google News, Bing Engineers Set Out To Build 'Newspaper Of The Future' Delivering news digitally in a personalized manner is a nut many a startup – as well as many established Internet companies and publishers – are desperately trying to crack.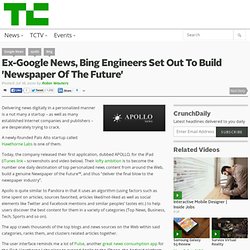 A newly-founded Palo Alto startup called Hawthorne Labs is one of them. Today, the company released their first application, dubbed APOLLO, for the iPad (iTunes link – screenshots and video below). Their lofty ambition is to become the number one daily destination of top personalized news content from around the Web, build a genuine Newspaper of the Future™, and thus "deliver the final blow to the newspaper industry".
Apollo is quite similar to Pandora in that it uses an algorithm (using factors such as time spent on articles, sources favorited, articles liked/not-liked as well as social elements like Twitter and Facebook mentions and similar peoples' tastes etc.) to help users discover the best content for them in a variety of categories (Top News, Business, Tech, Sports and so on). 039;s Essential iPad Apps. 10 iPad Games Worth Paying For. The iPad may be the device of the rich, but no matter what your socioeconomic status, it's never fun to shell out for an app and end up disappointed in your purchase.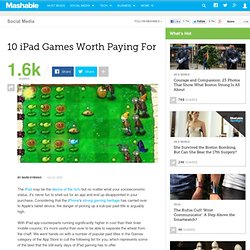 Considering that the iPhone's strong gaming heritage has carried over to Apple's tablet device, the danger of picking up a sub-par paid title is arguably high. With iPad app counterparts running significantly higher in cost than their tinier mobile cousins, it's more useful than ever to be able to separate the wheat from the chaff. We went hands-on with a number of popular paid titles in the Games category of the App Store to cull the following list for you, which represents some of the best that the still-early days of iPad gaming has to offer.
Penultimate. Descrição Com uma experiência de escrita digital mais natural para iPad, o Penultimate lhe proporciona a conveniência e a sensação de escrever no papel combinada ao potencial e à versatilidade do Evernote: Você poderá tomar notas em sala de aula ou em uma reunião, registar seus pensamentos ou esboçar uma grande ideia – no escritório, em viagem ou em casa no sofá.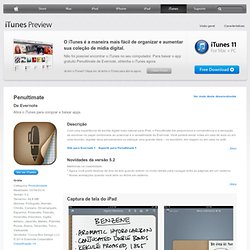 A EXPERIÊNCIA DE TINTA E PAPEL APRIMORADASeus manuscritos e desenhos ficarão incríveis com a tinta gel preta ou colorida em estilos de papel foto-realistas, ou com imagens de fundo importadas para criar seu próprio papel personalizado. A nossa tecnologia de tinta produz traços de caneta que parecem melhores do que os reais, e o modo automático de Proteção de Punho, para escritores de todos os tipos, evita que a página fique cheia de manchas. 25 Powerful iPad Applications for Creative Professionals. The iPad is well laid with touch-screen bliss, with that said, it provides us with enough real estate to make mockups, administrate, and develop a bit at home or on the go.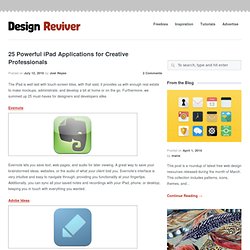 Furthermore, we summed up 25 must-haves for designers and developers alike. Evernote Evernote lets you save text, web pages, and audio for later viewing. A great way to save your brainstormed ideas, websites, or the audio of what your client told you. Evernote's interface is very intuitive and easy to navigate through, providing you functionality at your fingertips.
Mac & iPhone Interface Design Blog by Mike Rundle — Flyosity.
---