Baixa
as_261010_33
sf_060910_15
Aveleda´s House is a villa designed to accommodate the light as a source of inner experience of housing. The basic idea of the project, parts from the concept of being located near by the old Roman city of "Bracara Augustae", where the ancient Roman houses, the Domus, were built around an internal square. Hence all the subtlety of the house is achieved with a careful distribution. In other hand, it was searchable to provide all 6 senses of life.
Aveleda's House by Manuel Ribeiro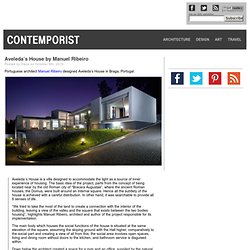 Planta baixa - 005
Floorplanning the easy way Floorplanner is the easiest and best-looking way to create and share interactive floorplans online. Whether you're moving into a new house, planning a wedding or reorganizing your living room, Floorplanner has the right tools for you. With Floorplanner you can recreate your home, garden or office in just a few clicks and furnish your plans with our huge library of objects.