Introduction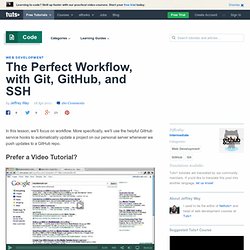 In this lesson, we'll focus on workflow. More specifically, we'll use the helpful GitHub service hooks to automatically update a project on our personal server whenever we push updates to a GitHub repo. Prefer a Video Tutorial?
This blog post is a beginners' guide (written by a git beginner) on how to perform basic version control operations with git including initializing a repository, adding files to it, and using branches.
Git basics
Github For Clients on Vimeo
A few of my Git tricks, tips and workflows
Getting started with GitHub —
Git Tutorial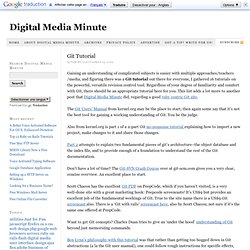 Gaining an understanding of complicated subjects is easier with multiple approaches/teachers/media, and figuring there was a Git tutorial out there for everyone, I gathered 16 tutorials on the powerful, versatile revision control tool. Regardless of your degree of familiarity and comfort with Git, there should be an appropriate tutorial here for you. This list adds a lot more to another post that Digital Media Minute did, regarding a good ruby centric Git site. The Git Users' Manual from kernel.org may be the place to start, then again some say that it's not the best tool for gaining a working understanding of Git. You be the judge.
Get Started with Git
If you're a designer or developer, you've probably heard about Git, and you might know that it has become immensely popular, especially among the open source community.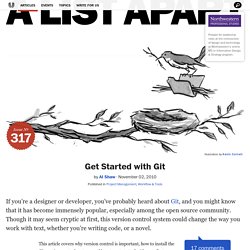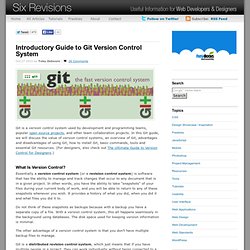 Introductory Guide to Git Version Control System
Git is a version control system used by development and programming teams, popular open source projects, and other team collaboration projects. In this Git guide, we will discuss the value of version control systems, an overview of Git, advantages and disadvantages of using Git, how to install Git, basic commands, tools and essential Git resources. (For designers, also check out The Ultimate Guide to Version Control for Designers.) What Is Version Control?
Introduction This article introduces version control and Git without assuming you have any prior knowledge or programming experience. Because of its introductory nature, certain details are simplified or omitted and the use of the Git Graphical User Interface (Git GUI) is emphasized.
Git: Your New Best Friend