Recursos
New work from Lucas Simões. Crazy Painting ! Snotr. Horses Enter Another Dimension. What defines great advertising?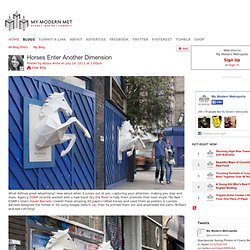 How about when it jumps out at you, capturing your attention, making you stop and stare. Agency FOAM recently worked with a new band Dry the River to help them promote their next single "No Rest." FOAM's intern Xavier Barrade created these amazing 3D paper-crafted horses and used them as posters in London. Barrade designed the horses in 3D using Google Sketch Up, then he printed them out and assembled the parts. Funhouse Mirrors picture on VisualizeUs. Quasi Cinema. Amazing Trick. Finger Family picture on VisualizeUs. Broken Heart by Leonheart picture on VisualizeUs. Christian Stoll. Beautiful Examples of Origami Paper Art. We've previously showcased some really cool paper sculpturing artwork; today we are going to show you another type of paper-related artwork.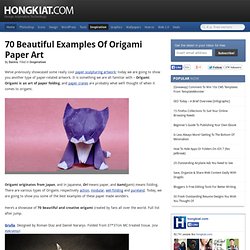 It is something we are all familiar with – Origami. Origami is an art of paper folding, and paper cranes are probably what we'll thought of when it comes to origami. Origami originates from Japan, and in Japanese, Ori means paper, and kami(gami) means folding. There are various types of Origami, respectively action, modular, wet-folding and pureland.
Chaotic Putty Installation at Venice Biennale. Called the "Olympics of Art," the Venice Biennale brings together some of the best contemporary artists from around the world, making it a must-visit art show at least once in a person's lifetime.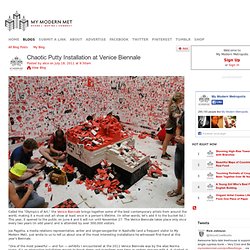 (In other words, let's add it to the bucket list.) This year, it opened to the public on June 4 and it will run until November 27. Piano stairs - TheFunTheory.com - Rolighetsteorin.se. Shark picture on VisualizeUs. Write upside down! sıɥʇ ǝʞıl - StumbleUpon. Three-Dimensional Paintings Attack! Sunday brunch 35 Sunday brunch (56 photos) picture on VisualizeUs. Tagged: Facebook Profile Pictures. Abstract Art Made of Everyday Objects. Twenty Dollars As a commercial photographer, William Castellana's challenge is to make an object stand out for its texture, its reflective quality or its overall design.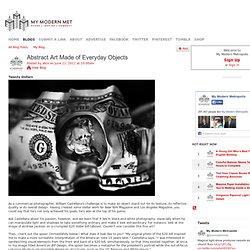 Having created some stellar work for New York Magazine and Los Angeles Magazine, you could say that he's not only achieved his goals, he's also at the top of his game. Ask Castellana about his passion, however, and we learn that it lies in black-and-white photography, especially when he can manipulate light and shadows to take something ordinary and make it look extraordinary.
For instance, look at the image of Andrew Jackson on a crumpled $20 dollar bill (above). South African Reverse Graffiti. Reverse graffiti is a relatively new trend that takes street art to a whole new level.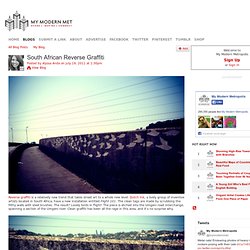 Dutch Ink, a lively group of inventive artists located in South Africa, have a new installation entitled Flight 101. The clean tags are made by scrubbing the filthy walls with steel brushes. Magnificent Contortion Art. Whoever thinks that a contortionist performs only for the circus needs to think again.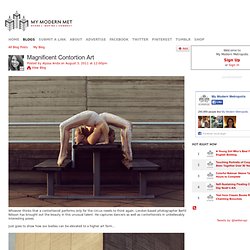 London-based photographer Bertil Nilsson has brought out the beauty in this unusual talent. He captures dancers as well as contortionists in unbelievably interesting poses. Who Could Resist Pressing this Facebook "Like" Button? I couldn't dredge up much information about this project, but this Arduino-based Facebook "Like" button by Mario Klingemann will be on display at the Ultra Social exhibition, a part of the UAMO Festival in Munich.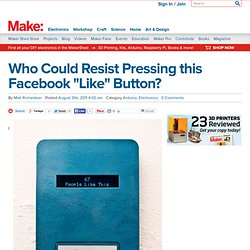 I wish I could be there so that I can push it myself, since I definitely want to be counted among those who like this project. More: Matt Richardson Matt Richardson is a Brooklyn-based creative technologist, Contributing Editor at MAKE, and Resident Research Fellow at New York University's Interactive Telecommunications Program (ITP). Magnificent Digital Caricatures. From movie stars and musicians to dictators and politicians, Dominic Philibert is able to recreate some of the most famous faces in the world, ones most of us can easily recognize.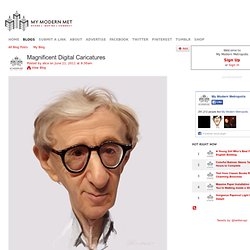 By carefully observing his subjects (or photos and videos of them), Philibert doesn't just look at their faces, he examines their expressions, their posture, their subtle gestures. Then, Philibert is able to distort their faces in a very exaggerated way while still maintaining some level of realism. Provocative Paintings from Russia. Water ink - BDDP Unlimited and Solidarités International. Miniature Origami Animals. Anyone who has attempted to create origami knows just how difficult it is.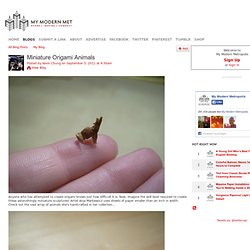 Now, imagine the skill level required to create these astonishingly miniature sculptures! Artist Anja Markiewicz uses sheets of paper smaller than an inch in width. Check out the vast array of animals she's handcrafted in her collection... Anja Markiewicz on Flickr via [Who Designed It?] Life-Size VW Beetle Becomes a Reef. Artist Jason deCaires Taylor shocked us when he first announced that he was submerging over 400 cement sculptures for a new underwater museum in the National Marine Park of Cancun.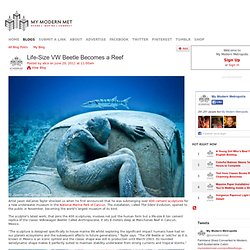 The installation, called The Silent Evolution, opened to the public in November, becoming the world's largest museum of its kind. The sculptor's latest work, that joins the 400 sculptures, involves not just the human form but a life-size 8 ton cement replica of the classic Volkswagon Beetle! Called Anthropocene, it sits 8 meters deep at Manchones Reef in Cancun, Mexico. "The sculpture is designed specifically to house marine life whilst exploring the significant impact humans have had on our planets ecosystems and the subsequent affects to future generations," Taylor says. Bear Made of 20,000 Zip Ties. Whoever said you can make art out of anything was right! Design Office Takebayashi Scroggin (also known as d.o.t.s.) created the Zip Tie Massimal, a life-size installation made entirely from 20,000 standard zip ties! As you can tell, it's a striking recreation of a bear.
The Incredible Slate Sculptor. Tic Tac Orchestra. Miniature Slums on the Streets. Perspective Illusion Cartoon Sculptures. Paint Moss Graffiti - Step-by-Step Guides for Offbeat DIY Projects - Popular... Alcohol Milk Cartons. Modern Apple Tree. Animation. Beauty in a Statue. Magical Mermaids. Whispering … picture on VisualizeUs. MUJI Travel: Ojokeesu. Faces in the Sky. Mind-Blowing Illustrations by Loopy Dave | Abduzeedo | Graphic Design... Tiny Polaroid Snapshot Magnets. El arte de Gaby Herbstein huella ecológica. Surreal Childhood Fantasies. Ping Pong Balls Dance Choreography. Intricate Hobo Nickel Sculptures. Magical Dancing Lights. Surreal Self-Portraits by a 16-Year-Old. Post-it Note Wars. Revolutionary Art on Stacks of Paper. Clever Envelopes Tear off to Create Exhaust Fumes. Future of the technology: transparent screens. Gent: Campanha Tipográfica Olha que legal. A...
Spectacular Surfboard Art. Kissing from Above. Animated Liquid Typography. Maternal Chimpanzee Feeds Baby Tiger. Forest of Light. Just me, no one else picture on VisualizeUs. (1) Tumblr picture on VisualizeUs. Oleg Dou / Art picture on VisualizeUs. The Incredible Making of Climbing Sculptures. Brian M. Viveros' Creative Workspace. Capturing NYC's Day and Night in One Frame. Creative fingers01 Creative and Funny Fingers picture on VisualizeUs. Soap Reveals Hidden Dinosaur Fossils. Intricate Street Art Murals. Never Be My Friend. Recycled Newspapers Create Eloquent Shadows. Punched Out Wedding Invitations. Modern Headless Horseman. Shocking Illusion Wall Art. Underwater Shipwreck Art Gallery - Photos Released! Cool Polaroid Picture Frame and Mirror. Bringing the High Seas to Land. LEGO Astronauts Launch Off Towards Jupiter. Real-Life Super Mario World.
Cute & Crazy Vegetable Faces. Exploding Flowers. Giant 360 Degree Curtain Art. 2011 International Photography Award Winners. Incredible Light Painting Patterns. Uncovering Legends of Congolese Wrestling. Curing World Boredom with Windoodles. Run-Down Model Homes. Fascinating Photo Collages. Split Family Faces. Beautifully Unusual Animal Sculptures. Time Warp to the Future. Theclosetagency picture on VisualizeUs. Cool sneakers picture on VisualizeUs. Typeverything.com -  3 for Alpha Battle by Bratislav Milenkovic. picture on VisualizeUs. Street Art Notebook. Banana Oxidation Art. Dresses Made of the Most Unconventional Objects. Extreme Climbing Photography.
30 Heart Touching Examples of Dear Photograph picture on VisualizeUs. Ferocious Tire Sculptures of Wild Animals. Sculptures Assembled with Wooden Scraps. Funny-site-specific-street-art from mymodernmet.com.
---