Cloud Computing
On connais
Le DaaS met le bureau dans le cloud
L'étude a porté sur 127 fournisseurs de services Cloud dont 123 aux USA et 24 en Europe. Dans son rapport, sponsorisé par CA Technologies, Ponemon met en évidence les profondes divergences de vue entre les fournisseurs de Cloud Computing et leurs clients. En effet plus des trois-quarts des prestataires (79%) affectent moins de 10% de leurs effectifs techniques aux tâches de contrôle et de sécurisation.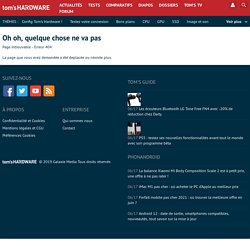 Cloud Computing : la sécurité de nouveau pointée du doigt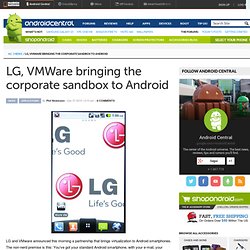 LG and VMware announced this morning a partnership that brings virtualization to Android smartphones. The non-nerd premise is this: You've got your standard Android smartphone, with your e-mail, your apps, your phone number.
LG, VMWare bringing the corporate sandbox to Android
L'ERP: le dernier des dinosaures, pourrait évoluer en ERP 2.0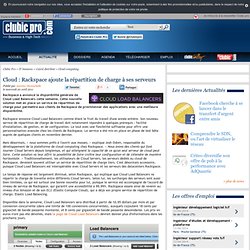 Rackspace a annoncé la disponibilité générale de Cloud Load Balancers cette semaine. Cette nouvelle solution met en place un service de répartition de charge pour permettre aux clients de Rackspace de provisionner des applications avec une meilleure disponibilité. Rackspace annonce Cloud Load Balancers comme étant le fruit du travail d'une année entière.
Rackspace ajoute la répartition de charge à ses serveurs
Un peu à la manière de l'Open Source en 2009, le Cloud Computing a été médiatisé et adopté massivement en 2010. Les rachats stratégiques s'enchaînent, pour que les sociétés jadis concentrée sur des offres purement logicielles ou matérielles entrent dans le jardin du Cloud Computing. Jeffrey Kaplan (à ne pas confondre avec le 'Game Design Chief' de chez Blizzard...), directeur de THINKstrategies, un cabinet de consultants indépendants basé aux Etats-Unis, définit le Cloud Computing comme « un ensemble d'outils et de services basés sur le web, qui permettent d'acquérir des ressources informatiques et des capacités de développement pour réaliser ou maintenir des applications, ou réaliser des fonctions spécifiques pour lesquelles vous ne payez que ce que vous utilisez » (1).