Books
From Publishers Weekly A French academic hiding his collaborationist past resurrects himself in America in this misfired novella. Professor of literature at the Yale-like New Harbor, Léopold Sfax, the novella's wily, boorish narrator, has become a celebrity in literary America for espousing his capital-T Theory that words are far older and fickler and more experienced than the writers who... are 'using' them. When eager grad student Astrid Hunneker embarks on writing his biography, Sfax nervously pads his backstory, omitting the embarrassing parts that took place during WWII, when as a young man living in occupied Paris he was asked to contribute to a collaborationist magazine. Yet Sfax returns obsessively to this period, revealing that he pseudonymously wrote scores of Nazi hack work articles and was denounced in a traitor's gallery published by the Resistance in 1943.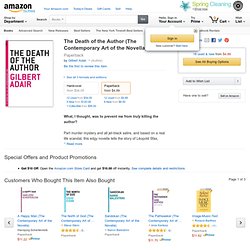 The Death of the Author (The Contemporary Art of the Novella) (9781933633572): Gilbert Adair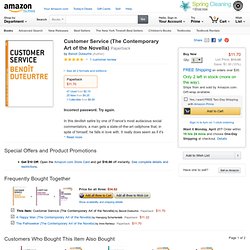 Customer Service (The Contemporary Art of the Novella) (9781933633527): Benoit Duteurtre
From Publishers Weekly The unnamed narrator in Duteurtre's unrewardingly whiny novella has something to get off his chest—customer service in the computer age is, it seems, a shambles. Telephones are answered by machines, high school kids are technology gurus, airlines are inflexible, and don't even get him started on the trouble of remembering PINs and passwords.
The book is a collection of intertwining, often hilarious, stories of various natures, styles, and character: gothic, romance, a singular mathmatician, erotica, chivalry, adventure, greed, religion from many perspectives. It seems that this novel deserves to be more popular, it fits the modern attention span with its substratum of vignettes, and the larger grand story that encompasses them, a timeless tale. The book is funny and the message profound, but of the bewildering conundrum sort that some great poems often leave one with, as the story intertwines the symbols of various lives into something that was mature and introspective but uplifting and cathartic -- it doesn't rely on words but on situations to do this; so probably losses little in translation as many poems do. If anything it leaves one with stronger sense of brotherhood and love for one's neighbor.
amazon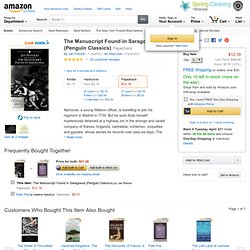 Ever Present Origin: Part One: Foundations Of The Aperspectival World (Englis Series, No 1) (9780821407691): Jean Gebser, Noel Barstad, Algis Mickunas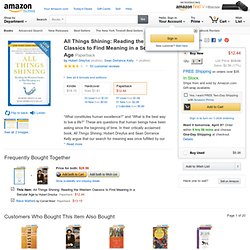 Many people in today's world do not recognize "shining" things when they see them. Instead, feelings of loss, sadness, angst, and despair prevail. Dreyfus and Kelly lament that fact and respond to the situation by introducing (or reintroducing) readers to several literary classics of the Western world. With a balanced mix of philosophy and literature, the authors highlight works like Melville's Moby Dick, Homer's Odyssey, and Dante's Divine Comedy.
All Things Shining: Reading the Western Classics to Find Meaning in a Secular Age (9781416596158): Hubert Dreyfus, Sean Dorrance Kelly
In his new book, Examined Lives: From Socrates to Nietzsche, James Miller reexamines one of philosophy's original prerogatives: to teach by example. The Greeks, and later the Romans, saw the conduct of a thinker as every bit as important as their thought. For this reason we find biographical compilations, such as Diogenes Laertius or Plutarch from antiquity, praising or faulting those who should be the exemplars of wisdom. This idea, that the validity of a philosophy should be judged by the life of the philosopher, is out of fashion in current academic talk. In fact, as the author notes in regards to the final subject of the book, Friedrich Nietzsche: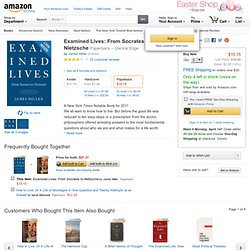 Examined Lives: From Socrates to Nietzsche (9780374150853): James Miller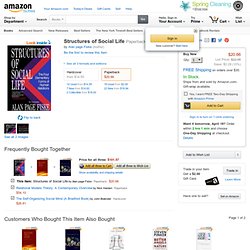 Trade in your item Get a $2.00Gift Card. Flip to back Flip to front Listen Playing... Paused You're listening to a sample of the Audible audio edition. Learn more
Structures of Social Life (9780029066874): Alan page Fiske
Life: A User's Manual (9781567923735): Georges Perec, David Bellos, David R. Godine
Kornel Esti (9780811218436): Deszö Kosztolányi, Bernard Adams
Flip to back Flip to front Listen Playing... Paused You're listening to a sample of the Audible audio edition.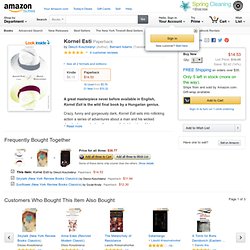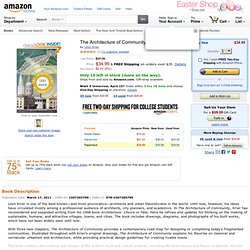 If you've never read Léon Krier, you've missed a tremendous pleasure. Krier, the Luxembourg-born architect who has sometimes been called the intellectual godfather of New Urbanism, may be the world's funniest living architectural theorist. He can be delightfully droll while making deadly serious points.
The Architecture of Community (9781597265782): Leon Krier
Reluctant Capitalists: Bookselling and the Culture of Consumption (9780226525914): Laura J. Miller
Book Description Publication Date: May 15, 2007 | ISBN-10: 0226525910 | ISBN-13: 978-0226525914 Over the past half-century, bookselling, like many retail industries, has evolved from an arena dominated by independent bookstores to one in which chain stores have significant market share. And as in other areas of retail, this transformation has often been a less-than-smooth process. This has been especially pronounced in bookselling, argues Laura J.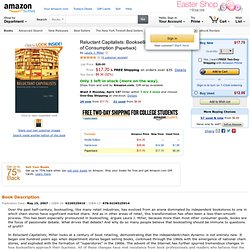 The Late Age of Print: Everyday Book Culture from Consumerism to Control (9780231148153): Ted Striphas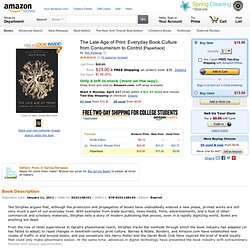 I maintain that Late Age of Print is a must-read for anyone who is interested in the print media, media ecology, or media studies in general. Striphas investigates the everydayness of books that he claims is intimately bound with: "a changed and changing mode of production; new technological products and processes; shifts in law and jurisprudence; the proliferation of culture and the rise of cultural politics; and a host of sociological transformations" (5). His main argument is that books had been integral to the making of modern consumer culture in the 20th century, as they were one of the first commercial Christmas presents, and today are responsible in part for the fall of that consumer capitalism into a society of controlled consumption, a term that he borrows from Henri Lefebvre.
The Case for Books: Past, Present, and Future (9781586489021): Robert Darnton
The Business of Books: How the International Conglomerates Took Over Publishing and Changed the Way We Read (9781859843628): Andre Schiffrin
From Publishers Weekly The descendant of a distinguished publishing family, Schiffrin has been the gadfly of American publishing ever since he quit his post as head of Random House's Pantheon imprint in a blaze of publicity 10 years ago, complaining that the publisher's new management wanted to trim his list severely, removing from it many of the socially conscious titles he was proud to publish. He went on to found and run the New Press, which, with strong foundation support, has continued to do many of the kinds of books that Schiffrin insists should be published, but which he claims have increasingly been abandoned by big commercial houses. In this brief but pithy treatise, some of which has already appeared in Europe, Schiffrin forcefully argues that publishing only for immediate commercial return is not only economically shortsighted but culturally disastrous.
Merchants of Culture (9780745647869): John B. Thompson
An enormous amount has been written, both online and in print, about the publishing industry in recent years - some of it perceptive; a little (a very little) well-informed; much of it complete rubbish, ranging from the ignorant to the merely opinionated. The vast majority of this body of commentary has one common factor: its authors have a relationship with the industry, whether as insiders (publishers, agents, authors, booksellers) or as outsiders (mostly self-published authors). That is to say, everyone has some kind of an angle to play, a stance or interest (vested, conflicted or otherwise) to defend, or in plenty of cases an axe to grind. That stops here.
The Tell-Tale Brain: A Neuroscientist's Quest for What Makes Us Human (9780393077827): V. S. Ramachandran
Senselessness (9780811217071): Horacio Castellanos Moya, Katherine Silver
A Splendid Conspiracy (9780811217798): Albert Cossery, Alyson Waters
Flip to back Flip to front Listen Playing... Paused You're listening to a sample of the Audible audio edition. Learn more
Flip to back Flip to front Listen Playing... Paused You're listening to a sample of the Audible audio edition.
The Seamstress and the Wind (9780811219129): César Aira, Rosalie Knecht
Ice Trilogy (Nyrb Classics) (9781590173862): Vladimir Sorokin, Jamey Gambrell
How to Write a Sentence: And How to Read One (9780061840548): Stanley Fish