Blogs
Talking Philosophy. Maud Newton. By popular demand, by which I mean because I think Carrie Frye will enjoy it, here's a lightly edited version of my introduction to the conversation Donna Tartt and I had after her reading last night.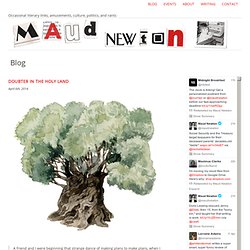 There are very few novelists writing today — or in any era, I suppose — of whom it can be said with certainty that they will be read in a hundred or two hundred years. Donna Tartt is an exception. Leiter Reports: A Philosophy Blog. ReadySteadyBlog « ReadySteadyBook - a literary site. In Simone Weil: An Introduction to her Thought, John Hellman shows that Weil's concept of attention is not simply some kind of effortful application of concentration (Weil: "Most often attention is confused with a kind of muscular effort ...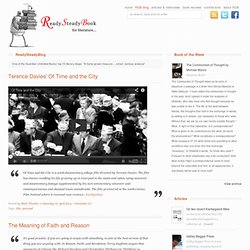 [a] kind of frowning application") but rather "the link between several aspects of her thought: her ascetic intellectualism, her love for mathematics, her concern for the poor and oppressed, her innovatively focussed politics, and her unusually empathetic sensitivity. " Attention, then, is a complex, compound term with several overlapping concerns.
Books blog. Vintage Reads. The Literary Saloon at the complete review - a literary weblog. Opinionated commentary on literary matters - from the complete review 12 April 2014- Saturday Kamila Shamsie profile | Up and coming, out of Russia ?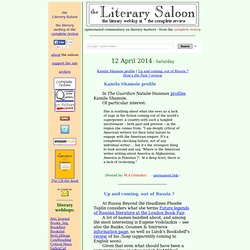 How's the Pain ? Review. This Book and I Could Be Friends. Biblioklept | Archives for Books About Books » Novel Readings - Notes on Literature and Criticism. Anne Fadiman, Ex Libris: Confessions of a Common Reader Anne Fadiman's Ex Libris is another Book About Books for my ongoing reading project–the longest-running one on this blog.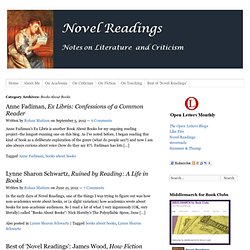 As I've noted before, I began reading this kind of book as a deliberate exploration of the genre (what do people say?) And now I am also always curious about voice (how do they say it?). Fadiman has lots […] The Reading Life. Brain Pickings. Romenu. De Nederlandse dichter Pieter Cornelis Boutens werd geboren in Middelburg op 20 februari 1870.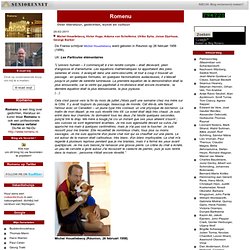 Zie ook mijn blog van 20 februari 2007 en ook mijn blog van 20 februari 2008 en ook mijn blog van 20 februari 2009 en ook mijn blog van 20 februari 2010. Die man lijkt mij godengelijk te wezen, Arts & Letters Daily - ideas, criticism, debate. The 2011 Tournament of Books by ToB Staff. This morning, amid a great thrum of imaginary fanfare, the Morning News Selection Committee unveils this year's 16 contenders and judges for that battle royale of literary excellence, the Seventh Annual Tournament of Books presented by Field Notes, sponsored by Powell's Books.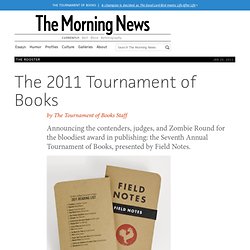 The competition doesn't begin until Monday, March 7, 2011, but today's announcement will allow time for Tournament fans to begin reading so they can follow along with the blood sport. We'll also let you know below how you can help determine the participants in this year's Zombie Round. You know Field Notes, right? Makers of the Field Notes Brand memo books, steno books, and other handy products, made right here in the U.S.A.? Well, they have created a special, limited-edition Tournament of Books memo book (see picture above) that you can use to track your Rooster reading. De Papieren Man - Literaire berichtgeving à la carte. Achille van den Branden. Brain Pickings. Books. Umberto Eco: meester van bedrog en zwendel - Trouw.
About. Three Percent launched in the summer of 2007 with the lofty goal of becoming a destination for readers, editors, and translators interested in finding out about modern and contemporary international literature.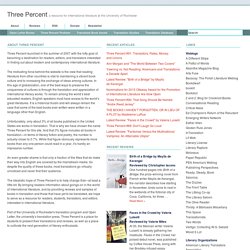 The motivating force behind the website is the view that reading literature from other countries is vital to maintaining a vibrant book culture and to increasing the exchange of ideas among cultures. In this age of globalization, one of the best ways to preserve the uniqueness of cultures is through the translation and appreciation of international literary works. To remain among the world's best educated readers, English speakers must have access to the world's great literatures. It is a historical truism and will always remain the case that some of the best books ever written were written in a language other than English. Unfortunately, only about 3% of all books published in the United States are works in translation.
DeReactor | Platform voor literaire kritiek. Complete Review - Welcome to the Complete Review. A Literary Saloon and Site of Review Welcome tothe complete review: A selectively comprehensive, objectively opinionated survey of books old and new, trying to meet all your book review, preview, and information needs. the complete review: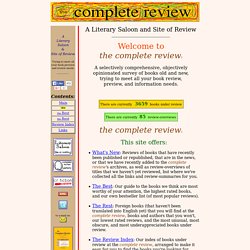 Dada Pedagogy: Andrei Codrescu's The Poetry Lesson. On page six of Andrei Codrescu's, The Poetry Lesson, student Matt Borden tells the class about himself.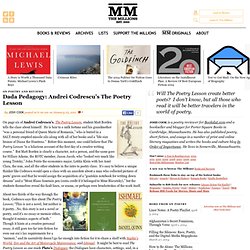 He is heir to a milk fortune and his grandmother "was a personal friend of Queen Marie of Romania," who is buried in a SALT-treaty-emptied missile silo along with all of her books and a "life-size bronze of Diana the Huntress." Before this moment, one could believe that The Poetry Lesson "is a hilarious account of the first day of a creative writing course." But Matt Borden is clearly a character, not a person, and the same goes for Hillary Adams, the ROTC member, Jason Jacob, who "looked very much like young Trotsky," John Ferris the economics major, Letitia Klein with her Aunt Clara, the nun, and all the other students in the intro to poetry class. The Millions. U.S. Release Date for 1Q84 | Conversational Reading. For all you Murakami heads out there: It's not yet listed on Amazon, but I'm all but certain this won't be the full 3 volumes.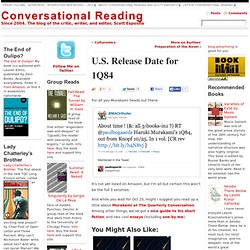 And while you wait for Oct 25, might I suggest you read up a little about Murakami at The Quarterly Conversation. Among other things, we've got a nice guide to his short fiction, and two cool essays (including one by me). You Might Also Like: 3quarksdaily. Literary Kicks. The Quarterly Conversation. The Elegant Variation. I find myself immensely and unexpectedly saddened today at the passing of Christopher Hitchens.
We sat up late last night watching video clips on C-Span and Youtube, and downed a surprisingly tearful Lagavullin (neat) in his honor. It seemed the thing to do. In the light of day, I am trying to understand my intense emotional reaction to the news, reminiscent of what I felt when Tony Judt, another great thinker and writer I did not know, died too soon.
And yet, like so many others, I felt as if I knew him. He was always essential reading, even when he infuriated me, as he did often. Bookworm. A must for the serious reader, Bookworm showcases writers of fiction and poetry - the established, new or emerging - all interviewed with insight and precision by the show's host and guiding spirit, Michael Silverblatt. After 21 years, Bookworm has a new theme -- two, in fact! Replacing the familiar "You are a Human Animal," is "I Am A Bookworm," an original composition by the idiosyncratic rock-pop group, Sparks, At the end of the show, a second Sparks composition, "Where Would We Be Without Books. " Curious? Check out the lyrics! Bookgasm — reading material to get excited about.
---