Foto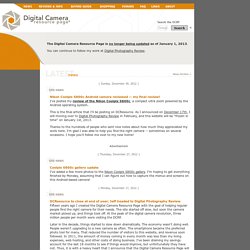 Fifteen years ago I created the Digital Camera Resource Page with the goal of helping regular people find the right camera for their needs. The site started off slow, but soon the camera market picked up, and things took off. At the peak of the digital camera revolution, three million people per month were visiting the DCRP. Later in the decade, things started to slow down dramatically. The economy wasn't doing well. People weren't upgrading to a new camera as often.
imaging resource
Steve'sDigicams recent reviews Sony α7 and α... Apple iPhone 5C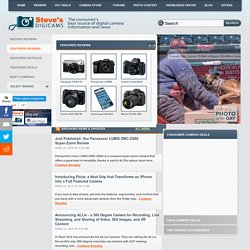 Digital Camera Reviews, News & Digital Photography Tips DCViews.com is a community of photographers who come together to connect with other photographers, learn, share and improve their photography. We provide photography tips, online photography tutorials and collect all the photography news and digital camera reviews from around the web. Newsletter Signup We respect your email privacy
DCVIEWS
Ricoh has launched the Pentax 645Z, a medium-format camera with a 51.4 megapixel CMOS sensor. Boasting an articulated 3.2-inch LCD, top ISO of 204,800, 3 fps continuous shooting, and 1080/60i video, the 645Z is cold-resistant, dustproof and weather-resistant with 76 weather-seals. It's also compatible with the Pentax FluCard, offering wireless remote control and image sharing from the camera to a smartphone, tablet or computer.