Botany Texts
Botany online - The Internet Hypertextbook - Download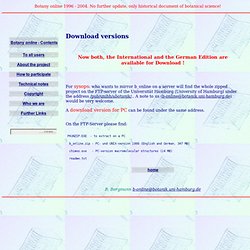 Now both, the International and the German Edition are available for Download ! For sysops : who wants to mirror b_online on a server will find the whole zipped project on the FTP-server of the Universität Hamburg (University of Hamburg) under the address /pub/unihh/abotanik/ .. A note to us ( b-online@botanik.uni-hamburg.de ) would be very welcome. A download version for PC can be found under the same address. On the FTP-Server please find: PKUNZIP.EXE - to extract on a PC b_online.zip - PC- und UNIX-version 1999 (English and German, 347 MB) chimes.exe - PC-version macromolecular structures (14 MB) readme.txt
Home / Teaching Documents, Lecture Notes and Tutorials / Teaching Documents about Botany Teaching Documents about Botany About.com : Education > Biology > Plant Biology . ! American Society of Plant Biologists : The Plant Cell Online, Taching Tools in Plant Biology: Why Study Plants?
Teaching Documents about Botany, Links for Palaeobotanists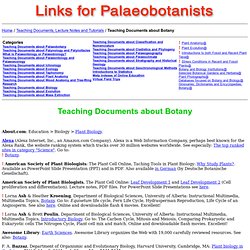 American Forest Trees by Henry H. Gibson - Hardwood Record , 1913 The present volume includes more than one hundred leading species of the forest trees of this country. They constitute the principal sources of lumber for the United States. Every region of the country is represented, no valuable tree is omitted. ( 182 views) One Thousand American Fungi by Charles McIlvaine - The Bobbs-Merrill Co. , 1912 My researches is confined to the species large enough to appease the appetite of a hungry naturalist if found in reasonable quantity; and my work is devoted to segregating the edible and innocuous from the tough, undesirable and poisonous kinds. ( 699 views) Study Guide to the Science of Botany by Eric Guinther - Wikibooks , 2011 This Study Guide to the Science of Botany is a textbook intended to establish a course of study in the subject of Botany, utilizing articles provided in Wikipedia, with links to other relevant web sites and other Wikibooks as appropriate. ( 1872 views)
Botany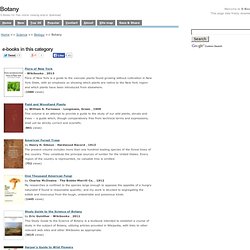 Move deeper into the systematics of plant groups by selecting one of the boxes containing a picture! Plants have chlorophyll and an alternation of generations . They differ from the "green algae" in that the young sporophyte -- or diploid plant -- begins its development within the tissues of its parent gametophyte --or haploid plant. They also differ in that the sporophyte and gametophyte are heteromorphic , that is the two generations look and develop differently from each other.
Systematics of the Plantae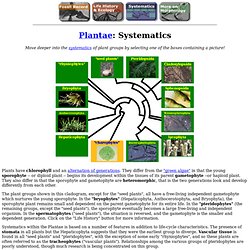 Plant Biology - CliffsNotes