Twitter Tools
Vital Twitter Tools for Managing Twitter Better. Lilach Lilach is the founder and driving force behind Socialable, and highly regarded on the world speaker circuit.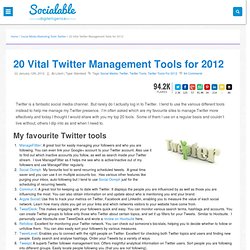 Forbes and Number 10 Downing Street have even been graced by her presence! Top 50 Twitter Tracking and Analytics Tools. With over 70 Million users on Twitter, it is definitely the "buzz" word of the year.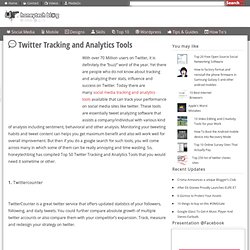 Yet there are people who do not know about tracking and analyzing their stats, influence and success on Twitter. Today there are many social media tracking and analytics tools available that can track your performance on social media sites like twitter. 12 Leadership Traits You Need to Thrive in Tough Times.
Trying to grow your business in this sluggish economy is a little like trying to swim through Jell-O.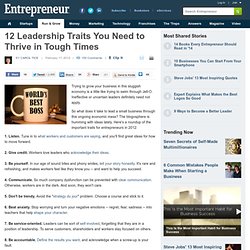 Ineffective or uncertain leaders definitely need not apply. So what does it take to lead a small business through this ongoing economic mess? The blogosphere is humming with ideas lately. Here's a roundup of the important traits for entrepreneurs in 2012: 1. Social media targeting software for large enterprise, eCairn Conversation(tm) SocialMiner. The Only Twitter Applications List You'll Ever Need. Twitter is a status-updating or microblogging social networking website.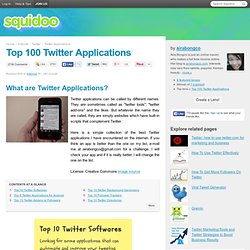 It is a breakthrough in social networking because it takes communication into another level. Before, a person can only update his status (eg. what he's doing, where he is) at a certain time. But with Twitter and it's mobile integration, he can update his status almost all throughout the day and get in touch with people that matters to him the most. But the functions of Twitter do not stop there. It is now used by various fields. Holy Twit - Increased Tweet Volume Drives Results | twitter. Momento - diary writing for iPhone and iPod touch - (Private Browsing) Replay it: Google search across the Twitter archive - (Private Browsing)
Since we first introduced real-time search last December, we've added content from MySpace, Facebook and Buzz, expanded to 40 languages and added a top links feature to help you find the most relevant content shared on updates services like Twitter.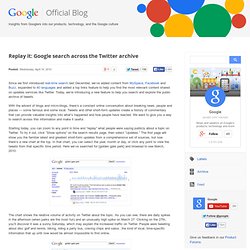 Today, we're introducing a new feature to help you search and explore the public archive of tweets. With the advent of blogs and micro-blogs, there's a constant online conversation about breaking news, people and places — some famous and some local. Tweets and other short-form updates create a history of commentary that can provide valuable insights into what's happened and how people have reacted. We want to give you a way to search across this information and make it useful. Free social media analytics tools - a roundup - (Private Browsing) Businesses of every size are beginning to realise the importance of social media marketing.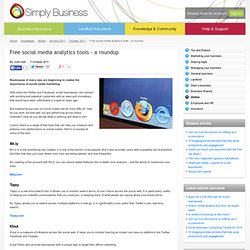 With tools like Twitter and Facebook, small businesses can connect with existing and potential customers with an ease and immediacy that would have been unthinkable a couple of years ago. But measuring success on social media can be more difficult. How do you work out how well you are performing across these channels? How do you decide what is working and what is not? Top Twitter Analytics Tools - (Private Browsing) With hundreds of add-on tools, Twitter certainly has plenty of ways you can analyze its data.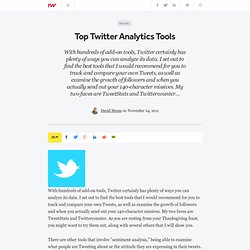 I set out to find the best tools that I would recommend for you to track and compare your own Tweets, as well as examine the growth of followers and when you actually send out your 140-character missives. My two faves are TweetStats and Twittercounter. 10 New Twitter Tools That Will Get You Tweeting. Whether you're new to Twitter or an experienced user, Twitter tools make everything easier.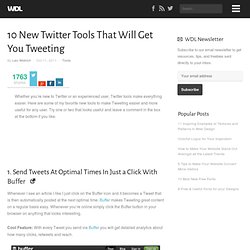 Here are some of my favorite new tools to make Tweeting easier and more useful for any user. Try one or two that looks useful and leave a comment in the box at the bottom if you like. Pinq Sheets: Your New Must-Have Twitter Tool. Posted by Shelly Kramer on August 24, 2011 · 14 Comments The fabulous Jen Wojcik.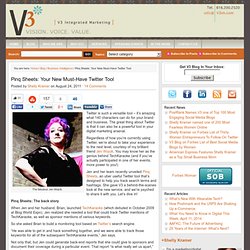 Twitter is such a versatile tool – it's amazing what 140 characters can do for your brand and business. The great thing about Twitter is that it can also be a powerful tool in your digital marketing arsenal. Regardless of how you're currently using Twitter, we're about to take your experience to the next level, courtesy of my brilliant friend Jen Wojcik. New startup captures Twitter users' imagination. One of the most curious things about Twitter is its love-hate relationship with companies that build services that make it more useful or interesting.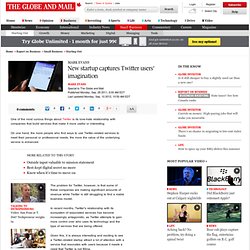 On one hand, the more people who find ways to use Twitter-related services to meet their personal or professional needs, the more the value of the underlying service is enhanced. The problem for Twitter, however, is that some of these companies are making significant amounts of revenue while Twitter is still struggling to find a viable business model. In recent months, Twitter's relationship with its ecosystem of associated services has become increasingly antagonistic, as Twitter attempts to gain more control over who uses its technology and the type of services that are being offered. Given this, it is always interesting and exciting to see a Twitter-related startup attract a lot of attention with a service that resonates with users because it meets a need that Twitter is not filling. 15 Twitter Tips: How to use twitter effectively for business, info and giveaways || Small Business Tips. Oct 1, 2010 Posted in Articles: Business, Tips & Insights How to use twitter effectively for business, info and giveaways (Tips tweeted by Shara Lawrence-Weiss on Friday, October 1st, 2010) Tip #1: Twitter is an info highway.
Measure your social media and website impact with these free sites || Small Business Tips. Aug 17, 2010 Posted in Articles: Business What's your social media impact? How about your website ranking? Here are a few free sites to assist you in finding out: Tweet Level: Each score is rated out of 100 – the higher your score, the better. 11 Must-Know Tips and Tricks for Twitter - TNW Social Media. We've collected 11 of the best and most helpful Twitter apps, sites and tips that you might not know, compiling what we think are some of the best tools available to help you get the most out of your Twitter activity. 1.
Find out when you were unfollowed and why This is an excellent tool both for business and personal use on Twitter: Tweeteffect.
---