Mobile Cloud
Product :: Backend for Mobile Apps. Simple, Powerful, Complete. The Technology Stack For Mobile Applications. Overview | Kinvey. Parse. How Parse wants to make mobile backends easy. Ah, summer.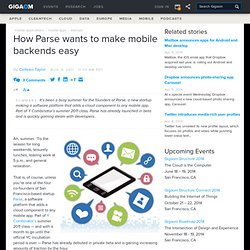 'Tis the season for long weekends, leisurely lunches, leaving work at 5 p.m., and general relaxation. That is, of course, unless you're one of the four co-founders of San Francisco-based startup Parse, a software platform that adds a cloud component to any mobile app. Part of Y Combinator's summer 2011 class — and with a month to go until the official YC incubation period is over — Parse has already debuted in private beta and is gaining increasing amounts of traction by the hour.
Evidently, June and July 2011 were nothing but work for Parse's founding team.
---