Tool
Web 2.0 productivity tools. Target audience: Nonprofits, foundations, social benefit organizations, NGOs, educators, students, journalists, Web publishers, general public.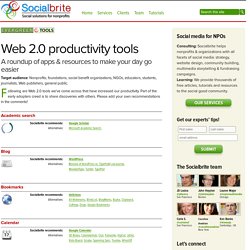 Following are Web 2.0 tools we've come across that have increased our productivity. Part of the early adopters creed is to share discoveries with others. Please add your own recommendations in the comments! 100 Tips, Tools, and Resources for Twitter Research. Top 100 Tools for the Twittering Teacher.
Posted on Thursday April 2, 2009 by Staff Writers By Donna Scott Twitter has become a powerful tool for community organizers, marketers, and others who want to share and receive information in a fast, friendly environment.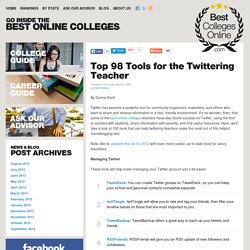 ---