Valentina's DIY
Cositas para la parte inferior del pantalon. Sew a ruffle on the bottom of a pair of pants and you take them to a whole new level, add a bow…and well, you've really got something :).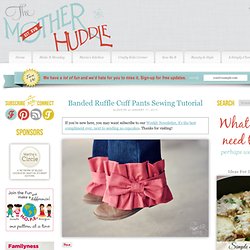 Aren't they cute?! I thought of the idea for this jean upcycle about a year ago when I came across these super cute boots on Pinterest. How To Knit A Bow Scarf. (UPDATE) I will be selling this scarf on my INSTAGRAM so be on the lookout; I will update here when I will be accepting pre-orders by email.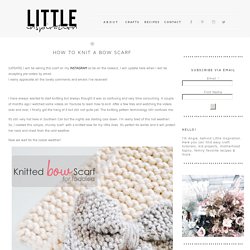 I really appreciate all the lovely comments and emails I've received! I have always wanted to start knitting but always thought it was so confusing and very time consuming. A couple of months ago I watched some videos on Youtube to learn how to knit. After a few tries and watching the videos over and over, I finally got the hang of it but still not quite yet.
SUPER BOWL CASCARONES. The big game is just days away, and I can hardly contain my excitement for nearly four solid hours of incredible commercials football.
Now, I may not be the biggest sports expert, but I do pride myself on being a master of party-throwing… so you can be sure that a Super Bowl soiree is no exception. Since nothing says 'celebration' quite like confetti, we created these football-shaped cascarones (or confetti eggs) to add a festive element to your game-day, perfect for smashing when your team scores! Keep reading for instructions on how to make your own, and we'd love to hear what you all have planned for Sunday! Easter Eggs! I always have my kid sister come over for Easter and we never really do much with our eggs other then dye a few with those cheap little dye kits from Target.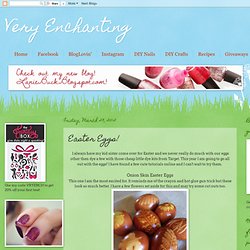 This year I am going to go all out with the eggs! I have found a few cute tutorials online and I can't wait to try them. Onion Skin Easter Eggs. Tazones de chocolate. Sometimes it's the simplest projects that turn out best, wouldn't you say?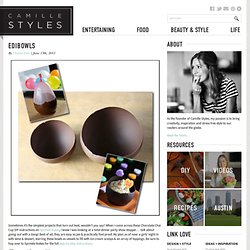 When I came across these Chocolate Chai Cup DIY instructions on Sprinkle Bakes, I knew I was looking at a total dinner party show stopper… talk about going out with a bang! Best of all, they are easy as pie & practically fool proof. My plan as of now: a girls' night in with wine & dessert, starring these bowls as vessels to fill with ice cream scoops & an array of toppings. Be sure to hop over to Sprinkle Bakes for the full step-by-step instructions. Headbands. I was walking through Target a few weeks ago and noticed this little knit fabric headband that was not just braided together…….but woven.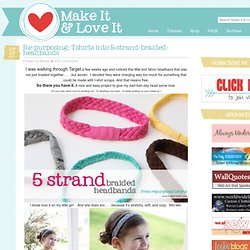 I decided they were charging way too much for something that could be made with t-shirt scraps. And that means free. Ice dinosaur egg. Summer is starting to wind down a bit, with camp ending and VBS almost over, so I need to get my act together and find more kid crafts!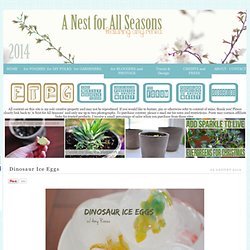 Anybody have some good ideas??? This past week we had "dinosaur" week which consisted of walking around like dinosaurs, prancing play dinosaurs through play dough and lots of digging in the sandbox. of course, there was one little activity that topped all the rest and that would be the infamous dinosaur ICE EGGS! They are quite simple to make, and could be used in a variety of themed games/crafts. All you do is shove a little plastic toy into a balloon. Fill that puppy with water and toss it in the freezer.
Photoprops. Ice Cream Cones de tela. We are so excited to share this diy with you, if you are planning an ice cream party believe us these are just the sweetest things to let each child take home with them!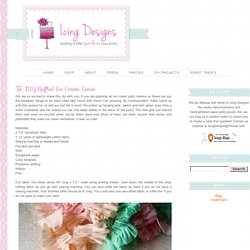 Our amazing diy correspondent, Katie came up with this project for us and we just fell in love! We ended up hanging pink, peach and mint green ones from a white chandelier and the looked so cute and really added to the decor of the party! The little girls just adored them and were so excited when we let them have one! Most of them put them around their necks and pretended they were ice cream necklaces, it was so cute! Play Dough. Homemade playdough – If ever there was a quintessential DIY this is it!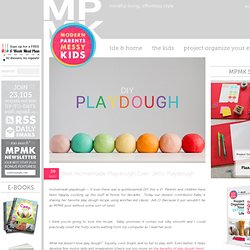 Parents and children have been happily cooking up this stuff at home for decades. Today our newest contributor Kaley is sharing her favorite play dough recipe using another kid classic: Jell-O (because it just wouldn't be an MPMK post without some sort of twist). I think you're going to love this recipe.
---