Wiedza
Get flash to fully experience Pearltrees
Copyright © 2001 Eric S.
Copyright © 2001 Eric S. Raymond As editor of the Jargon File and author of a few other well-known documents of similar nature, I often get email requests from enthusiastic network newbies asking (in effect) "how can I learn to be a wizardly hacker?".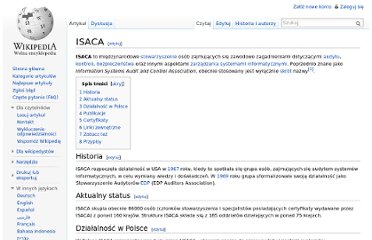 ISACA to międzynarodowe stowarzyszenie osób zajmujących się zawodowo zagadnieniami dotyczącymi audytu , kontroli , bezpieczeństwa oraz innymi aspektami zarządzania systemami informatycznymi . Poprzednio znane jako Information Systems Audit and Control Association , obecnie stosowany jest wyłącznie skrót nazwy [1] . Historia [ edytuj ]
COBIT ( Control Objectives for Information and related Technology ) - standard opracowany przez ISACA oraz IT Governance Institute, zbiór dobrych praktyk z zakresu IT Governance, które mogą być wykorzystywane w szczególności przez audytorów systemów informatycznych . COBIT 4.1 opisuje 34 wysokopoziomowe procesy, które obejmują 210 celów kontrolnych pogrupowanych w czterech domenach:
PRINCE2 – metodyka zarządzania projektami oparta na produktach.