CreaBea
Jar Box « PaperMatrix. If you can manage the Onion Dome Box, you can also make this Jar Box.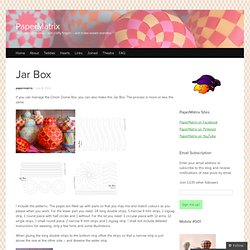 The process is more or less the same. I include the patterns. The pages are filled up with parts so that you may mix and match colours as you please when you work. For the lower part you need: 24 long double strips, 5 narrow 9 mm strips, 1 zigzag strip, 1 round piece with half circles and 1 without. How to make boxes from paint swatches. If you've got paint chips sitting around begging to be made into something, try folding them into boxes for paperclips, thumbtacks, party favor candies, or tiny gifts.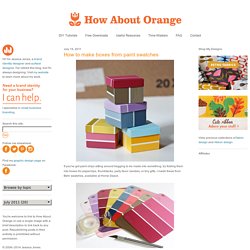 I made these from Behr swatches, available at Home Depot. You'll need paint swatches, double-stick tape, an X-acto knife, ruler, and cutting mat. Ribbon organizer in Crafts for decorating and home decor. Beautiful Black and White Office Space - Remodelaholic. Do-it-Yourself DIY String Wedding Lanterns Yarn Chandeliers. Jessica of Wednesday Inc shows us how to make those gorgeous twine chandeliers from the inspiration shoot she shared with us this morning.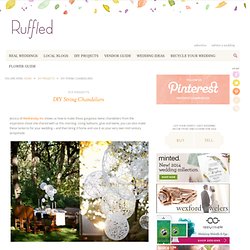 Using balloons, glue and twine, you can also make these lanterns for your wedding – and then bring it home and use it as your very own mid century lampshade. What you will need are: balloons, glue, yarn, tray for glue, corn starch 1/2 cup of Corn starch, 1/4 cup of Warm water, clear fast drying spray paint, hanging lamp cord or fishing line (depending on your desired final product), and a lighting kit if you're looking for a fully functional lantern. Interweave Knitscene: Knits Spotting Gallery - Central Park Hoodie. Stylish projects in linen-blend yarns or large-scale lace patterns help to beat the heat.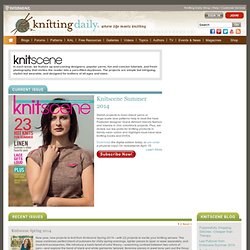 Featured designer Grace Akhrem blends fashion and intarsia in chic colorblock projects. Plus, we review our top-picks for knitting products in trendy neon colors and highlight must-have lace knitting books and DVDs. Download the digital edition today, or pre-order a physical copy! On newsstands April 15. advertisement. January one: Central Park Hoodie Archives. January One -- Central Park Hoodie February 19, 2007 I believe!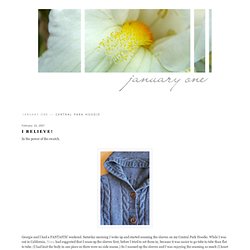 In the power of the swatch. Georgie and I had a FANTASTIC weekend. 13 Central Park Hoodie pattern by Heather Lodinsky. Central Park Hoodie. Nicely written pattern Review by Roberta This pattern was clear, easy to follow, and knit up beautifully.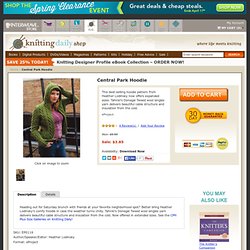 Nothing was unclear or incorrect, and the finished sweater is lovely. Other comments on the size are correct- there isn't a lot of ease in this sweater, and it's just barely long enough on me. Rainbow ripple : It is done! Jan27 Bonjouuuuur Today is a perfect day to reveal : My Rainbow ripple blanket :) Yes, it is done!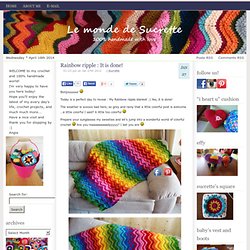 The weather is sooooo bad here, so grey and rainy that a little colorful post is welcome …a little colorful I said? A little too colorful. Groot beeld popup<\/TITLE><\/HEAD><BODY BACKGROUND=="hout-background.jpg" BGCOLOR="#B09569" onBlur="self.focus()">'); doc.write('<center><IMG SRC="'+imagename+'">'); doc.write('<form><input type="button" value="venster sluiten."onClick="window.close()"><\
Wereldwol heeft de beste en mooiste wol uit alle windstreken voor u verzameld.
Puff Daddy - knitted stool. Puff is the Norwegian word for stool.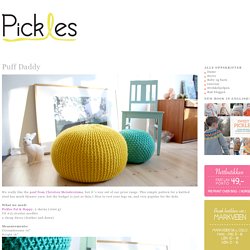 We really liked the pouf from Christien Meinderstsma, but it´s way out of our price range. This simple pattern for a knitted stool has much thinner yarn, but the budget is just as thin;) Nice to rest your legs on, and very popular for the kids. What we used:Eskimo, 18 balls (Or yarn suitable for US #13 needles)Acrylic yarn would probably be a really good alternative, as it´s a piece of furnitureUS #19 circular needles2 cheap duves (feather and down) How we did it:Cast on 35 stitches using three threads.Knit the garter stitch until you´ve knitted all the balls, and there is just enough yarn left to asseble the stool. You now have ONE rectangular piece.Cast off loosely.
Patronen. Simple Handmade Gifts. Embroidered Felt Brooch Project. Melissa (from tiny happy and our board) has made some lovely embroidered brooches in past months.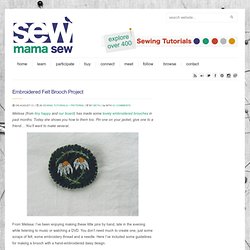 Today she shows you how to them too. Pin one on your jacket, give one to a friend… You'll want to make several. From Melissa: I've been enjoying making these little pins by hand, late in the evening while listening to music or watching a DVD. You don't need much to create one, just some scraps of felt, some embroidery thread and a needle. Lucy Patterson HANDS-ON. Tiny happy. - a gift from Tom's parents: big and bold white lilies, to brighten up the windowsill. - a beautiful page from an old, falling-apart encyclopedia: 'Wild flowers of the lily and related families found in Britain'.
Other Wellington-based stuff: Myrtle & Eunice: Safe arrival. I was nervous that I had come over too graphic designer on the envelope. It was late at night, there was a long European address involved, the postcode was not located within spitting distance of the bottom right hand corner and the posties at either end had to be somewhat challenged (not to say irked). And this scarf had taken quite some time, love and angst in the making.
Print & pattern. Do-It-Yourself Decorating Projects and Ideas - BHG.com. Do-it-yourself decorating allows you to customize your home, apartment, condo, or room with DIY accents that transform your space on a budget without completing a full-scale remodel. Whether you're a beginner or an expert, we guide you… read more Do-it-yourself decorating allows you to customize your home, apartment, condo, or room with DIY accents that transform your space on a budget without completing a full-scale remodel. Whether you're a beginner or an expert, we guide you with instructions, tutorials, and step-by-step photos for indoor and outdoor projects and room makeovers.
---