Other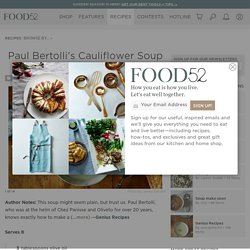 Author Notes: This soup might seem plain, but trust us. Paul Bertolli, who was at the helm of Chez Panisse and Oliveto for over 20 years, knows exactly how to make a vegetable become the best it can be. This recipe comes from Cooking by Hand, Bertolli's IACP award-winning book of recipes and essays, and makes for a soup that's delicate, sweet, and smooth as a flannel scarf.
Paul Bertolli's Cauliflower Soup recipe from food52
It's kind of a bummer that most comfort food is on the fattening side. Macaroni and cheese, vanilla ice cream with hot fudge sauce, yellow cake with chocolate fudge frosting, and, yeah. Baked ziti.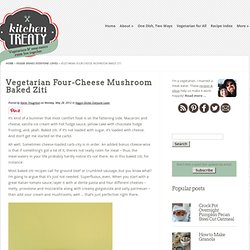 Vegetarian Four-Cheese Mushroom Baked Ziti | Kitchen Treaty
Vegetarian French Onion Soup - Life and Kitchen
16 Great Grilled Cheese Sandwiches in NYC
Quick, Easy Gluten Free Vegan Quinoa Casserole Recipe Quinoa Pilaf Recipe: Low fat, delicious, high protein vegetarian or vegan quinoa recipe, quick and easy to make. Use quinoa in any casserole recipe in place of other grains. For a quick easy healthy meal, serve this qluten free quinoa recipe with fried or baked tofu and a green salad. Total Prep and Cook Time: 45 Minutes Yield: 4 main dish servings, or 6 side servings
Easy Vegan Quinoa Recipe: Quinoa Pilaf Recipe, Stovetop or Slow Cooker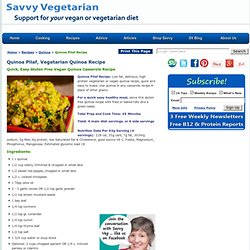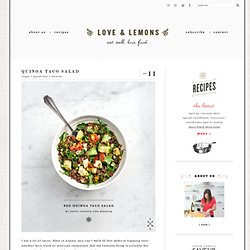 I eat a lot of tacos. Here in Austin, you can't walk 10 feet without tripping over another taco truck or mexican restaurant. But my favorite thing is actually the taco in it's deconstructed form: the taco salad. You can take this in as many different directions as there are taco fillings, but I especially like this with red quinoa (although if you had non-red quinoa it would taste pretty much the same).
taco salad with chipotle lime dressing
The Vegan Stoner: Pita Pizza
As the eye-popping colors of the summer seem to be quickly fading away into more earthy hues and blushes, only a small sliver of time remains to take pleasure in the freshly produced morsels of the warm weather season. My oven has only very minimally been used over the past several months (I've missed it terribly, actually), and meals have consisted primarily of wildly and beautifully strewn together salads, bowls of fresh fruit with cool toppings and simple stove-top pilafs, grain and rice dishes that won't heat up the whole kitchen. Quick sandwiches on either fresh-baked, doughy bread or toasted-up warm slices have been quite favored here at the house.
Crispy Prosciutto and Avocado Salad Toasts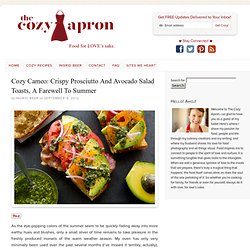 Scalloped Hasselback Potatoes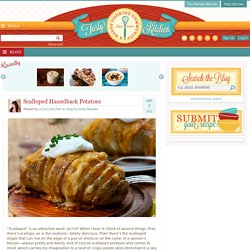 "Scalloped" is an attractive word, isn't it? When I hear it I think of several things: first, there's scallops, as in the seafood—totally delicious. Then there's the scalloped shape that can live on the edge of a pair of shorts or on the collar of a woman's blouse—always pretty and dainty. And of course scalloped potatoes also comes to mind, which carries my imagination to a land of crispy potato skins drenched in a sea of cheese and cream.
Banana Bread Pancakes
Homemade Peanut Butter Cups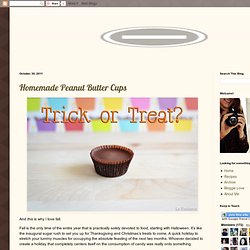 And this is why I love fall. Fall is the only time of the entire year that is practically solely devoted to food, starting with Halloween. It's like the inaugural sugar rush to set you up for Thanksgiving and Christmas's treats to come. A quick holiday to stretch your tummy muscles for occupying the absolute feasting of the next two months. Whoever decided to create a holiday that completely centers itself on the consumption of candy was really onto something.
I think that vegetables cooked on the grill are one of the most flavorful ways that you can prepare them. A whole new side of the veggie comes out when cooked that way. They get a slight smokiness from the grill and they just taste so fresh and wonderful. All you need to do is toss them with a little oil, season them up with your favorite seasoning and give them a few minutes on the grill and you have created something fabulous!
Lisa's Dinnertime Dish – Grilled Vegetable "Stir Fry"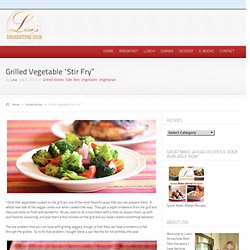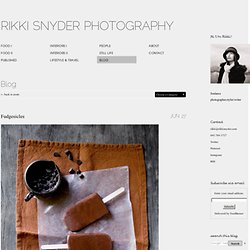 Fudgesicles I couldn't remember the last time I had a fudgesicle. Awful, right? So the other day I had to do something about it. I went searching for a good recipe and wasn't really satisfied with anything that I was finding. If I was going to make fudgesicles from scratch I wanted them to be better than the store bought ones.
Rikki Snyder Photography | Blog | Fudgesicles
grilled herb garden pizza | Love and Lemons
I really wanted this to be "every-herb-I-have-except-basil pizza." I've been on a bit of a basil kick lately and I really wanted to give some attention to the other herbs I have growing in the new garden. But the tomatoes I had were so pretty, I just couldn't bring myself to not match them up with basil. It would be like peanut butter without jelly… ketchup without mustard… or me without Jack (it's ok to groan, sorry). Basil notwithstanding, I couldn't make up my mind on which other herbs to use so I just went out and grabbed everything that looked good – lemon-thyme, sage, parsley — chopped them all together and threw them on top of the finished pizzas. I made 4 "individual" sized pizzas.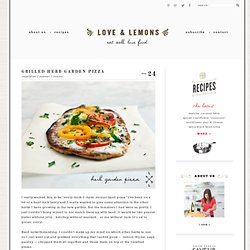 The heat of the summer sun feels like a light kiss in the cool morning air. The bright rays land lightly on my skin, feeling warm and rosy against the crisp breeze fading away from the rising sun. Morning light makes me want to lie in the dew-kissed grass, ignore the damp clothes sticking to my skin, close my eyes, and revel in the warmth of the beginning of a new day. I want to take in these small moments—indulge in their sweetness. Even though I'm given a new opportunity each morning to do so, I don't take it. Instead I spend my morning on the couch, behind glass, only noting the sun's presence from the glare across the television screen.
Lavender Lemonade
Blueberry Ice Popsicles Recipe
Click image for recipe! Hemmagjorda julklappar är alltid uppskattade, särskilt sådana som smakar bra. Den här idén funkar med en mängd olika recept, problemet är bara att få ingredienserna att passa exakt i burken.
Edible gift idea: Brownie mix
Find yourself needing a vitamin boost? Below are the recipes and directions of my five signature colour-free, sugar-free and bpa plastic free alkaline vitamin waters. Enjoy these combinations or get inspired to make your own!! It simple, cheap and easy way to get your vitamins in a delicious and hydrating way. An instructional video on how I prepare my StressLess Vitamin Water -
Zain's Signature Vitamin Water Five Flavours | Zain Jamal
Like a vegan version of , this is perfect for spreading on toast, incorporating into frosting or pies, sandwiching between cookies, or just eating with a spoon. I don't think I need to convince you to make this recipe. If hearing the words "chocolate" and "hazelnut" isn't enough to move you, I don't know what will. These days there are a couple of companies out there making vegan chocolate hazelnut spread, but it really isn't too difficult to make at home without paying an arm and a leg. Looking around the Web at similar recipes, I noticed that many people had a difficult time removing the bitter outer skins of the hazelnuts. Fortunately, there's a trick to make skinning hazelnuts easier.
Chocolate Hazelnut Spread | Hell Yeah It's Vegan!
title:The Cookie Dough Lover's Cookbookauthor: Lindsay Landispublisher:Quirk hard cover w/ spiral: 160 pagesphotos: yes chapters/sections: Introduction - Candy - Cookies and Brownies - Cakes, Custards, and Pies - Frozen Treats - Indulgent Breakfasts - Fun Snacks and Party Fare fun features: Absolutely mouthwatering photos throughout that illustrate Landis's love for cookie dough. And mine.
The Cookie Dough Lover's Cookbook by Lindsay Landis {cookbook review}
Two Tarts: Popsicles with Roasted Strawberry & Coconut Milk
Eat your way to better health! (Smashed Potatoes!)