Resources
27 Best WebSites to Download Free Seamless Patterns. Learn how to earn $125 or more per hour as a freelancer - Click Here Looking for hosting?.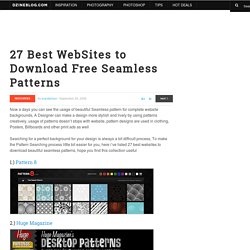 We recommend MediaTemple for web hosting. Use Code MTLOVESDESIGN for 20% off Now a days you can see the usage of beautiful Seamless pattern for complete website backgrounds, A Designer can make a design more stylish and lively by using patterns creatively, usage of patterns doesn't stops with website, pattern designs are used in clothing, Posters, Billboards and other print ads as well. 46 Dark Seamless And Tileable Patterns For Your Website's Background. 100+ Seamless Patterns Great for Creating Website Backgrounds. 1026 shares 200+ Seamless Patterns Perfect for Website Backgrounds We're always on the lookout for great freebies to share with our readers, and today we've got some seamless patterns.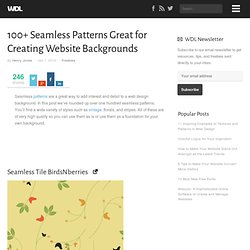 WOW
Track your time in Outlook using Journal - Outlook. By Jim Boyce You probably spend a big part of your day working in Microsoft Office Outlook 2003.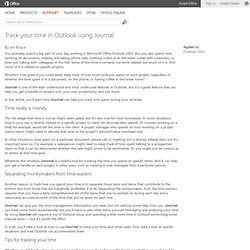 But you also spend time working on documents, making and taking phone calls, chatting online or at the water cooler with coworkers, or even just talking with colleagues in the hall. Kukua Fund. How to: install Android Jelly Bean 4.1.2 on Galaxy S I9000 | gurde. The Galaxy S I9000 can handle pretty well Android Jelly Bean, as it did with Ice Cream Sandwich.
CyanogenMod has some working and pretty stable builds based on Android 4.2.2, the CM10.1. Now, to be able to install CM10, the phone must run on Android 2.3.x or Android 4.0.4 and must be rooted with ClockworkMod recovery on it. If any of those is running on the phone, then skip to part 2 . Warning! Backup before starting any of the following. Avoiding common HTML5 mistakes. Between curating sites for the HTML5 gallery and answering readers' questions here at HTML5 Doctor, I see a host of HTML5 sites and their underlying markup.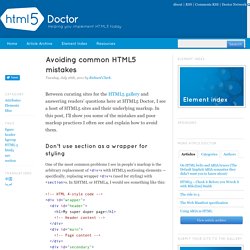 In this post, I'll show you some of the mistakes and poor markup practices I often see and explain how to avoid them. Don't use section as a wrapper for styling One of the most common problems I see in people's markup is the arbitrary replacement of <div>s with HTML5 sectioning elements — specifically, replacing wrapper <div>s (used for styling) with <section>s. Predict Gaze. James Bond 007 Cars Evolution | Evans Halshaw. <div class="no-js-warning">This site is better with JavaScript turned on!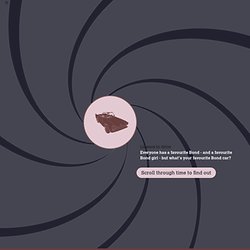 </div> Licence to drive Everyone has a favourite Bond - and a favourite Bond girl - but what's your favourite Bond car? Scroll through time to find out. Create Apps for Android with AppsGeyser. Free and No Coding required. Index of /rfc. Make beautiful products - sprint.ly. Subtle Patterns | Free textures for your next web project. Sites · mojombo/jekyll Wiki. Mojombo/primer. Semantic Versioning 2.0.0-rc.1. HTML Protection Tool - Encrypt HTML Source Code and Disable Right Click. With HTML Protector, you can protect everything on your web page, including HTML source code, JavaScript code, VBScript code, text, links and graphics. After successfully protecting your website, people will not be able to view or edit your source code, as well as JavaScript/VBScript. Your text cannot be copied to clipboard, your link addresses will not be displayed in the status bar of the browser, and your graphics will not be able to be saved by using the "Save image... " function provided by web browsers. In short, your web page can get complete protection from HTML Protector. While users will still be able to view your web pages and save it to their local disk, the pages are encrypted by HTML Protector so that the user will not be able to understand its source code, which will prevent them from using the code on their own pages. Modernizing your HTML5 Canvas games Part 2: Offline API, Drag'n'drop & File API - David Rousset. We've seen in the previous article Modernizing your HTML5 Canvas games Part 1: hardware scaling & CSS3 how to use CSS3 3D Transform, Transitions & Grid Layout for a HTML5 Platformer game.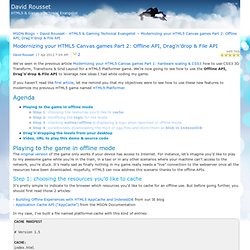 We're now going to see how to use the Offline API, Drag'n'drop & File API to leverage new ideas I had while coding my game. If you haven't read the first article, let me remind you that my objectives were to see how to use these new features to modernize my previous HTML5 game named HTML5 Platformer. Build Awesome Apps with CSS3 Animations | the HTML5 Center. Become a Bravenet Member for FREE. Create a Mobile Website | bMobilized. Home. Antivirus & Malware Protection | K7 Antivirus South Africa. | BusinessPrint | Digital and Litho Printing Company in Pretoria | Business Cards | Flyers | Brochures. Zendesk.com | Customer Service Software | Support Ticket System. Time tracking - Pricing. These terms of service govern the relationship between Toggl OÜ ("Toggl") and anyone who uses or has access to, or attempts to use or gain access to, any time tracking application provided by Toggl.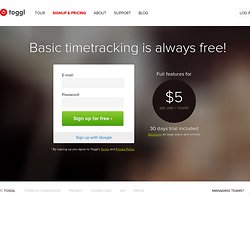 The terms and conditions set forth herein apply regardless of the environment in which the application is used, the geographic location of such use and the technical means employed therefore. Please consider the below text carefully for it is only if you fully agree with all terms and conditions contained herein that you may use the applications referred to. Redactor WYSIWYG editor on jQuery. Now, redactor of @imperavi is leading the wysiwyg competition. lightweight, fast performance, beating tinymce, ckeditor, and others :) Drizzle Cloudy @drizzlecloudy Great #rte #editor redactor.js - and just had excellent support by @imperavi Urs Bräm @ursbraem We're starting Imperavi integration into TargetProcess.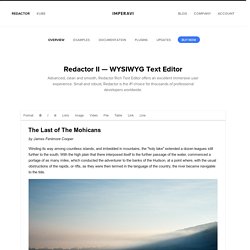 I personally waited for great editor for years. Seems it's finally there! Michael Dubakov @mdubakov. Kube Framework. Variables.less If you download Kube with LESS, you'll find variables.less file. This file contains all the settings for Kube, such as font family, font size, headers size, colors, etc. Of course, you can change any setting you like and completely rebuild Kube for your needs and according to your taste. grid. Cool Gadgets and Electronics. Super High Resolution Green Grass Texture. CSS3 Multiple Image Gallery Maker - CSS3 Builder. Crossfading Images | CSS3 transitions, transforms and animations. Commonly used as part of image galleries, or to show detail on products.
This has traditionally been done in javascript by iterating over the opacity - using CSS transitions makes this very easy to add to your site. Demo 1 - One image to another, on hover. Home - IATI Registry. BootstrapCDN: Twitter Bootstrap hosted on NetDNA's Content Delivery Network. ZurmoCRM - Sign in. The Open Graph protocol.
PCB Libraries. LESS « The Dynamic Stylesheet language. How I can help you complete your tax return | TaxTim. Tim is your very own digital tax assistant - Let Tim help you understand your tax return by answering his simple, plain language questions (no jargon!) One-by-one. Even if you have no idea where to begin, Tim will help you understand things and get started. Tim uses your answers to complete your ITR12 income tax return instantly and professionally, with everything filled in in the right place.
See a preview of the TaxTim output →Follow Tim's simple instructions to file your return with SARS and you're done! Photo WordPress Theme | ArtGallery. AutoFocus 2.0 for Wordpress | fthrwght. Lightbulb Royalty Free Stock Photo, Pictures, Images And Stock Photography. Image 11709600. Circuit Board Website Layout in Photoshop. Sending Nice HTML Email with PHP. JS Hotline: (877) 300-2187. Mixpanel Flow | Mobile and Web Analytics. Meer.li - Featured designs. Pure CSS GUI icons (experimental) Zooms to 10 Million by Drew Banks on Prezi. PSD to HTML jobs | Freelance Online PSD to HTML jobs | Freelancer.com. Now Trending. CSS buttons. CV templates. Type Connection. Type Connection.
Skrivr - Write freely. Publish beautifully. The future of web typography today. Privacy Policy generator. Process your photo. Color Scheme Designer 3. About | Wedtog. DE-Projekte.jpg (790×3232) 15 Free Ebooks about User Experience and Interface Design » paul olyslager. Login Form using HTML5 and CSS3. [Freebie] 15 Photoshop Watercolor Brushes. Royalty Free Music & Songs | Free Background Music Downloads. How to Design an Awful Sign-Up Form, 10 Step Guide. Fullscreen Slideshow with HTML5 Audio and jQuery.
Animated Portfolio Gallery with jQuery. Tutorials. 4ormat - Online Portfolio Website Made Easy. Ui Parade – User Interface Inspiration. Improve Your Google Search Skills [Infographic] Docstoc – Documents, Templates, Forms, Ebooks, Papers & Presentations.
SEO Toolbar for Firefox: Free Firefox SEO Extension / Browser Plug In.
---