Jscript
Many professional software products exist for designing magazines, building catalogs, writing documents and books, and presenting reports. FlippingBook Publisher makes your professionally created content look perfect on any desktop computer or mobile device. All you need is a document in printable format. Once you publish it with FlippingBook, phrases like "can't open", "bad zooming", and "too much time to download" become a thing of the past. You'll become used to hearing "awesome magazine", "convenient catalog", and "brilliant presentation" instead.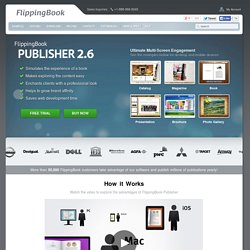 iPhone Style Checkboxes With CSS3 June 20th, 2010 Here's some form input checkboxes styled with CSS3 to look like iPhone style on/off buttons.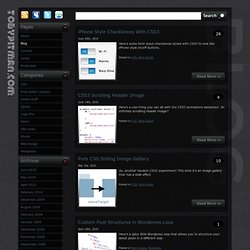 Blog « tobypitman.com
Supersized - Full Screen Background/Slideshow jQuery Plugin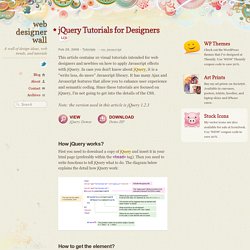 This article contains 10 visual tutorials intended for web designers and newbies on how to apply Javascript effects with jQuery. In case you don't know about jQuery, it is a "write less, do more" Javascript library. It has many Ajax and Javascript features that allow you to enhance user experience and semantic coding. Since these tutorials are focused on jQuery, I'm not going to get into the details of the CSS.
Garage Door Menu with jQuery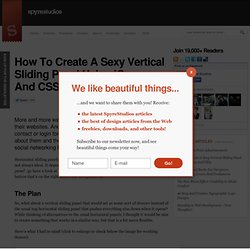 More and more we see people using horizontal sliding panels on their websites. And they usually look very nice! Some will put a contact or login form in there, others will put some information about them and their website, or even things like a tag cloud or social networking buttons.
slick animated menu
After reading Dave Shea's article on CSS Sprites using jQuery to produce animation effects, I felt like playing around with things to see what could be done but accomplish it with a simpler HTML structure (no need for adding superfluous tags) and simpler code, too. Changing the position of the background image felt to be the best approach to creating the type of effect we're looking for (and I'm not the first to think so: see the examples at the end of this article). jQuery is a great library for this type of task but out of the box, it can't animate background position properly because of the need to animate two values instead of just one (too bad not all browsers implemented the non-standard background-position-x and -y like Internet Explorer). You'll have to use the Background-Position plugin that is linked in the demo (the original plugin is no longer available on the jQuery site). Previous versions didn't support negative or decimal values properly. The HTML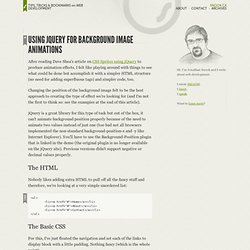 Elegant Accordion with jQuery and CSS3