Social Media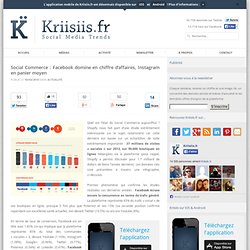 Quel est l'état du Social Commerce aujourd'hui ? Shopify nous fait part d'une étude extrêmement intéressante sur le sujet, notamment car cette dernière est basée sur un échantillon de taille extrêmement importante : 37 millions de visites « sociales » sur 2013, sur 90.000 boutiques en lignes hébergées via la plateforme (pour rappel, Shopify a permis d'écouler pour 1.7 milliard de dollars de biens l'année dernière). Les données clés sont présentées à travers une infographie, ci-dessous.
Social Commerce : Facebook domine en chiffre d'affaires, Instagram en panier moyen - Kriisiis.fr - Social Media Trends
Facebook Patent For Paid Profiles
By Justin Sullivan/Getty Images Facebook may be launching a new monthly subscription plan for users who are tired of seeing ads on the social network. Facebook filed a patent for "Paid Profile Personalization" back in 2011 that would get rid of advertisements on profile pages, Janko Roettgers at GigaOm reports. Here's a key chunk out of the filing: "The user may select one or more social networking objects to replace advertisements or other elements that are normally displayed to visitors of the user's profile page that are otherwise controlled by the social networking system," the patent states. "In particular embodiments, the user may edit elements on their profile page that are otherwise automatically generated and controlled in design and content by the social networking system.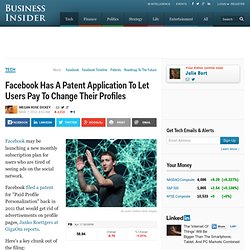 The astonishing growth of all things digital continues to gather pace around the world, as We Are Social's new Social, Digital & Mobile Worldwide report on the key social, digital and mobile stats from around the world demonstrates. It should come as little surprise that much of this growth is being fuelled by connected mobile devices, but this year's data do reveal some interesting trends and anomalies, especially in relation to Japan and Korea. You'll find the complete story in the SlideShare deck above, but we've pulled out some of the highlights below. Internet Adding up all the users in individual countries around the world, there appear to be around 2.5 billion global internet users today – roughly 35% of the world's population: click to enlarge
Pure Flesh Pure Flesh Radio Producing this week's mix with downtempo selections and a laid back sensibility. Read This Book If You Want To Fall Off the Grid Reviewing Seth Price's "How to Disappear in America", capturing the capsule of our current mood.
ALLDAYEVERYDAY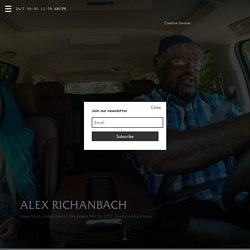 Super Social
Demande de permission