Facebook
Facebook usage data reveals just how 'depressingly stereotypical' your life probably is. Social networks offer unparalleled insights into how humans interact with each other.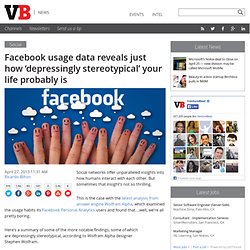 But sometimes that insight's not so thrilling. This is the case with the latest analysis from answer engine Wolfram Alpha, which examined the usage habits its Facebook Personal Analytics users and found that…well, we're all pretty boring. Here's a summary of some of the more notable findings, some of which are depressingly stereotypical, according to Wolfram Alpha designer Stephen Wolfram. Facebook Lauds Marvel's Avengers Alliance Game. The Avengers didn't just slay the competition at the box office — they were quite successful on Facebook, too.
Facebook highlighted the game Avengers Alliance (developed by Playdom) on the site's developers blog, praising the game's ability to implement quickly and its use of open graph technology. Avengers Alliance, where users jump into action as their favorite Marvel superhero, has spread like wildfire on Facebook. FACEBOOK LOCKUP RELEASE: 777 Million Shares. Screenshot Facebook COO Sheryl Sandberg.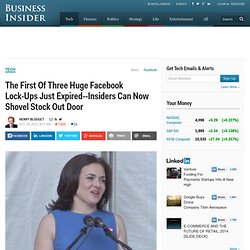 The first of three major "lock-ups" for Facebook stock expired today, October 29th, which means that a lot of new stock is available to be sold when the markets reopen. Facebook's EdgeRank Changes: A U.K. Company Claims They're Killing Small Businesses. A U.K. company that makes an app to help charities raise money says it may need some charity of its own, after nearly being run out of business because of changes to how Facebook lets it connect with its fans.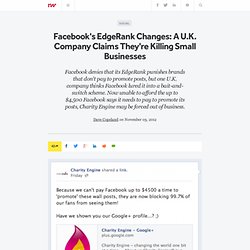 The makers of Charity Engine grabbed the vanity Facebook URL as soon as it became available in January 2010, even though its product was still far from being launched. The company used Facebook to explain the product, which offers computer users prizes to use idle time to raise money for causes, to prospect for users and to alert those fans as soon as it was launched. Through most of 2010 the company placed advertisements in Facebook and its fan base quickly grew. "By November we had over 100,000 fans from all over the world and we'd never even posted to the page," CEO Mark McAndrew said. Unpinned: Facebook Shuts Down Test Of Its Pinterest-Style Collections Feature. Very Pinteresting, in fact.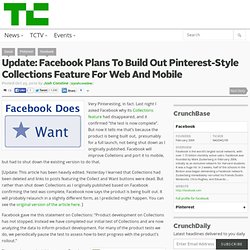 Last night I asked Facebook why its Collections feature had disappeared, and it confirmed "the test is now complete". But now it tells me that's because the product is being built out, presumably for a full launch, not being shut down as I originally published. Facebook tests 'suggested post' label for non-social News Feed ads. Facebook tests 'suggested post' label for non-social News Feed ads Some Facebook users are seeing ads in the desktop and mobile feed with the label "suggested post" when there is no connection between the user and the advertiser who has paid for the content to be there.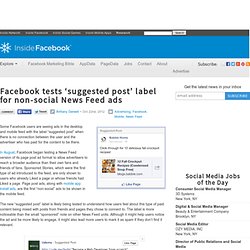 In August, Facebook began testing a News Feed version of its page post ad format to allow advertisers to reach a broader audience than their own fans and friends of fans. Sponsored Stories, which were the first type of ad introduced to the feed, are only shown to users who already Liked a page or whose friends had Liked a page.
Page post ads, along with mobile app install ads, are the first "non-social" ads to be shown in the mobile feed. The new "suggested post" label is likely being tested to understand how users feel about this type of paid content being mixed with posts from friends and pages they chose to connect to. Facebook lance la chasse aux "J'aime" suspects. How Facebook search ads change the competitive landscape for businesses. For years of search marketing, companies have had to bid on their own keywords to protect their brand and avoid losing traffic to competitors.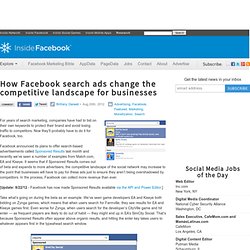 Now they'll probably have to do it for Facebook, too. Facebook announced its plans to offer search-based advertisements called Sponsored Results last month and recently we've seen a number of examples from Match.com, EA and Kixeye. Facebook Releases Page Post Ad Guidelines For Marketing Success. Facebook's Marketing page released some guidelines on Friday regarding post ads, in an effort to help administrators figure out how to become masters of their page.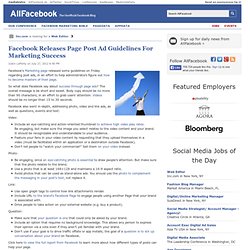 So what does Facebook say about success through page ads? The overall message is be short and sweet. Body copy should be no more than 90 characters, in an effort to grab users' attention. Facebook Rolls Out New Marketing Tools for Pages. Facebook has rolled out several new tools to help with the management and marketing of Pages on the service, Facebook engineer Omid Saadati announced today.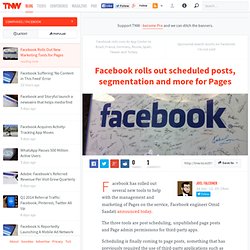 The three tools are post scheduling, unpublished page posts and Page admin permissions for third-party apps. Scheduling is finally coming to page posts, something that has previously required the use of third-party applications such as HootSuite or Buffer. Pages can now add location to their posts. Pages can now add location to their posts Facebook recently added the option for page owners to tag their posts and photos with location.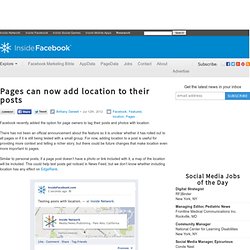 There has not been an official announcement about the feature so it is unclear whether it has rolled out to all pages or if it is still being tested with a small group. For now, adding location to a post is useful for providing more context and telling a richer story, but there could be future changes that make location even more important to pages. Similar to personal posts, if a page post doesn't have a photo or link included with it, a map of the location will be included.
This could help text posts get noticed in News Feed, but we don't know whether including location has any effect on EdgeRank. Facebook Engagement Dips: 34% Spend Less Time on Site [STUDY] 30 exemples de nouvelles applications Facebook. Le nouveau format de pages Facebook lancé fin février a vu naître un nouvel espace de créations pour les applications. Découvrez avec ces quelques exemples, comment les webdesigners ont relevé le défi.
En bonus, téléchargez gratuitement un template d'application Facebook en PSD. Après le lancement de la timeline Facebook pour les utilisateurs, l'arrivée tant attendue de son adaptation pour les pages a fait couler beaucoup d'encre. En plus de la mise en page et le principe de navigation totalement revu, de nombreuses fonctionnalités ont été ajoutées. Nous n'allons pas revoir en détail ces nouvelles caractéristiques ici, mais nous allons nous intéresser aux applications présentes au sein des pages de marques. Pages Facebook : la guerre des doublons. Cet article a été publié il y a 1 an 11 mois 23 jours, il est possible qu'il ne soit plus à jour. Les informations proposées sont donc peut-être expirées.
Kinder, Apple ok. Mais Kinder Bueno, Kinder Surprise, Kinder Chocobons, Iphone 3G, Iphone 4, Ipod Touch, Ipod nano… vous ne trouvez pas que ça fait beaucoup ? Moi si. Du moins avant… Je m'interroge depuis un moment sur la profusion et la multiplication des pages qui apparaissent sur Facebook. Facebook to create different levels of access for page admins. Facebook to create different levels of access for page admins Facebook announced it will give page owners an option to assign different privileges to admins, but it did not explain what type of access and restrictions will be available. During a breakout session at the Facebook Marketing Conference on Wednesday, Product Manager Jeff Kanter said pages will soon offer five levels of admin access. He mentioned full access, publishing-only access and insights access, but did not reveal the other two levels.
Facebook did not respond to requests for clarification. Facebook et la pub : quand le réseau préfère le business à l'innovation. Apogée du Web 2.0 fait de partage, de rencontres et d'innovation, la création de grands réseaux sociaux comme Facebook et feu Myspace a fait passer le web collaboratif dans une autre dimension. Tout a été dit sur la création de Facebook par son si génial "Zuck", maintenant à la tête d'une entreprise qui devrait (et a déjà) défrayer la chronique avec son entrée en bourse au mois de mai. Ogre Facebook - Rishi Bandopadhay/CC/Flickr.com Les dernières évolutions de Facebook mais aussi de Twitter, si souvent pris comme sacro-saint outil de sourcing et d'information par certains journalistes, s'éloignent de plus en plus de cet aspect communautaire pourtant si essentiel.
Dénaturer le principe même d'un réseau social. Facebook: perspectives pour 2012. Facebook vient de rendre accessible la Timeline (le Journal en bon français) à toutes les pages de marque. Pour un détail des nouveautés induites par cette évolution, je vous invite à consulter les articles de We Are Social ou de Locita. Pour ma part je souhaiterais me concentrer sur les questions plus larges que soulèvent les dernières évolutions du géant des réseaux sociaux. Celà faisait longtemps que je souhaitais faire cet article, mais j'attendais de voir si Facebook nous réservait encore de nouvelles surprises, afin de pouvoir trier sereinement le bon grain de l'ivraie. Donc, que faut-il retenir? Vers une normalisation de la situation. Log In. Facebook's Premium Ads Get A Facelift: Slideshow. Facebook : bientôt une messagerie privée entre fans et pages pro.
Facebook Platform Updates: Frictionless Requests 2.0, OAuth 2.0 and HTTPS Deadlines Tomorrow, FMBL Ending June 2012. Facebook Is Losing Users In The Countries Where It Took Off First. Sony Ericsson | Facebook. Castorama. Facebook Turns Friend Activity Into New Ad Format. In-Depth Review: Facebook's New Message Inbox Product. Facebook Marketing: Ultimate Guide. Facebook SEO 101. Médias sociaux > Pourquoi British Telecom n'est pas sur Facebook. Digital Sharecropping - Why Most Facebook Customization is Wasted Effort | Social Media Marketing.
---