Fabricants
Streamlight - Flashlights: Stinger, Survivor, Litebox, Fire Vulcan, Propolymer, Twin-Task, Tactical | Streamlight
Arc Flashlight - LED Flashlights
Enterprises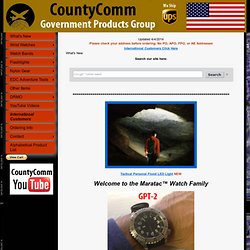 Please check your address before ordering. No PO, APO, FPO, or AE Addresses International Customers Click Here What's New Search our site here: Custom Search ------------------------------------------------------------------------------- Welcome to the Maratac™ Watch Family
What's New
Start – Fjällräven
Gerber Tools - Gerber Multitools
More Tactical Touch® Flashlights Brite-Strike® "Tactical Touch® Flashlights with Tactical Blue Dot™ Switches"were designed by police officers for police officers. The body is CNC machine milled from a single billet of high grade aerospace aluminum. The proprietary black anodized finish exceeds Mil Spec class two type III. The unique tri-sided body is more ergonomic for better gripping.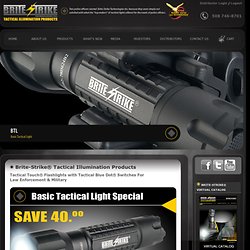 POLICE FLASHLIGHTS PERSONAL PROTECTION TACTICAL FLASHLIGHTS : SELF DEFENSE LED FLASHLIGHTS
Montre Seiko, homme femme sport classique cuir metal chronographe
Fenix - lampe de poche, lampe torche, lampe frontale - les lampes puissantes à led de la marque fenix - Lampe Fenix
offers pocketknives and hunting knives.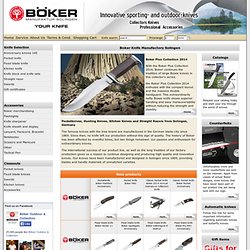 Boker Knife Manufactory Solingen Fixed blade knife Boker Plus Striker The new Striker, with its long, false edge, slender thumb rest integrating guard, and straight forward design, can be easily classified as a tactical fixed blade knife. The Striker enthuses with the same minimalism seen in the Kwaiken Folder, and boasts the characteristic elegant appearance and superior ergonomics. Pocketknives, Hunting Knives, Kitchen Knives and Straight Razors from Solingen, Germany
4Sevens - 4Sevens.Com