Digital Marketing
HBO Is Putting First Episodes of 'Girls' Season 3 on YouTube. HBO will upload the first two episodes of Girls season three onto the network's YouTube channel on Jan. 13 at 10 a.m.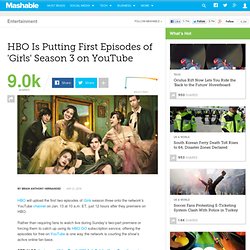 ET, just 12 hours after they premiere on HBO. Rather than requiring fans to watch live during Sunday's two-part premiere or forcing them to catch up using its HBO GO subscription service, offering the episodes for free on YouTube is one way the network is courting the show's active online fan base. "For us, this is an increasingly challenging demographic to reach with traditional means," Sabrina Caluori, HBO's vice-president of social media and marketing, told Mashable. HBO decided to "be social first" with the way its marketing team released announcements, taking advantage of "emerging platforms" such as Tumblr, Instagram, Vine and even Snapchat, as well as social giants such as Facebook, Twitter, Pinterest and YouTube.
"Micro video is really becoming more mainstream," Caluori said. Cardboard empires: How digital is supporting, not killing board games. Board games, as a medium, are no stranger to the digitization of physical products that just about every form of media is undergoing.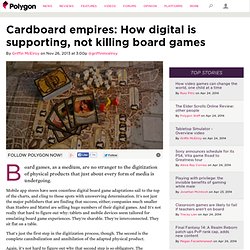 Mobile app stores have seen countless digital board game adaptations sail to the top of the charts, and cling to those spots with unswerving determination. It's not just the major publishers that are finding that success, either; companies much smaller than Hasbro and Mattel are selling huge numbers of their digital games. Digital Detox : tendance déconnexion. Balsamiq.
Agences. Social Media. Community Management. Branded Content. Placecast. Playing 20 Questions With Your Digital Strategy. Robin Neifield | December 3, 2010 | 1 Comment inShare12 A systematic approach to guide your digital marketing strategy planning.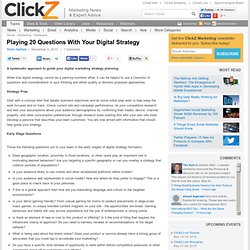 While true digital strategy cannot be a paint-by-numbers affair, it can be helpful to use a checklist of questions and considerations to spur thinking and either qualify or dismiss proposed approaches. Strategy Prep.
---