Online learning news
Education 3.0 | the online learning blog on colleges, careers & education. eClassroom News. Online Learning Update. Americans' Trust in Online Higher Ed Rising April 11th, 2014 by Valerie J.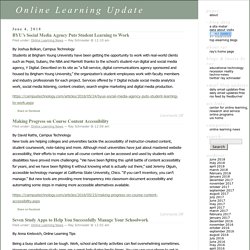 Calderon and Susan Sorenson, Gallup Online colleges and universities continue to evolve, as do Americans' and business leaders' opinions about them. While perceptions about the quality of education at these institutions appear to be improving, attitudes toward community colleges and traditional universities remain far more positive at this point. Eduwonk. Electronic Frontier Foundation | Defending Freedom in the Digital World. Blog U.: Digital Tweed. Digital Education. By Benjamin Herold April 7, 2014 at 1:04 PM Innovative technology use, project-based learning, and real-world partnerships are among the common traits shared by exemplary open-enrollment STEM high schools, researchers found.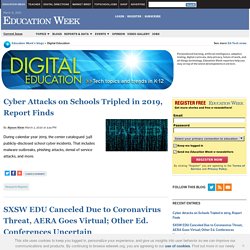 By Benjamin Herold April 4, 2014 at 4:07 PM Researchers at West Chester University found that elementary students showed lower comprehension levels when reading on iPads versus traditional print materials. Dangerously Irrelevant | Ruminations on technology, leadership and the future of our schools. Wired Campus. Security professionals working in higher education are updating servers, reissuing certificates used to guarantee secure Internet transactions, and encouraging students and faculty and staff members to take a break from the commercial Internet following the discovery of a programming flaw in a widely used Internet tool.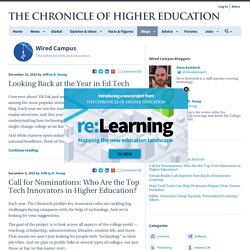 Dubbed "Heartbleed," the Internet-security breakdown cuts across industries and has raised anew questions about the vulnerability of proprietary data and personal information sh… A former employee of a University of Maryland contractor has told The Baltimore Sun that he breached the university's network in an effort to highlight cybersecurity flaws that he said were being ignored.
---