Online learning news
education 3.0 | the online learning blog on colleges, careers & education
Online Learning Update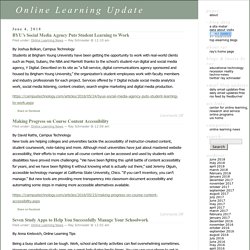 Opportunity missed to increase online learning March 29th, 2013 By Frits Pannekoek, Calgary Herald We in the [Canadian] post secondary system will, in the next while, be reflecting on the meaning of what amounts to an almost 15-per-cent real loss in budget power (7.2 per cent reduction in grant, a forgone two per cent that universities had been told last year to expect, and four-pe-cent to six-per-cent loss of purchasing power due to increasing costs). While this is devastating to a sector that was just beginning to rebuild its capacity and reputation, it could have forced the ministry and the post-secondary sector to reimagine a new future based on e-learning and collaboration.
Eduwonk
Blog U.: Digital Tweed - Inside Higher Ed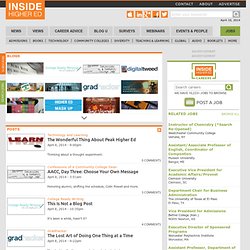 I attended the Ann Arbor Film Festival (AAFF) this past weekend. Ken Burns, who was raised in Ann Arbor by a college professor dad, and claims to have seen his "first breasts" on the screen of the Michigan Theatre was also present. The festival is internationally known for showcasing experimental filmmakers such as Andy Warhol, Barbara Hammer and Pat O'Neill, whose work was featured this year. Historical documentaries by Burns, which cover a good swath of American history and are used in educational settings around the globe, are not typically included in the experimental or underground film categories.
By guest blogger Ian Quillen Nearly 18 months after its conception, the nonprofit Connect to Compete organization Thursday launched its promised trio of programs aimed at an estimated 100 million Americans without home broadband Internet access, including tens of millions of students. Further, it announced a new national "EveryoneOn" advertising campaign, designed and managed by the Ad Council to help ensure that as many of those Americans as possible are aware of those services, including sharply discounted Internet and computer-purchasing opportunities for those who qualify, and free digital literacy training. The move to open the program nationwide follows a pilot program in San Diego that began last summer.
Digital Education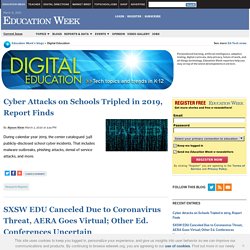 Wired Campus
March 29, 2013, 5:04 pm By Jake New The Society for Scholarly Publishing has removed two blog posts about a legal battle between a scholarly publisher and a librarian after a lawyer representing the publisher threatened to sue the society.