Online learning news
education 3.0 | the online learning blog on colleges, careers & education
Online Learning Update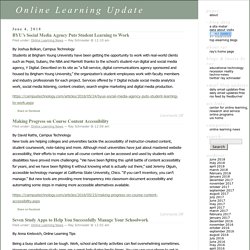 Daphne Koller: "MOOCs can be a Significant Factor in Opening Doors to Opportunity" January 6th, 2014 by Daphne Koller, Edsurge Within online education, we've seen this manifest in criticism of student retention rates and demographic biases. Its natural for early results to be judged against old guidelines and metrics of success for traditional education, but at Coursera we see the outlook for retention and demographic diversity differently. Among our priorities in the coming year, we hope to shift the conversation around these two dimensions of the learning experience, redefine what it means to be successful, and lay the groundwork for products, offerings, and features that can help students navigate this new medium of learning to meet their own goals, whether that means completing dozens of courses or simply checking out a new subject.
Eduwonk
Blog U.: Digital Tweed - Inside Higher Ed
Advanced Search January 4, 2014 Login | Register | Subscribe Sign Up for FREE E-Newsletters
Digital Education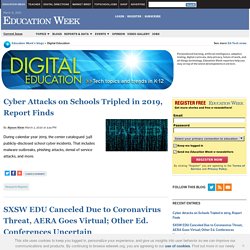 Wired Campus
MOOCs and adaptive-learning software are often billed as two of the most potentially game-changing technologies in higher education. The White House, for one, is excited to see what might happen if and when those two technologies meet. It would seem natural to combine massive-open-online-course platforms, which accommodate thousands of students, with adaptive-learning software, which responds to the needs of individual students.