Foto
Curso de fotografía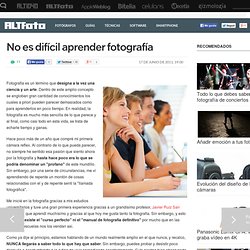 Fotografía es un término que designa a la vez una ciencia y un arte. Dentro de este amplio concepto se engloban gran cantidad de conocimientos los cuales a priori pueden parecer demasiados como para aprenderlos en poco tiempo. En realidad, la fotografía es mucho más sencilla de lo que parece y al final, como casi todo en esta vida, se trata de echarle tiempo y ganas. Hace poco más de un año que compré mi primera cámara reflex. Al contrario de lo que pueda parecer, no siempre he sentido esa pasión que siento ahora por la fotografía y hasta hace poco era lo que se podría denominar un "profano" de este mundillo.
No es difícil aprender fotografía
Pedro Kok, architectural photography
Review based on a Production E-P1 (Firmware V1.0) From the OM system 35mm SLRs and lenses to the XA series rangefinders and the half-frame Pen models, Olympus has for at least half a century been notable for producing cameras that are smaller than their competitors without sacrificing quality or functionality. And they haven't stopped; the E-450 and its predecessors are still the world's smallest digital SLRs, and the new E-620 is considerably smaller than similarly specified competitors (finally realizing the 'smaller format, smaller camera' promise we were all sold on when Four Thirds originally launched). The apex of this miniaturization was surely the Pen F and its variants - the interchangeable lens versions of the hugely popular Pen series (over 17 million of the various models were sold between 1959 and the mid 80's when half-frame finally died out).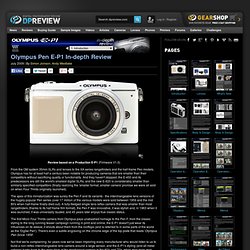 Olympus E-P1 Review: 1. Introduction
Tecnología digital y diseño clásico (o lo que es lo mismo: lo mejor del presente y el pasado) se vuelven a dar la mano en la nueva generación de cámaras Pen de Olympus. Encabezada por la E-P3 y secundada por las E-PL3 y E-PM1, las nuevas Micro Cuatro Tercios suben el listón de hornadas anteriores con unos exquisitos acabados, una gran velocidad de enfoque y grabación de vídeo Full HD, entre otras mejoras. La calidad y versatilidad propias de un sistema réflex en el tamaño de una cámara compacta. En 1959 Olympus estableció un nuevo hito en la historia de la fotografía con la presentación de la primera Pen, una pequeña cámara tan fácil de usar como un bolígrafo. 50 años después, Olympus vuelve a revolucionar el mundo de la fotografía digital con el relanzamiento de las Pen y la creación del sistema Micro Cuatro Tercios, un nuevo estándar que compatibiliza la reducción drástica del tamaño de las cámaras de objetivo intercambiable con la calidad fotográfica de las réflex convencionales.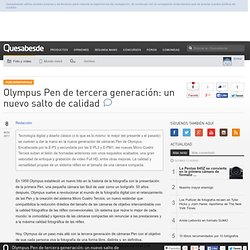 Olympus Pen de tercera generación: un nuevo salto de calidad
We commit to providing extraordinary service before and after you purchase from us. You can arrange to return your order easily online, and if you need help with the products you purchased or would prefer to arrange your return by phone, you can contact our agents at 1.800.221.5743 or Live Chat online. Our in-house customer service staff will work to resolve any issues to your satisfaction in a friendly and professional manner. Our extensive selection and business relationships allow us to make deals that we convert to savings for you. Your savings start with our low competitive prices and continue with the free shipping we offer on many popular items, and our pros prepare discounted product kits of solutions for your needs.