Productivity
50 new tech tools you should know about. Many have referred to Path as the "anti-Facebook" for its attempts to make social networking more personal .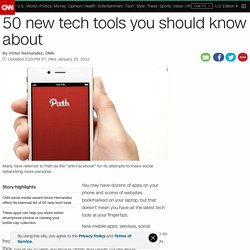 CNN social media savant Victor Hernandez offers his biannual list of 50 new tech toolsThese apps can help you shoot better smartphone photos or catalog your bottle-cap collection (CNN) -- You may have dozens of apps on your phone and scores of websites bookmarked on your laptop, but that doesn't mean you have all the latest tech tools at your fingertips.
New mobile apps, services, social networks and other digital tools pop up so frequently that keeping up with them is a nearly impossible task. Just when you think you're up to date, something newer and hipper comes along. But before you wave the white flag, let us help. 30 Things to Start Doing for Yourself. Post written by: Marc Chernoff Email Remember today, for it is the beginning.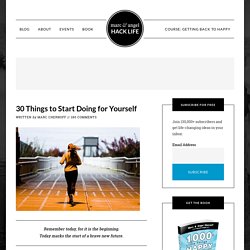 Today marks the start of a brave new future. How to Improve Conversation Skills - 7 Ways. Note: This is a guest post from Eduard Ezeanu of People Skills Decoded I believe that one of the best ways to connect with people and build quality relationships is through making conversation.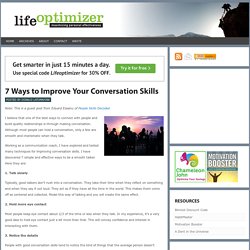 Although most people can hold a conversation, only a few are smooth and charismatic when they talk. Working as a communication coach, I have explored and tested many techniques for improving conversation skills. I have discovered 7 simple and effective ways to be a smooth talker. Compare & Find Best Free Solutions | CatchFree - StumbleUpon. 45 Kick-Ass Resources for Online Entrepreneurs | Productive Entrepreneur. Few people talk about this great productivity tip… You will reach your goals faster and easier if you're willing to learn from others.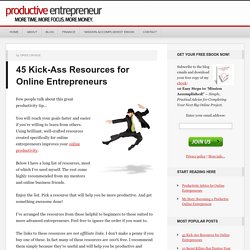 Using brilliant, well-crafted resources created specifically for online entrepreneurs improves your online productivity. Below I have a long list of resources, most of which I've used myself. The rest come highly recommended from my mentors and online business friends. Enjoy the list. How to Win Friends & Influence Peopleby Dale Carnegie.
7 Not So Obvious Habits To Maximize Your Productivity. I was a big fan of productivity, and, in some respects, I still am.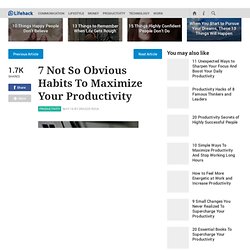 I've been a very early adopter of GTD, and, for years, I did my weekly reviews with the discipline of a zen monk. But, eventually, I hit a roadblock. GTD is about getting things "done", but in life we have much more to experience than "doing". We feel. We dream.
---