Helpful Articles
Friday, February 04, 2011 by Admin But which ones are really producing serious revenues? Here 32 different possible possible revenue streams for artists, as compiled by the Future of Music Coalition (FMC).
32 Different Ways Artists Can Make Money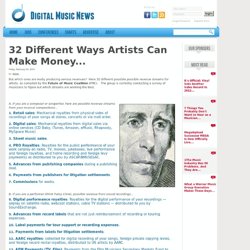 2000 Things to Generate 20,000 Fans
Author David Meerman Scott made a honest and realistic quote, "if you want 20,000 fans you must do 2000 different things that each generate 10 fans." This was my favorite quote from 2010 and I am going to take this on as a challenge for 2011 for an ambitious project to give you 2000 different things you can do to generate 20,000 fans. I am defining generating fans in a few different ways: A brand new fan who has never followed you before.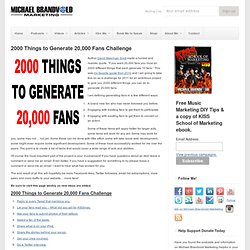 Shopping Your Music
You've built up your guitar playing chops, you've written a number of songs, performed them for a few crowds, and even made some decent recordings. You've posted videos of yourself playing your songs on YouTube and your Facebook, Band Camp, and Reverb Nation accounts all offer your music for people to hear, download and enjoy. You might even be selling your music on iTunes through a service like TuneCore. And in our world of digital media, you could have gone this far without knowing the first thing about copyrights and song licensing. It's been said that writing the song is the easy part.
Introduction to the Business of Songwriting