Design
Abandoned Places: 10 Creepy, Beautiful Modern Ruins. Abandoned Places: 10 Creepy, Beautiful Modern Ruins Abandoned Places | We humans are explorers by nature.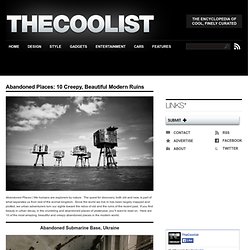 The quest for discovery, both old and new, is part of what separates us from rest of the animal kingdom. Since the world we live in has been largely mapped and plotted, we urban adventurers turn our sights toward the relics of old and the ruins of the recent past. If you find beauty in urban decay, in the crumbling and abandoned places of yesteryear, you'll want to read on. LogoPond - Identity Inspiration - Ads of the World™ | Creative Advertising Archive & Community.
Design Milk: Modern Design. Dezeen architecture and design magazine. Interior Design, Interior Decorating Ideas & Architecture Magazine. Blogger: Redirection. Apartment Therapy. The Book Cover Archive. Sleevage » Music, Art, Design.
Lovely Package® . The leading source for the very best that package design has to offer. TheDieline.com - Package Design Blog. Industrial Design Served :: Gallery. Core77 / industrial design magazine + resource / home. Yanko Design - Modern Industrial Design News. WEB???? ???? : ikesai.com --- ??????? ??????WEB???????????? CSS Mania | The largest CSS showcase in the world. CSSREMIX. Best Web Gallery - Flash + CSS Gallery. DesignMeltdown.com. Web Creme | Web design inspiration.
TheFWA. Manystuff.org ? Graphic Design daily selection. Wooster Collective. Art MoCo - Modern contemporary design & architecture. The selby - photos in your place. featuring photographs, paintings and videos by todd selby of interesting people and their creative spaces. JPG: Your World in Pictures. Lost At E Minor: For creative people.
Everyone Forever. Today and tomorrow. FormFiftyFive – Design inspiration from around the world. NOTCOT. BOOOOOOOM! - CREATE * INSPIRE * COMMUNITY * ART * DESIGN * MUSIC * FILM * PHOTO * PROJECTS. Behance Network :: Gallery. Fubiz™ Information aesthetics - Information Visualization & Visual Communication. Design You Trust. Creattica. NOTCOT.ORG.
Swissmiss. MoCo Loco - Modern contemporary design & architecture. Computerlove - Contemporary Creative Culture.
---