Tools for innovation
fontpro.com Font Pro - is a free fonts database with awesome typeface testing tool. It provides more than 20,000 free fonts and web fonts. Font Pro has made the process of searching fonts, previewing fonts, collecting fonts, to discovering new font combinations super easy and awesome.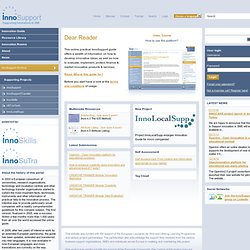 In 2003 a European consortium of universities, research organisations, technology and incubation centres and other technology transfer organisations started to collect the most important facts, techniques, instruments and other information of practical help to the innovation process. The intention was to provide particularly small companies with a readily comprehensible guidebook for this complex subject. The first version, finalized in 2005, was a success. Within a few months more than 1,000 users from all over the world accessed the online guide. In 2009, after two years of intensive work by an extended European partnership, the guide has been updated, extended and transferred into new languages.
InnoSupport - Supporting Innovation in SME: Home
elements-for-constructing-social-learning-environments-e1268231388833.jpg (1200×900)
Chemistry - Bioinformatics