Tool Store
Maker's Row - Factory Sourcing Made Easy
Tu parli, lo smartphone traduce Ecco Google Conversation Mode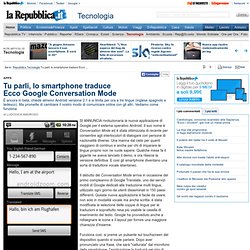 È ancora in beta, chiede almeno Android versione 2.1 e si limita per ora a tre lingue (inglese spagnolo e tedesco). Ma promette di cambiare il nostro modo di comunicare online con gli altri. Vediamo come funziona
Presentazione Dettagliata di Glinkr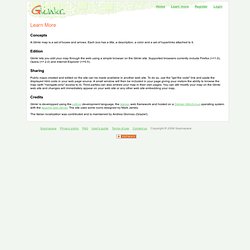 Learn More Concepts A Glinkr map is a set of boxes and arrows. Each box has a title, a description, a color and a set of hyperlinks attached to it. Edition
About – Alphonso Labs
Login Connect via Facebook Forgot Password?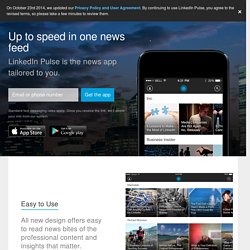 Blog » Blog Archive » Cappuccino Apps on the Web Store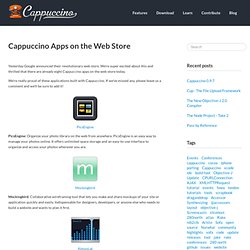 Yesterday Google announced their revolutionary web store. We're super excited about this and thrilled that there are already eight Cappuccino apps on the web store today. We're really proud of these applications built with Cappuccino. If we've missed any, please leave us a comment and we'll be sure to add it! PicsEngine: Organize your photo library on the web from anywhere.
Untitled - 280 Slides
prodavi.files.wordpress.com/2010/02/pid9860001.pdf
There are more than 200,000 apps in the Android market. There are more than 325,000 apps available for iOS devices. Even the fledgling Windows Phone 7 app marketplace already has greater than 5,300 apps. Throw in the wide world of web applications and, forget about it: you'd need many lifetimes to try them all. However, there are just 10 apps you really should keep a very close watch on in 2011. The list below represents the 10 applications — for mobile and the web — that Mashable editors think will be worthy of your attention in 2011.
10 Apps to Watch in 2011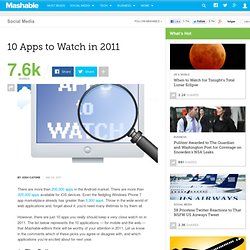 A list of every #innovation #collaboration #CMS #ideamanagement tool - Chicago Social Networking
Pretty ambitious title! The batch of Web 2.0 tools available to help companies embrace the concept of Enterprise 2.0 is myriad. As I've reviewed the various offerings I noted it was difficult to find a comprehensive list.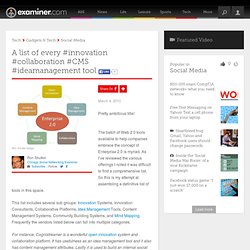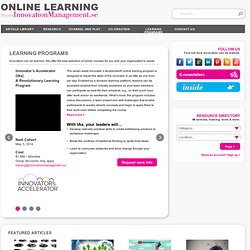 The world's largest and most trusted source of innovation news, strategies and information
The seven-week Innovator's Accelerator® online training program is designed to impart the skills of the innovator in as little as one hour per day. Enabled by a dynamic learning platform, lessons can be accessed anytime from virtually anywhere so your team members can participate as best fits their schedule, e.g., on their lunch hour, after work and/or on weekends. What's more, the program includes online discussions, a team project and skill challenges that enable participants to quickly absorb concepts and begin to apply them to their work even before completing the course. Read more > With IAx, your leaders will… Develop radically practical skills to create trailblazing solutions to workplace challenges.Break the confines of traditional thinking to ignite bold ideas.Learn to overcome obstacles and drive change through your organizationRequest more info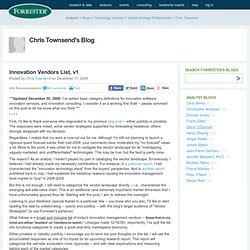 ***Updated December 30, 2008: I've added basic category definitions for innovation software, innovation services, and innovation consulting. I consider it as a working first draft -- please comment on this post to let me know what you think.*** First, I'd like to thank everyone who responded to my previous blog post -- either publicly or privately. The responses were mixed; some vendor strategists supported my forecasting hesitance; others strongly disagreed with my decision.
Innovation Vendors List, v1
Analysis and interpretation | Innovation Mining
A main challenge faced by Web intelligence software is supporting the analysis of the data and presenting the results using appropriate visualizations. The value and effectiveness of a Web Intelligence process lies in the correct analysis of the search results. This means that visualization and interaction techniques supported by the software are of critical importance. Typical visualization techniques include: Categories: documents are associated with given or computed categories and presented to the user in a clear overview.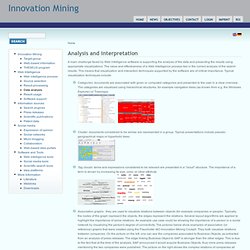 Pivotal Tracker - Features Tour
Points and Velocity The conversation around assigning points to a feature is often as important as the estimate itself. When points are determined based on the team's estimation of how complex the feature will be to complete, they dial-in estimates that can help predict the future. This achieves the goal of steady velocity with low volatility. Story Work­flow Add stories to the icebox that are ready for prioritization by dragging them to your backlog, so they can flow into the current iteration according to your velocity.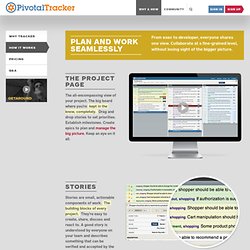 Vyew allows you to meet and share content in real-time or anytime. Upload images, files, documents and videos into a room. Users can access and contribute at anytime.
Vyew.com - Collective_situation°2 (null)
dominokrcmar02.informatik.tu-muenchen.de/public/ideaontology/visualization/demo/visualization.html
Search marketers are interested in print-based hyperlinks: traffic to my QR Codes: Are You Ready For Paper-Based Hyperlinks? post remains strong. So here's an in-depth look at Microsoft's entry into the 2D code wars, called Microsoft Tags. Microsoft Tags is based on a homegrown technology known as high-capacity color barcode (HCCB).
Microsoft Tags: A Compelling Alternative To QR Code Hyperlinks
E Mobile
Shape Collage Features
Shape Collage - Automatic Photo Collage Maker
Mosaic Creator Gallery | aolej.com
www.sixdots.de | Foto-Mosaik-Edda | It's so easy to create mosaic-pictures.
Welcome to the website for Foto-Mosaik-Edda. Foto-Mosaik-Edda is software which allows you to create photo mosaic pictures from your own computer. A photo mosaic picture is made up of tiny photos which are fitted together in such a way that, from a distance, they blend together to create the appearance of a new picture. To create a photo mosaic picture, you can use digital photos from your collection, for example from your last vacation or family get-together. Foto-Mosaik-Edda analyses the photos and then adds them to one or more databases from which they are drawn to create your photo mosaic.
AndreaMosaic Home Page
Fotomosaici - Programmi per creare mosaici di fotografie - Mooseek.com
Sign up
Collecta
6 Free Chrome Apps and Extensions for Small Businesses
Five reasons why Google's Web apps store makes sense | Betanews
iAd Producer - Apple Developer
Google Shared Spaces
Sketchpad
LucidChart - Collaborative Diagramming
Springpad
Pro-Brief: Documento PDF per il primo Briefing con Cliente
My Notes - Boxtuffs
Javascript 3D Model Viewer
CREAX - Function Database
design
extisp.icio.us - scattering del.icio.us tags - now with images
Student Materials: Persuasion Map
www.eduplace.com/graphicorganizer/pdf/persuasion.pdf
Google Chrome Web Store: Confused Yet?
Hello
Video trace 3d hotfile » Free Downloads RapidShare Megaupload Mediafire DepositFiles HotFile Uploading Easy-Share FileFactory Vip-File Shared
VideoTrace - Video Tracking Modeling texturing - 3d-test Panorama of web 3d technologies - Real Time 3D & Interactive media
YouTube 3D Player Test ( yt3d:enable=true )
Collaboration in the Cloud
Restaurant Engines
Conference, Convention, Expo, and Trade Show Directory
Retail Roar
Reask
Skyara | Do Something Different
Powerful Web Based Management Software - Hardtree.com
Rss feed email alerts, customized free with CentiBuzz!
Spoon lets you run desktop apps anywhere with no installs