Social Network
Weebiz — Business Community. BusinessVibes. Planspot. Tour - Learn How To Build a Website & Social Network Community - SocialGO. CollabFinder - Find Great Programmer, Designer, and Artist Collaborators for Your Next Big Project. Job Posting - Post to Multiple Job Boards with One Click | Resfly. Social Networks in Action - Learning Networks @ UOW. ResearchGate.
DIASPORA* ALPHA. Il calcetto lo organizzo online È il social network "pallonaro. Fubles, una startup di tre studenti milanesi, raccoglie cinquantamila iscritti e supera le diecimila partite organizzate.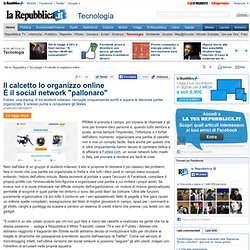 E adesso punta a conquistare gli States di MAURO MUNAFO' PRIMA si prenota il campo, poi iniziano le chiamate e gli sms per trovare dieci persone e, quando tutto sembra a posto, arriva sempre l'imprevisto, l'infortunio o il forfait dell'ultimo momento: organizzare una partita di calcetto non è mai un compito facile. Sarà anche per questo che in oltre cinquantamila hanno deciso di cambiare tattica e di affidarsi a Fubles.com, un social network tutto made in Italy, per provare a rendere più facili le cose. Nato dall'idea di un gruppo di studenti milanesi, il sito si propone di risolvere il più classico dei problemi: fare in modo che una partita sia organizzata in fretta e che tutti i dieci posti in campo siano occupati, evitando i bidoni dell'ultimo minuto. UmeNow. The Evolution of Privacy on Facebook. About Facebook is a great service.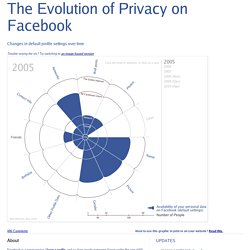 I have a profile, and so does nearly everyone I know under the age of 60. However, Facebook hasn't always managed its users' data well. In the beginning, it restricted the visibility of a user's personal information to just their friends and their "network" (college or school). Over the past couple of years, the default privacy settings for a Facebook user's personal information have become more and more permissive. CASOS Tools: Computational Models and Social Network Tools. VIZSTER = VIZual friendSTER « .:: Peta Konsep Anak Bangsa ::.
VizsterVisualizing Online Social Networks Jeffrey Heer – jheer@cs.berkeley.edu Professor Marti Hearst InfoSys 247 – Information Visualization University of California, Berkeley Spring Semester, 2004 Vizster is an interactive visualization tool for online social networks, allowing exploration of the community structure of social networking services such as friendster.com [4], tribe.net [12], and orkut [10].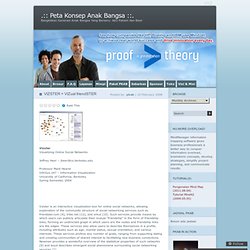 Such services provide means by which users can publicly articulate their mutual "friendship" in the form of friendship links, forming an undirected graph in which users are the nodes and friendship links are the edges. These services also allow users to describe themselves in a profile, including attributes such as age, marital status, sexual orientation, and various interests. Social Friend Adder - increase your Facebook and Twitter friends. Xpertum. Microsoft Academic Search. Visualizing your social circle - mashing up GMail and Facebook. What's this?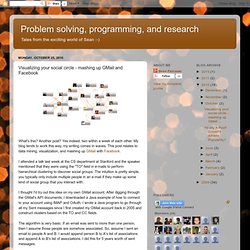 Another post? Yes indeed, two within a week of each other. SEO. Empire Avenue. Crea un sito Web di social networking con Ning, la migliore piattaforma del settore. Ning, il social network personalizzabile. Giacomo Dotta, A ognuno il suo: è questo il principio su cui si regge Ning, la nuova creatura di Marc Andreessen, colui il quale ha già scritto il proprio nome nella storia del web in qualità di inventore del primo browser (Mosaic) e di fondatore del mito Netscape.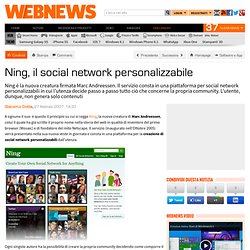 Il servizio (inaugurato nell'Ottobre 2005) verrà presentato nella sua nuova veste in giornata e consta in una piattaforma per la creazione di social network personalizzabili dall'utenza. EveryBlock. Elsevier: Analyzing Social Media Networks with NodeXL by Hansen,Shneiderman & Smith Computer Science Books and ebooks Online. Key Features *Walks you through NodeXL, while explaining the theory and development behind each step, providing takeaways that can apply to any SNA *Demonstrates how visual analytics research can be applied to SNA tools for the mass market *Includes case studies from researchers who use NodeXL on popular networks like email, Facebook, Twitter, and wikis Description.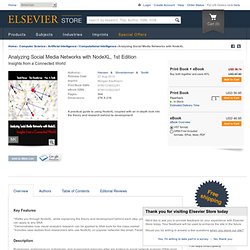 Crea il tuo ricettario e condividi le ricette con gli amici. Gramps. SocialBook. Find Freelancers for Hire. Get Your Project Done. Fidg't Visualizer. Fidg't: Your Social Networking Address Book.
Explore your network with the Fidg't Visualizer* The Fidg't Visualizer allows you to play around with your network.
You interface with the Visualizer through Flickr and LastFM tags, using any tag to create a Magnet. Product.
---