Rapid Prototyping
First open source D3D scanner from 3D Creations. Jan.4, 2013 3D Creations, a Milwaukee-based reseller of affordable 3D printers and 3D scanners, is currently developing a low-cost open source 3D scanner - they named it D3D 3D scanner, to help businesses and consumers with measurement, quality control, reverse engineering and product design.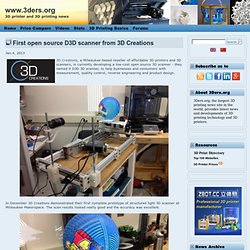 In December 3D Creations demonstrated their first complete prototype of structured light 3D scanner at Milwaukee Makerspace. The scan results looked really good and the accuracy was excellent. (Images credit: 3D Creations) Check out the video below. Unlock the Power of 3D Scanning. Origami – paper as prototype « pencils polymer & pixels. Silhouette. Silhouette electronic cutting machines can cut a wide variety of materials including paper, vinyl, cardstock, fabric, heat transfer material, and so much more.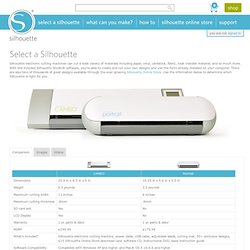 With the included Silhouette Studio® software, you're able to create and cut your own designs and use the fonts already installed on your computer. There are also tens of thousands of great designs available through the ever-growing Silhouette Online Store. Use the information below to determine which Silhouette is right for you. Endless Chair design. Febbraio 15th, 2011 by admin Endless from Dirk Vander Kooij on Vimeo.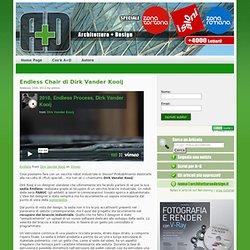 Cosa possiamo fare con un vecchio robot industriale in disuso? 3D Modeling with Your Hands Using an XBOX Kinect hack - SolidSmack. Like you, there's one thing I've always wanted… massive freaking shoulders.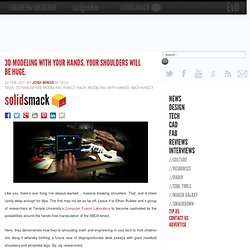 That, and a chest cavity deep enough for dips. The first may not be so far off. Leave it to Ethan Rublee and a group of researchers at Temple University's Computer Fusion Laboratory to become captivated by the possibilities around the hands-free manipulation of the XBOX kinect. Here, they demonstrate how they're shrouding math and engineering in cool tech to trick children into liking it whereby birthing a future race of disproportionate desk jockeys with giant meatball shoulders and atrophied legs.
Sly, sly researchers. 3D Printing Service i.materialise. Materialise: Driving Your Innovations. Design World :: Proto Labs Part Upload.
---