Crowdfunding
Idealabs
Crowdfunded windmill will generate energy for members' own use
We've seen numerous creative approaches to supplying sustainable energy for home users, but recently one caught our eye that seemed a little different.
Il Progetto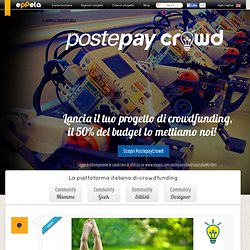 jump on opportunities
enJOINt it nasce da ciò che viene scartato per finire nella spazzatura. Avanzi e pezzi di legno naturale che verrebbero gettati via vengono trasformati da questi due giovani architetti in oggetti di design ecologici e funzionali, sintesi perfetta per un prodotto che elimina lo spreco e dona nuova vita agli scarti di lavorazione.
Youcapital