Crowdfunding
Crowdfunding Goteo.org beni comuni. Idealabs. Crowdfunded windmill will generate energy for members' own use. Loans that change lives. Cofundos.org - community innovation and funding. Kapipal - Raise Money for Your Dreams!
Il Progetto. Jump on opportunities. CANDLEGRAM - Light up your shape Oltre 580 candele vendute in 40 giorni!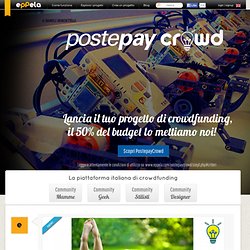 225 sostenitori uniti nel valore dell'artigianato made in Italy! FAMO crowdfunding 5.233€ per la rivista dedicata ai talenti dell'underground italiano! Sten&Lex per Outdoor Urban Art Festival. Youcapital. Kickstarter.
---