Collective
Click on the image to download a high-resolution version The Crowdsourcing Landscape is intended to be a starting point for conversation. This is Beta version 1.0 of the landscape.
Crowdsourcing Landscape – Discussion « Getting Results from Crowdsourcing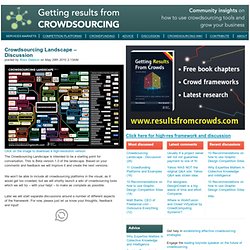 TEDxSanDiego - Joe Pine - Infinite Possibility
AWS Project Management - Development Models
Waterfall model This model suggests a linear development technique where one phase must be completed before the next phase can start. Original planning covers the whole project. Customer must be involved early in the process. Assuming that all requirements can be defined up front becomes a major drawback . Some practitioners have introduced "iterative back steps" or "back pass".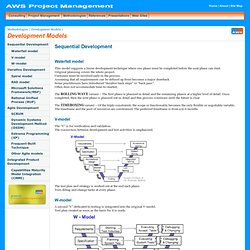 Stati Uniti Quei gemelli perfetti sconfitti da Zuckerberg Volevano più soldi per l'idea «rubata» di Facebook. Dopo il no della Corte puntano sulle Olimpiadi NEW YORK - Adesso per togliersi di dosso l'immagine di ragazzi già invecchiati - gentiluomini aristocratici un po' tontoloni, ligi a un antico codice d'onore - ai gemelli Winklevoss non rimane che una possibilità: conquistare un medaglia olimpica nel canottaggio, l'anno prossimo a Londra. L'altra opportunità di riscatto - trascinare di nuovo in tribunale Mark Zuckerberg, il nerd con cui si erano associati ad Harvard ai tempi della nascita di Facebook e da cui si sono sentiti raggirati - è tramontata l'altra sera quando un tribunale di San Francisco ha giudicato inammissibile il loro ricorso.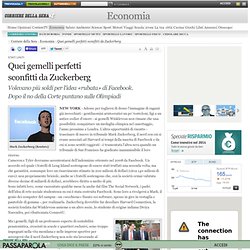 Quei gemelli perfetti sconfitti da Zuckerberg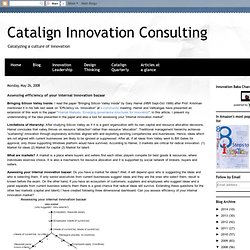 Bringing Inside: I read the paper "Bringing Silicon Valley inside" by Gary Hamel (HBR Sept-Oct 1999) after Prof. Krishnan mentioned it in his talk last week on "Efficiency vs. Innovation" at k-community meeting. Hamel and Valikangas have presented an extension of this work in the paper "Internal Markets: Emerging governance structures for innovation". In this article, I present my understanding of the idea presented in the paper and also a tool for assessing your "internal innovation market". Limitations of Hierarchy: After studying as if it is a giant organization with its own capital and resource allocation decisions, Hamel concludes that valley thrives on resource "attraction" rather than resource "allocation".
Assessing efficiency of your internal innovation bazaar
Logotel | making together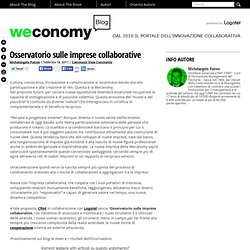 Osservatorio sulle imprese collaborative | Weconomy blog
Cultura, conoscenza, innovazione e comunicazione si incontrano dando vita alla partecipazione e alla creazione di reti. Questa è la Weconomy. Nel prossimo futuro, per cercare nuove opportunità diventerà essenziale recuperare le capacità di immaginazione e di passione collettiva. Questa economia del "nuovo e del possibile" è costituita da diverse "cellule" che interagiscono in un'ottica di complementarietà e di beneficio reciproco.
IDEO's "Ten Faces"
In Tom Kelly's latest book "The 10 Faces of Innovation" internal personas are used to help illustrate traits critical in building an innovation culture. Here's how they break down: The Learning Personas Individuals and organizations need to constantly gather new sources of information in order to expand their knowledge and grow, so the first three personas are learning roles. These personas are driven by the idea that no matter how successful a company currently is, no one can afford to be complacent.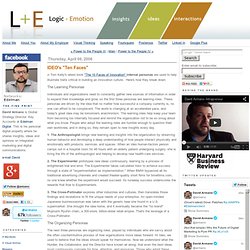 Focus Pmi (su dati Tagliacarne): vince chi si relaziona con l'estero Piccole imprese dipendenti dall'export L'osservatorio, nato da un network di professionisti, scommette sulle Reti per l'internazionalizzazione MILANO - Se il modello aggregativo sembra aver fatto proseliti anche in casa nostra permettendo la nascita di Rete Imprese Italia il prossimo passo è fare rete anche oltre-confine. Necessario.
Piccole imprese dipendenti dall'export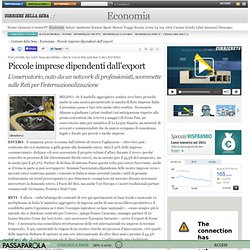 LS è una realtà italiana ed indipendente di oltre 180 avvocati e dottori commercialisti che operano presso le dieci sedi di Bari, Bologna, Brescia, Firenze, Lecco, Milano, Padova, Roma e Torino, Casablanca (Marocco). LS si caratterizza per la capacità di sviluppare sinergie professionali trasversali e per il profondo radicamento territoriale; la integrazione pluridisciplinare e la distribuzione delle sedi operative nel territorio italiano costituiscono quindi i suoi principali punti di forza. LS interpreta le esigenze del Cliente alla luce dell'esperienza maturata, integrando le professionalità giuridiche ed economiche in una azione sinergica che consente di individuare soluzioni mirate, personalizzate e competitive. LS opera creando team di lavoro dedicati alle specifiche attività, composti da specialisti nelle varie discipline, in grado di offrire un servizio di alta professionalità, tempestivo e personalizzato secondo le diverse esigenze del Cliente.
LS Lexjus Sinacta - LS Lexjus Sinacta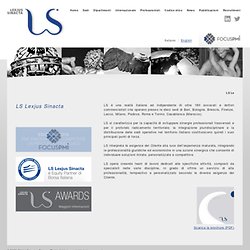 Technology Will Make Collaboration Your Next Competitive Advantage
Editor's note: Today we begin a new monthly topic in Business Impact at Technology Review: Collaboration Tools. Powerful software and widespread Internet connectivity are making it easier than ever for people to work together no matter where they happen to be. Throughout March we will look at the latest tools for collaboration within and between organizations. We'll analyze why some technology-enabled collaborations work and why others don't.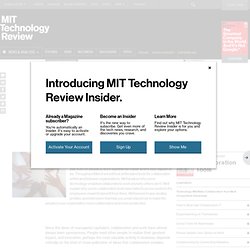 (Cross-posted from my Learning Alliances blog .) Recently I finished a remarkably useful book: Mizuko Ito, et al. Hanging Out, Messing Around, and Geeking Out: Kids Living and Learning With New Media (Cambridge, Mass.: MIT Press, 2009).
Digital Habitats: stewarding technology for communities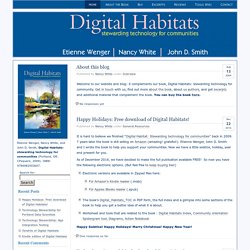 Weber Shandwick released new research Wednesday, suggesting that "the crowd" knows a thing or two when it comes to corporate social responsibility (CSR). The study, conducted last October by the PR firm's Social Impact speciality group in partnership with KRC Research, interviewed 216 executives from Fortune 200 companies involved with philanthropic or community outreach to determine the value of crowdsourcing and social media to CSR. While only 44% of the executives said they had used crowdsourcing to generate ideas and spur decision making, 95% of those reported that it had been valuable to their organization's CSR programming. Crowdsourcing helped create new perspectives, new energy, build audience relationships and find new clients, the report claimed. Social media reversed that ratio with 72% saying they had used a social media service in regards to CSR, but only 59% believed that it had a positive impact on their communications with consumers.
What Value Is Crowdsourcing to Corporate Social Responsibility? [STATS]
Google I/O 2009 - Google Wave: Under the hood
buy and sell of ideas
Everything in one Place Selecting the right API for your business can be challenging. We allow you to explore groups of APIs so you can pick, choose, and compare APIs in one place.
How it Works
Features | Qontext – Enterprise 2.0, Social Software platform and Contextual Collaboration tools for Corporate users
Induct - The Open Innovation Community solution
Pretty ambitious title! The batch of Web 2.0 tools available to help companies embrace the concept of Enterprise 2.0 is myriad. As I've reviewed the various offerings I noted it was difficult to find a comprehensive list. So this is my attempt at assembling a definitive list of tools in this space.
A list of every #innovation #collaboration #CMS #ideamanagement tool - Chicago Social Networking
CogniStreamer keeps ideas highly portable and interoperable with other systems CogniStreamer® has integration solutions for a wide variety of established communication channels. As a result, your innovation community members have easy access to the information they need without having to navigate to another system. CogniStreamer® manages the synchronization and conversion of data into a large number of common formats.
Innovation Portal - CogniStreamer®
Goalpher - The Best Way to Accomplish Your Goals
Comprehensive Review of Collaboration Tools and Technologies
This site contains links to resources related to the spectrum of collaboration tools and technologies. The site will evolve over time and include additional links but for now the resources provided here are related to the model below. This model is only useful as a tool to look for distinctions and patterns. In practice, many facilitators and designers draw upon tools and methods from all of the zones shown here.
Unthinkable Consulting - Blog - Collaboration model #1: one-to-one
Ohm Studio | Real-time collaborative music workstation
Ideas4all. Building The Global Brain.
UML basics: An introduction to the Unified Modeling Language
Open Innovation
Home
Find Freelancers for Hire. Get Your Project Done.
Find Freelancers. Find Work. CanYouCode.com
Welcome to miiCard | miiCard (aka My Internet Identity Card)
SmartRM | Home
SmartRM sharing | Video
Medgadget.com -- Internet Journal of Emerging Medical Technologies
co - Software
Home | Kindling Idea Management
Idea+Managment+Guide+NOSCO+ecosystem-2000-2.jpg (1600×1001)
Idea and Innovation Management Tool Roundup
FP7 : ICT : Home
Analysis and interpretation | Innovation Mining
Flowr. Real-time Collaboration, knowledge exchange and smart information flow.
Forrst is a community for developers and designers
IdeasWalk - Improvement and innovation ideas from the people
FIG - Find Invest Grow - Connecting great ideas with great people
www.laboranova.com/media/download_gallery/Innovation Masterclass.pdf
Hai un'idea? presentala a Storming Peeh'za - Potrebbe diventare impresa
8 Tools For Easily Creating a Mobile Version of Your Website
https://blog.itu.dk/KMP-E2008/files/2008/08/theinnovationvaluechain.pdf
Creativity, Design and Business performance
Flipboard Launches as the iPad's Social Media Magazine
Microsoft Introduces Montage, a Magazine-Like, Topic-Based Web App
Projects | Fuse Labs
Project Emporia - Personalized News Recommendations
SocialGadgets | Projects | Fuse Labs
Project Emporia
WordPress Rolls Out New HTML5-Friendly Theme
La creatività non è di destra né di sinistra
3 Tips for Managing Your Online Reputation
8 Ways to Create Paperless Business Cards
Dell, Starbucks, and the marketplace of ideas
The Real Story About Blade.org
Mozilla Seabird Phone Concept