BPM
Products | Bonitasoft
Business process management, BPM, workflow automation software | Bizagi BPMS
ProcessMaker, Web 2.0 Open Source BPM Software Solution
Oryx: Research
Oryx editor Oryx is a web-based, extensible modeling platform, licensed under open source terms . With Oryx, you can create diagrams in many different modeling languages and share them with your partners, colleagues and friends.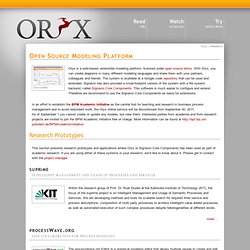 processWave
Activiti
Google Shared Spaces: Diagram Editor
Community Network Blogs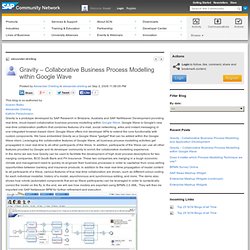 This blog is co-authored by Soeren Balko Alexander Dreiling Kathrin Fleischmann Gravity is a prototype developed by SAP Research in Brisbane, Australia and SAP NetWeaver Development providing real-time, cloud-based collaborative business process modelling within Google Wave . Google Wave is Google's new real-time collaboration platform that combines features of e-mail, social networking, wikis and instant messaging in one integrated browser-based client.
bxmodeller.eng.it
bxModeller | Download bxModeller software for free at SourceForge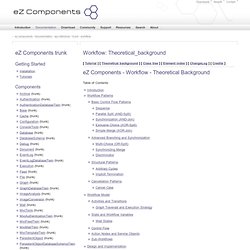 In Chapter 3 of his PhD thesis , Kiepuszewski lists requirements for workflow languages through workflow patterns . Much like the software design patterns , these workflow patterns describe recurring solutions to common problems. They are relevant to both the implementor and the user of a workflow management system. The former uses the workflow patterns as a common vocabulary for workflow description language constructs and to define the semantics of a workflow model whereas the latter uses them as a guide while formulating his workflow in the workflow system's description language.
eZ Components - Documentation - API Reference
Uwiki
UEngine English Version Wiki - Uwiki