BM + AR
www.zoff.co.jp/mirror/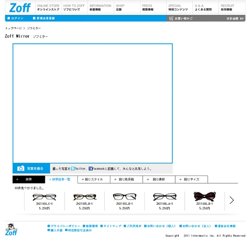 携帯からご覧いただく方はコチラ 『花粉プロテクター』につきまして、Zoff店頭および、オンラインストアでの欠品が続いております。次回入荷予定は未定です。
Japan Discovers Augmented Reality Virtual Trying on Glasses with Zoff Mirror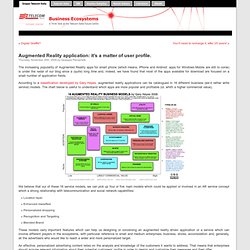 The increasing popularity of Augmented Reality apps for smart phone (which means, iPhone and Android: apps for Windows Mobile are still to come) is under the radar of our blog since a (quite) long time and, indeed, we have found that most of the apps available for download are focused on a small number of application fields. According to a classification developed by Gary Hayes , augmented reality applications can be catalogued in 16 different business (we'd rather write service ) models. The chart below is useful to understand which apps are more popular and profitable (or, whith a higher commercial value). We believe that our of these 16 service models, we can pick up four or five main models which could be applied or involved in an AR service concept which a strong relationship with telecommunication and social network capabilities:
Business Ecosystems » Blog Archive » Augmented Reality application: it's a matter of user profile.
How to Get Started with Layar Development
By Chris Cameron on March 11th 2011 While Layar has a rapidly expanding community of developers creating engaging mobile experiences, augmented reality is still a young industry trying to find its place. With that, we wanted to make it as easy as possible for new developers to begin building projects in augmented reality. Ivo van Barneveld, manager of the Layar Partner Network , compiled a presentation that lays out step-by-step how to sign up as a Layar developer and begin creating your very own AR content. If you're a developer and have wanted to branch out to augmented reality, take a look at Ivo's guide below and get started!
01Pages Coupons - Layar
The App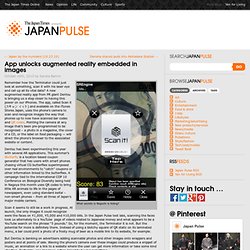 App unlocks augmented reality embedded in images
What secrets is Noguchi is hiding? Remember how the Terminator could just look at something, scan it with his laser eye and call up all its vital data? A new augmented reality app from PR giant Dentsu is bringing us a step closer to having this power on our iPhones. The app, called Scan it (スキャン イット) and available on the iTunes Stores Japan, uses the phone's camera to scan and recognize images the way that phones up to now have scanned bar codes and QR codes . Pointing the camera at any image that's been pre-programmed to be recognized – a photo in a magazine, the cover of a CD, or the label on food packaging — will direct the phone's browser to the associated website or content.
Dentsu Inc. , Japan's largest advertising agency, announced that they started experimental coupon platform iButterfly with free iPhone application. The application "iButterfly – Coupon Entertainment" can be downloaded for free until the end of March 2010 (requires iPhone 3GS). On the mobile application, user can look through the iPhone app to the town and find butterfly flying around. By shaking iPhone like using butterfly net, user catches the virtual butterfly carries coupons and contents related to the location.
Dentsu iButterfly Experiments AR and Location Based Coupon Service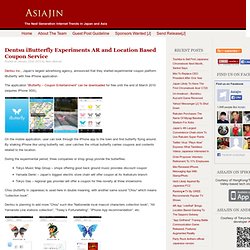 詳細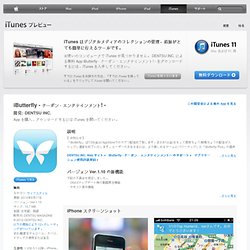 iTunes App Store で見つかる iPhone、iPod touch、iPad 対応 iButterfly - クーポン・エンタテインメント! -
By Adriane on March 10th 2011 While coupon-clipping is a practice generally reserved for those who still pay for a print newspaper subscription, collective-buying companies like Groupon and Living Social are growing rapidly. Both companies also now have mobile apps that allow you to view and purchase daily deals on-the-go and redeem them digitally (saving time and trees, yay!). Layar developer and Anca 3D co-founder Juan de la Torre (a recent Canadian transplant from Colombia) used Groupon's open API to create a layer that displays nearby Groupon deals.
Find Great Local Deals with Anca 3D's Groupon Layer