AR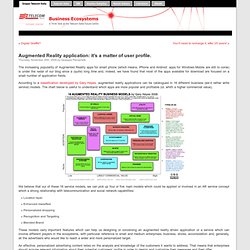 The increasing popularity of Augmented Reality apps for smart phone (which means, iPhone and Android: apps for Windows Mobile are still to come) is under the radar of our blog since a (quite) long time and, indeed, we have found that most of the apps available for download are focused on a small number of application fields. According to a classification developed by Gary Hayes, augmented reality applications can be catalogued in 16 different business (we'd rather write service) models. The chart below is useful to understand which apps are more popular and profitable (or, whith a higher commercial value). We believe that our of these 16 service models, we can pick up four or five main models which could be applied or involved in an AR service concept which a strong relationship with telecommunication and social network capabilities: Location layerEnhanced classifiedPersonalized shopping Recognition and TargetingBlended Brand
Business Ecosystems » augmented reality
01Pages Coupons - Layar
By Chris Cameron on December 20th 2010 Over the last several weeks here on the Layar blog, we profiled three services for generating Layar content, which we call Layar Creation Tools (or LCTs). While other services exist or are in development, we chose to focus on these three – Skaloop , Hoppala Augmentation and BuildAR – because of their availability and accessibility to users of all skill levels. Each LCT is unique and has its benefits to different users, so we decided to make a matrix that shows which features are available on each LCT. As you can see, Hoppala includes most of the features listed, such as layer actions, 3D objects and custom interaction widgets.
Creation Tools: Series Wrap-Up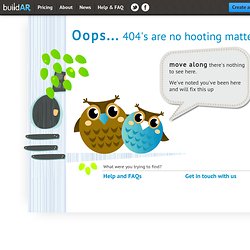 Extend your reality
Augmenting the Webwith AR! What if your audience could just go to your website and experience the power of AR directly from their web browser, on almost any device? After years of R&D we need your help to put the finishing touches on what will be a game-changer for Augmented Reality and truly bring AR onto the world's biggest platform - the Web! You'll be able to create your project, then embed it directly on your webpage as simply as you do with a YouTube video. No more apps, no more downloads. Reach over a billion connected devices, including smartphones, tablets and wearables like Google Glass and the Oculus Rift.
Hoppala is the world's largest content platform for geo based augmented reality With more than 4000 7000 registered developers Hoppala Augmentation is the world's largest content platform for geo based augmented reality. Hoppala Augmentation is the "Dreamweaver" for AR. It seamlessly publishes your content to all three major AR browsers: Layar, Junaio and Wikitude. Create once and publish everywhere.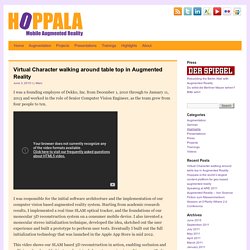 - Skaloop -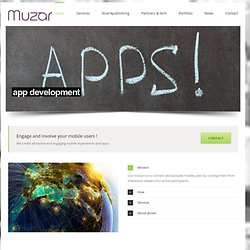 Our mission is to connect and activate mobile users by turning them from interested viewers into active participants. We create concepts and build apps that make use of the viewers context and interests. We frequently use locative and augmented reality techniques like Layar, Metaio, QR codes and Junaio. From strategy, idea and concept to technical realisation, deployment and implementation, we cover it all. For many agencies we are their inspirational and technical partner, for others we are their full service supplier.
Location based services platform VISAR
How to Get Started with Layar Development
By Chris Cameron on March 11th 2011 While Layar has a rapidly expanding community of developers creating engaging mobile experiences, augmented reality is still a young industry trying to find its place. With that, we wanted to make it as easy as possible for new developers to begin building projects in augmented reality. Ivo van Barneveld, manager of the Layar Partner Network , compiled a presentation that lays out step-by-step how to sign up as a Layar developer and begin creating your very own AR content.
By Adriane on March 10th 2011 While coupon-clipping is a practice generally reserved for those who still pay for a print newspaper subscription, collective-buying companies like Groupon and Living Social are growing rapidly. Both companies also now have mobile apps that allow you to view and purchase daily deals on-the-go and redeem them digitally (saving time and trees, yay!). Layar developer and Anca 3D co-founder Juan de la Torre (a recent Canadian transplant from Colombia) used Groupon's open API to create a layer that displays nearby Groupon deals. You can search by keyword (like "restaurant," for example) and even purchase deals from inside the layer by signing in with your Groupon account information. Currently, the Groupon API is only available in the US and Canada, so the layer is only available in those countries as well.
Find Great Local Deals with Anca 3D's Groupon Layer
NEW: You Can Now Download Layar for Google Glass Engage with your audience and stand out from the crowd by connecting print with the online world. Learn more about interactive print The Layar Creator Over 80,000 publishers The quickest and easiest way to createand publish Interactive Print.