Noteworthy but meaningless
Embossed Aluminum Pans
Infographics to Enrich Your Knowledge - Noupe Design Blog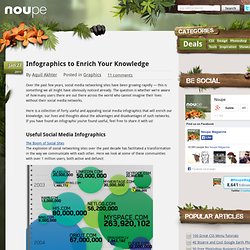 Jan 27 2011 Over the past few years, social media networking sites have been growing rapidly — this is something we all might have obviously noticed already. The question is whether we're aware of how many users there are out there across the world who cannot imagine their lives without their social media networks. Here is a collection of forty useful and appealing social media infographics that will enrich our knowledge, our lives and thoughts about the advantages and disadvantages of such networks. If you have found an infographic you've found useful, feel free to share it with us! Useful Social Media Infographics
It's one of the most iconic photos in American business. A ragtag group of bearded weirdos assembled for a family portrait in Albuquerque. Usually, there's a question above the photo: "Would you have invested?" It's a trick question.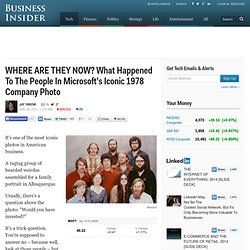 WHERE ARE THEY NOW? What Happened To The People In Microsoft's Iconic 1978 Company Photo
News Office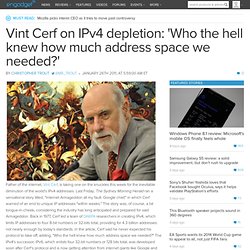 Vint Cerf on IPv4 depletion: 'Who the hell knew how much address space we needed?'
Father of the internet, Vint Cerf, is taking one on the knuckles this week for the inevitable diminution of the world's IPv4 addresses. Last Friday, The Sydney Morning Herald ran a sensational story titled, "Internet Armageddon all my fault: Google chief," in which Cerf warned of an end to unique IP addresses "within weeks." The story was, of course, a bit tongue-in-cheek, considering the industry has long anticipated and prepared for said Armageddon. Back in 1977, Cerf led a team of DARPA researchers in creating IPv4, which limits IP addresses to four 8-bit numbers or 32-bits total, providing for 4.3 billion addresses: not nearly enough by today's standards.
January 24th, 2011 by Paul Strauss A couple of weeks back, we told you about the new Star Wars Miniland coming to LEGOLAND, but didn't have many pictures to share. Well, the guys at Lucasfilm just gave permission to release a bunch of new photos of the LEGO creations on their way to the theme park, and they look great. LEGOLAND California will be the first of three parks to launch the Star Wars Miniland, including six scenes from the movie series, and one from The Clone Wars, comprised of about 2,000 individual models and over 1.5 million bricks. The pictures show the LEGOLAND staff unloading boxes filled with all sorts of goodies, including a giant Millennium Falcon, an AT-AT, an X-Wing Fighter, along with other smaller characters like an AT-ST and R2-D2. Here's a little video showing off the delicate flight of the Falcon as it makes its way to the model shop for final assembly, along with some other juicy LEGO treats.
LEGOLAND Star Wars Drops New Model Pics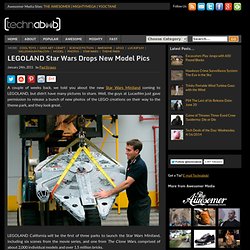 Your beautiful eyes on the Behance Network
The History of Car Logos
Christian Faur
23-Foot LEGO Aircraft Carrier
What is a Ph.D.?
If you're a guy who shaves in the shower, you no doubt know the frustration of trying to keep your shaving mirror fog-free. In some bathrooms, even just the installation of such a mirror can be tricky, as can positioning yourself to use it. Squarely addressing these conundrums is the Reflect, a combination showerhead and non-fogging mirror. The Reflect has a flat, square reflective front surface. The top part acts as the mirror, while the water sprays out of five rows of holes in the bottom.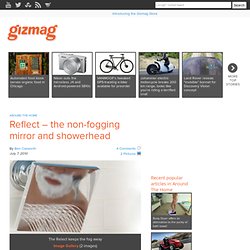 Reflect – the non-fogging mirror and showerhead
World Record Panorama of London
Jeffrey Martin shot 8,000 photographs of London and then spent six weeks stitching them together to create this amazing seamless 360-degree panorama of the city. You can zoom in and lose yourself looking at details, or zoom back and admire the city as a whole. The quality of this panorama was impossible to achieve only a year ago -and at 80 gigapixels, it is the largest 360-degree panorama in the world! Open the map to find specific landmarks, or take the tour to see places you'd never think to look for on your own.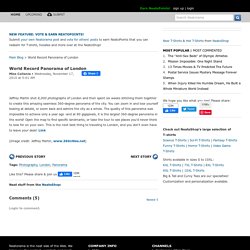 Retired Navy patternmaker and former shop teacher Charlie Kested was 71, in 2000, when he first fired up his scroll saw to start work on this project. He just finished. In the intervening decade, Kersted has survived and recovered from a stroke that left him without feeling in one hand. Quite apart from all the human interest angles on Charlie himself—senior citizen, veteran, patriot, teacher, craftsman, stroke survivor—the piece itself seems a truly remarkable artifact. Each word is meticulously cut from dark walnut, right down to the last flourish and detail of John Hancock's paraph, and affixed to a light-colored baltic birch "page."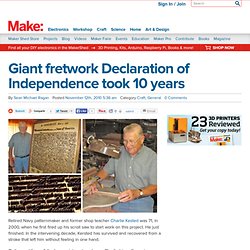 Make: Online : Giant fretwork Declaration of Independence took 10 years