Must see!
UCB Parents Jokes & Quotes:Great Truths About Life
This page is brought to you by UC Berkeley Parents Network Back to the Jokes & Quotes Collection 1.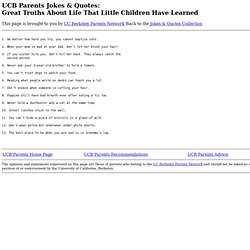 Hitman of the future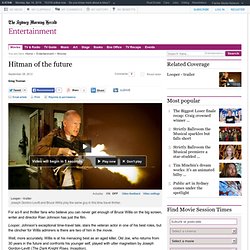 Looper - trailer Joseph Gordon-Levitt and Bruce Willis play the same guy in this time travel thriller. PT2M5Shttp://www.smh.com.au/action/externalEmbeddedPlayer?
Shut Up And Take My Money - Cool Gadgets and Geeky Products
Art 1. Optical Design
Video Game Music | Nostalgic Gamer
You will get very nostalgic as I did listening to these old memories. I almost dropped a tear while listening no Pokemon Pallet Town theme song. So, did you get nostalgic after hearing some of your childhood classics?
cw0mq.jpg (454×656)
damn…
Dear blank, please blank: Hilarious.
January-16-2012-18-49-21-1823889.jpeg (460×2108)
Gandalf: employee of the month
Holy- | Humorous Images
beauty
Over three years ago, Ian Dallas released a nifty tech demo. The demo showed what appeared to be a solid white screen, but when black paint was thrown around, the structure and geometry of a maze was revealed.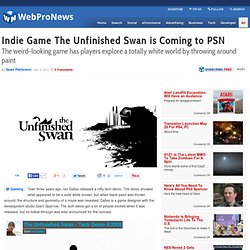 Indie Game The Unfinished Swan is Coming to PSN
I've been paintballing for about 8 years now. Played in tournaments from local to international.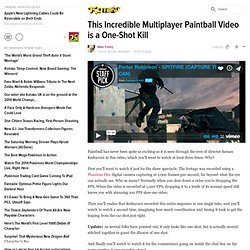 This Incredible Multiplayer Paintball Video is a One-Shot Kill
broken spacebar | Humor Definition
Appearances can be decieving
How Most People See Babies Vs. How I See Babies!
How to provoke a gamer
Earth-Mars-Moon-Human-Destruction.jpg (500×4266)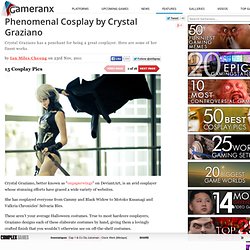 15 Cosplay Pics Crystal Graziano, better known as "onpaperwings" on DeviantArt, is an avid cosplayer whose stunning efforts have graced a wide variety of websites.
Phenomenal Cosplay by Crystal Graziano
Insane Video Game Moments of 2011 Games are full of special moments. These moments are capable of producing a feeling of frisson, or a passing sensation of excitement—are the defining experiences that give us more reason than any other to play games.
Top 10 Holy Shit Gaming Moments of 2011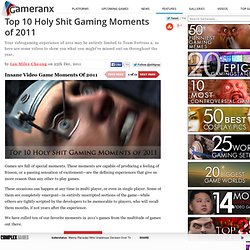 Mind blowing physics engine demonstration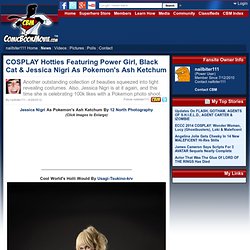 By nailbiter111 - 4/29/2012 Jessica Nigri As Pokemon's Ash Ketchum By 12 North Photography (Click Images to Enlarge)
COSPLAY Hotties Featuring Power Girl, Black Cat & Jessica Nigri As Pokemon's Ash Ketchum
Bento Laptop Tablet Hybrid by René Woo-Ram Lee
Bento Box Kinda Like Voltron Bento is quite an exceptional and forward thinking concept by René Woo-Ram Lee.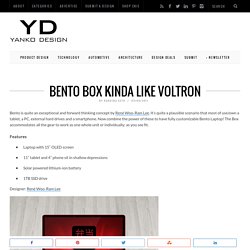 To Do List
The Weekly IRL: Pokemon Invasion
- StatusHumor.com | Funny Social Network Status Humor
StatusHumor.com | Funny Social Network Status Humor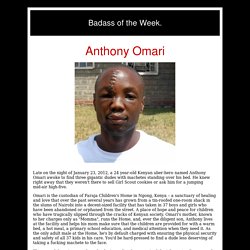 Anthony Omari
Badass of the Week: Anthony Omari
Full Movies
Perfect Man/Woman
Once upon a time, a perfect man and a perfect woman met. After a perfect courtship, they had a perfect wedding.
willy wonka and the chocolate factory meme - Star 94.1
pokemondrinkinggamev20o.png (2709×2701)
picture_11.png (797×596)
Pac-Man (walkthrough)
Level 1
Husband banned from Target
Husband banned from Target
As I See It
As I See It
Trick I Used In High School A Few Times, Never Failed
Empire's 500 Greatest Movies Of All Time
zoom.gif (640×534)
Is there any more decadent or geekier-than-thou way of expressing your superiority than by constructing your very own themed cinema at home?
10 Awesome Home Theaters
4ZdUnY3gToTP.jpg (1217×694)
Movie Facts
This is awesome News, Videos, Reviews and Gossip - io9
The Master Of Dance Dance Revolution - Video
Jenny vs. Spencer
Skyrim Badass
The Official Tim Burton Website
The 50 Greatest Cult Movies of All Time
GameBoy Color Games | Gamenert | Only The Best Free Online Games
The magic button — Make Everything OK
Science of Surviving the Zombie Apocalypse | Pimsleur Approach Blog
The Internet's Mall
Gear : Design Magazine
STOP. Read this. | Humor 163
World's Biggest PAC-MAN
JS GameBoy Color Game Center
This is the web right now
Target Practice
If the rest of this year's movie posters told the truth
Jabberwocky - Game Cinematic (unreleased)
like a boss : Crazy Liver
20 GIF Reactions to Real-Life Situations (9.26.11
Your source of daily updated funny pictures and gifs.
*Mom hands me phone to answer* Me: Hello? Telemarketer: Hello, is your mother home? Me: I have no mother. Her: Well can I speak to your father? Me: Yeah, which one? Her: Which one is home? Me: Well they're both home..but I don't think you want to talk to
The 15 Best Staged Splash Mountain Photos
lol Museum - Captions
10 movie poster cliches (with plenty of examples)
Inception Explained - An interactive animated infographic
I Went on a Wizard Quest
The Bitterroot Footage
4.jpg (800×533)
The 6 Creepiest Places on Earth
Parallel Parking
How to Avoid a Speeding Ticket - Flippin' Comics
The scariest video you have ever watched in the name of science