Couleur +autre discipline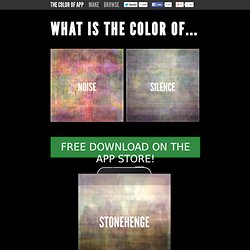 What is the color of happiness?
The Art Of Reproduction
The Art Of Reproduction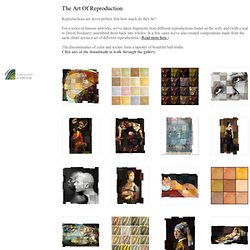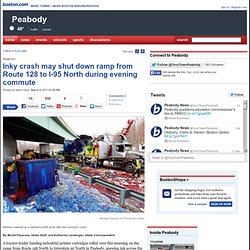 Inky crash may shut down ramp from Route 128 to I-95 North during evening commute - Peabody - Your Town
Winslow Townson for The Boston Globe Workers cleaned up a rainbow's worth of ink after this morning's crash. By Martin Finucane, Globe Staff, and Katherine Landergan, Globe Correspondent A tractor-trailer hauling industrial printer cartridges rolled over this morning on the ramp from Route 128 North to Interstate 95 North in Peabody, spewing ink across the roadway. The ramp could be closed for up to eight hours while the mess is cleaned up, State Police said.
Rectangle et rectangles par Réné Jodoin
Colorware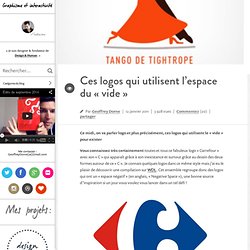 Ces logos qui utilisent l'espace du « vide » | Graphisme & interactivité blog par Geoffrey Dorne
Ce midi, on va parler logo et plus précisément, ces logos qui utilisent le « vide » pour exister Vous connaissez très certainement toutes et tous ce fabuleux logo « Carrefour » avec son « C » qui apparaît grâce à son inexistance et surtout grâce au dessin des deux formes autour de ce « C ». Je connais quelques logos dans ce même style mais j'ai eu le plaisir de découvrir une compilation sur WDL . Cet ensemble regroupe donc des logos qui ont un « espace négatif » (en anglais, « Negative Space »), une bonne source d'inspiration si un jour vous voulez vous lancer dans un tel défi ! Pour information, à la vue d'une image, nos yeux se concentrent en premier lieu sur les espaces pleins, les espaces « remplis » et seulement ensuite, ne s'intéresse qu'aux espaces vides. Il existe donc un genre d'illusion d'optique lorsque l'on découvre tantôt une image, tantôt l'autre en se concentrant.
L'influence des couleurs
Premières Couleurs
« La couleur est la perception qu'a l'oeil d'une ou plusieurs fréquences d'ondes lumineuses, avec une (ou des) amplitude(s) donnée(s). » … c'est la définition que nous donne Wikipedia de la couleur … tout un programme… En 1998, Apple a été l'une des premières sociétés à vendre des produits colorés destinés au grand public : le célèbre imac , énorme succès mondial ! Avec l' ipod , il s'agit surement du produit qui a sauvé Apple .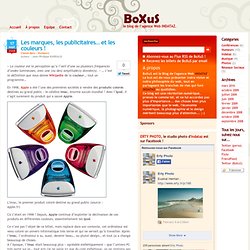 L'art d'utiliser les couleurs dans la publicité : Apple, Sony, Volvo... Publicité et Couleurs - BoXuS
couleur & marketing
Philip Glass - Sesame Street - Geometry of Circles
(excuse, je ne parlez pas francais ; <) I've always loved the relation between music and mathematics; now I can add "colour" to the magic! There is absolute magic in the number 360, in circles, and in the hexagram. Bees love it! Gotta be honey! smile. by seannab Feb 5
couleur+musique > Sesame Street 1979 (musique : Phillip Glass) : Le carrousel des couleurs by gaugol Jan 11
Persée