FUN
Get flash to fully experience Pearltrees
Max Brooks -- author of The Zombie Survival Guide -- lists the must-have items for getting through the zombie apocalypse.
Now is a good time to ponder the apocalypse. Iran and North Korea are going nuclear, the wonky weather is a harbinger of catastrophic climate change, and end-of-the-world blockbusters abound. (Tim Burton's ' 9 ' came out last week and ' 2012 ,' ' The Road ,' and ' Zombieland ' are all coming up later this fall.)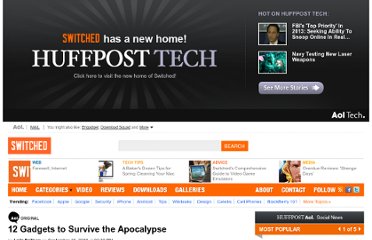 Here is an ultimate collection of the most creative, unique and innovative social media icons. These are hand picked by us and represent the most creative and artistic social icon designs on the web ranging from different shapes, textures, effects and graphics. We hope you enjoy this collection and can use them in your designs! We are all well aware how famous social media interaction is these days.
Walking Dead fans, check out our latest post: http://go.usa.gov/Q4J There are all kinds of emergencies out there that we can prepare for. Take a zombie apocalypse for example. That's right, I said z-o-m-b-i-e a-p-o-c-a-l-y-p-s-e. You may laugh now, but when it happens you'll be happy you read this, and hey, maybe you'll even learn a thing or two about how to prepare for a real emergency.
All the men (and most women) I know have one thing in common: They have a zombie contingency plan. If the zombies arise tomorrow, everybody has at least a hazy outline of what, exactly, they would do to survive the coming onslaught. It's the single best part about the zombie mythos: planning your strategy. So I asked everybody I could think of to submit their own zombie contingency plans, and this is but a small sample of what I received: