KNOWLEDGE
กระดาษทรายกับงานไม้
The Chemistry of Soaps
Soaps, Detergents and Cleaning Fats are isolated from plants and animals. The properties such as solubility relate to their chemical structures. Fats are heated with a strong base to convert them into soaps.
How do you make yellow pine look like driftwood? any paint techniques for that? I want the trim in my house to resemble driftwood.
How to Create a Faux Driftwood Finish — THAT PainterLady.com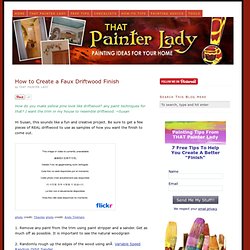 Thai architecture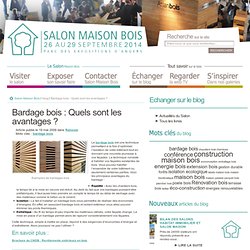 Exemples de bardages bois Le bardage bois est une technique permettant à la fois d'optimiser l'isolation de votre bâtiment tout en donnant une nouvelle jeunesse à vos façades. La technique consiste à habiller vos façades existantes de bois. Vous pouvez habiller l'ensemble de votre bâtiment ou seulement certaines parties. Voici les principaux avantages du bardage : Rapidité : Avec les chantiers bois, le temps lié à la mise en oeuvre est réduit.
Bardage bois : Quels sont les avantages ? | Salon Maison Bois
The Janka hardness test measures the resistance of a sample of wood to denting and wear. It measures the force required to embed an 11.28 mm (0.444 in) steel ball into wood to half the ball's diameter. This method leaves an indentation. A common use of Janka hardness ratings is to determine whether a species is suitable for use as flooring . It should be noted that the test is meant to be used only for "unfinished, open grain flooring" manufactured before the 1990s. With the advent of pre-finished flooring in which hardwood floors are treated with aluminum-oxide based sealers that often double or triple the dent and scratch resistance of the flooring, the Janka Hardness test has been essentially rendered useless in modern-day hardwood flooring, unless the end user is purchasing unfinished or oil coated flooring.
Janka hardness test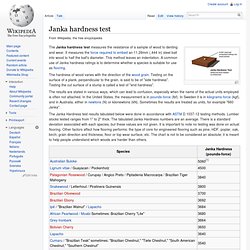 Material Properties of Teak, Wood Class I (>25y) | Wood Data Sheets
In general, there are two main factors that influence the durability of timber in service. The first is the natural durability of the particular species. The second is the type and degree of hazard to which the timber is exposed.
Class of durability Australia
Grade of wood
Fire classement
Volatile organic compounds ( VOCs ) are organic chemicals that have a high vapor pressure at ordinary, room-temperature conditions. Their high vapor pressure results from a low boiling point, which causes large numbers of molecules to evaporate or sublimate from the liquid or solid form of the compound and enter the surrounding air. An example is formaldehyde , with a boiling point of –19 °C (–2 °F), slowly exiting paint and getting into the air. VOCs are numerous, varied, and ubiquitous. They include both human-made and naturally occurring chemical compounds. Most scents or odors are of VOCs.
VOCS emission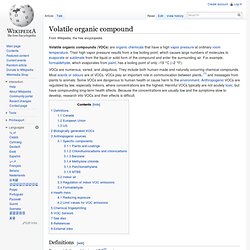 Das DIN – D eutsches I nstitut für N ormung e. V. – ist die nationale Normungsorganisation der Bundesrepublik Deutschland mit Sitz in Berlin . DIN EN-Normen, DIN EN ISO-Normen und Normentwürfe werden in dieser Aufstellung nicht angeführt; einige ausgewählte Normentwürfe sind am Ende der Liste in einem eigenen Abschnitt aufgeführt.
German DIN 1 bis DIN 499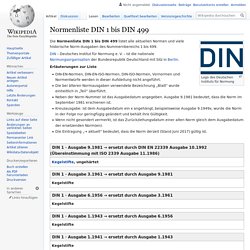 GERMAN CONSTUCTION METHOD STANDARD by gaspardo Oct 29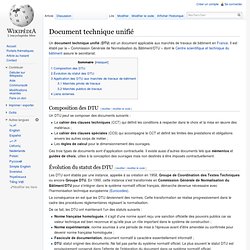 Un article de Wikipédia, l'encyclopédie libre. Un document technique unifié ( DTU ) est un document applicable aux marchés de travaux de bâtiment en France . Il est établi par la « Commission Générale de Normalisation du Bâtiment/DTU » dont le Centre scientifique et technique du bâtiment assure le secrétariat. Composition des DTU [ modifier ]
Document technique unifié
This is an incomplete list of European standards maintained by CEN ( European Committee for Standardization ), CENELEC ( European Committee for Electrotechnical Standardization ) and ETSI ( European Telecommunications Standards Institute ): [ edit ] EN 1–999 EN 1 : Flued oil stoves with vaporizing burners EN 2 : Classification of fires EN 3 : Portable fire extinguishers EN 54 : Fire detection and fire alarm systems EN 71 : Safety of toys EN 81 : Safety of lifts EN 166 : Personal eye protection.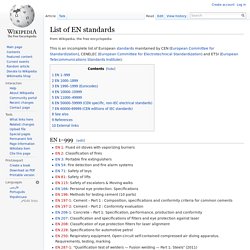 List of EN standards